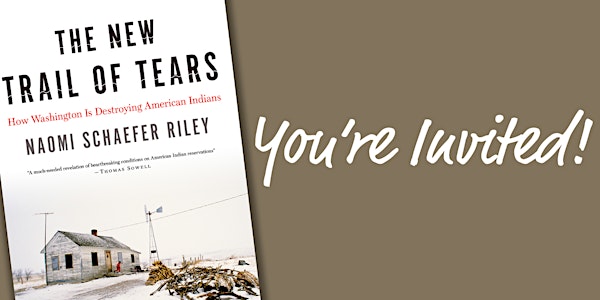 The New Trail of Tears Book Launch and Reception: An Evening with Naomi Sch...
Event Information
Location
1706 New Hampshire Ave NW
Washington, DC 20009
Description
Join the Independent Women's Forum for a reception and book launch of "The New Trail of Tears, How Washington is Destroying American Indians" on the evening of July 26th. Author Naomi Schaefer Riley will discuss her new book and sign copies.
Copies of the book will be for sale. Light bites and libations will be served.
Preorder your copy from Amazon or Barnes & Noble today!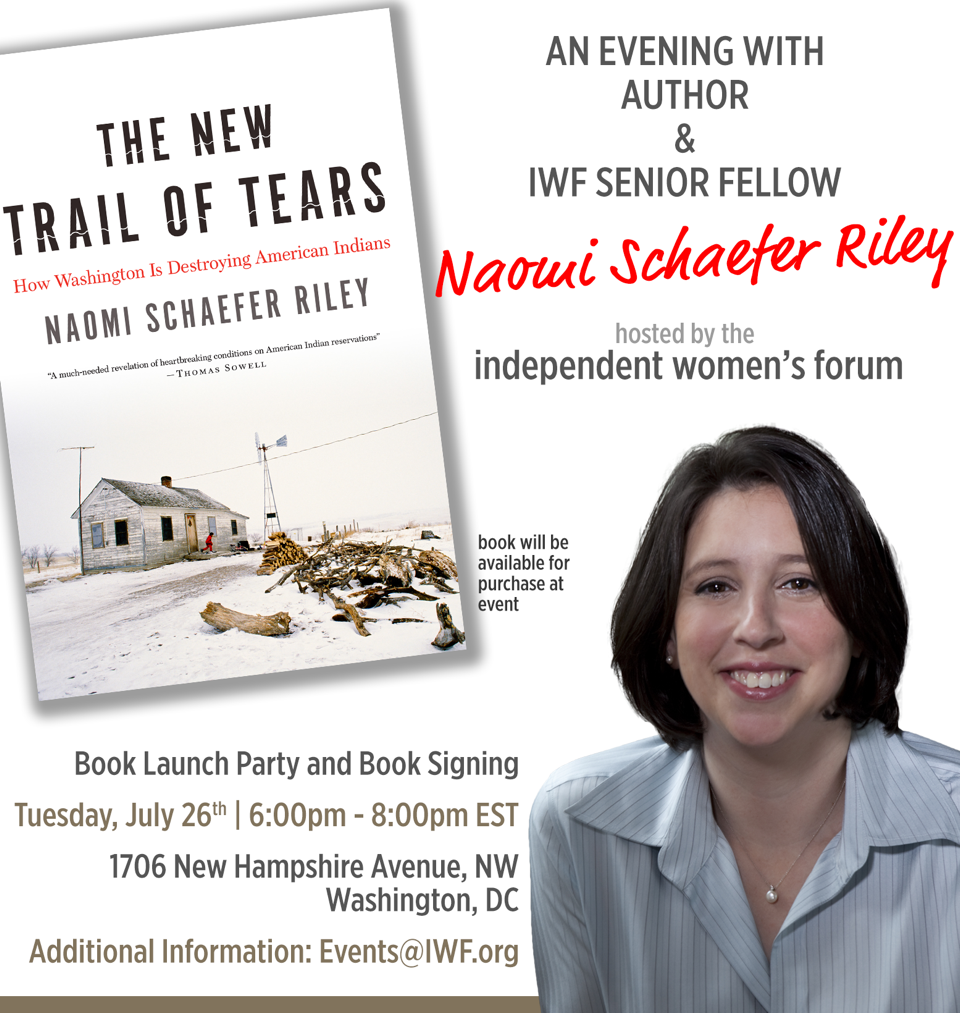 ABOUT THE BOOK
If you want to know why American Indians have the highest rates of poverty of any racial group, why suicide is the leading cause of death among Indian men, why native women are two and a half times more likely to be raped than the national average and why gang violence affects American Indian youth more than any other group, do not look to history. There is no doubt that white settlers devastated Indian communities in the 19th, and early 20th centuries. But it is our policies today–denying Indians ownership of their land, refusing them access to the free market and failing to provide the police and legal protections due to them as American citizens–that have turned reservations into small third-world countries in the middle of the richest and freest nation on earth.

The tragedy of our Indian policies demands reexamination immediately—not only because they make the lives of millions of American citizens harder and more dangerous—but also because they represent a microcosm of everything that has gone wrong with modern liberalism. They are the result of decades of politicians and bureaucrats showering a victimized people with money and cultural sensitivity instead of what they truly need—the education, the legal protections and the autonomy to improve their own situation.

If we are really ready to have a conversation about American Indians, it is time to stop bickering about the names of football teams and institute real reforms that will bring to an end this ongoing national shame.

NAOMI SCHAEFER RILEY
Naomi is a weekly columnist for the New York Post and a former Wall Street Journal editor and writer whose work focuses on higher education, religion, philanthropy and culture. She is the author of several books on those topics. Her book, 'Til Faith Do Us Part: How Interfaith Marriage is Transforming America (Oxford, 2013), was named an editor's pick by the New York Times Book Review. Ms. Riley's writings have appeared in the Wall Street Journal, the New York Times, the Boston Globe, the LA Times, and theWashington Post, among other publications. She appears regularly on FoxNews and FoxBusiness. She has also appeared on Q&A with Brian Lamb as well as the Today Show. She graduated magna cum laude from Harvard University in English and Government. She lives in the suburbs of New York with her husband, Jason, and their three children.
Date and time
Location
1706 New Hampshire Ave NW
Washington, DC 20009