The New Role of Board Director in Japan: A Global Context
Description
Note: Registration for this seminar is now closed. Walk-ins will be accommodated first-come, first-served, based on seat availability. This seminar is off the record.
CJEB welcomes you to a lunchtime "zadankai" seminar:
The New Role of Board Director in Japan: A Global Context
Thursday, December 5, 2019 | 12:30 – 1:45 PM (Lunch will be served.)
Room 209, Warren Hall, Columbia Business School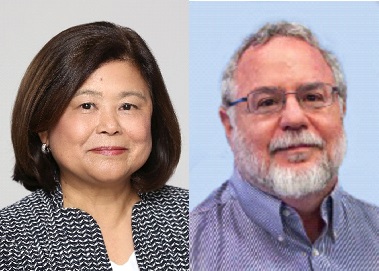 Featuring:
Ayako Weissman
Outside Director, Toshiba Corporation;
Senior Vice President, Horizon Kinetics LLC

Jon Lukomnik
Managing Partner, Sinclair Capital;
Senior Fellow, High Meadows Institute

Moderator:
Alicia Ogawa
Director, Project on Japanese Corporate Governance and Stewardship, CJEB
What you'll learn:
The requirement to include independent directors on Japanese corporate boards is very recent (since 2015). How is Japanese management adjusting to this new reality?

Boards generally have a majority of independent directors in the US, but usually only two or fewer independent directors in Japan. What are the merits/demerits of the two systems?

According to Warren Buffet, "Appointing independent directors to company boards is one of the great hoaxes perpetrated on public investors." Is he right or wrong? What is their value?


Biographies:
Ayako Weissman is Senior Vice President, Senior Portfolio Manager and Director of Asia Strategy for Horizon Kinetics LLC. Aya has over 35 years of investment experience managing equity portfolios in the US and Asian markets. Prior to joining Horizon Kinetics, LLC, she was the founder and Chief Investment Officer at AS Hirota Capital Management, LLC.
Aya's experiences include acting as a portfolio manager specializing in Japanese Securities for Kingdon Capital Management and as a partner and portfolio manager at Feirstein Hirota Japan Partners. In addition, Aya was Managing Director and Senior Portfolio Manager in the US large cap value equity division at Salomon Smith Barney Asset Management, where she was a founding member.
Aya serves on the board of Toshiba Corporation and is a former member of the board of SBI Holdings. She is a member of the US-Japan Council and serve on its investment committee. In addition she is a member of Japan ICU Foundation's investment committee.
Aya received an MBA from the International Institute for Management Development (IMD) in Lausanne, Switzerland and a BA in Liberal Arts from International Christian University (ICU) in Tokyo, Japan. She studied at Chung Chi College at Chinese University of Hong Kong as a Japanese Ministry of Education Scholar. She is a CFA charter holder.
Forbes calls long-time institutional investor Jon Lukomnik one of the pioneers of modern corporate governance. Jon is the managing partner of Sinclair Capital LLC, a strategic consultancy to asset owners and asset managers, and a Senior Fellow at the High Meadows Institute. He will be the Pembroke Visiting Professor at the Judge Business School of Cambridge University (UK) in 2020.
Jon served for more than a decade as the executive director of the IRRC Institute. He co-founded both the International Corporate Governance Network (ICGN) and GovernanceMetrics International (now part of MSCI). He served as investment advisor for New York City's pension funds in the 1990s. He has been a director for public companies, private companies, and not-for-profit corporations. He.is a member of the Deloitte Audit Quality Advisory Committee, the Standing Advisory Group of the Public Company Accounting Oversight Board, and the Van Eckfamily of US mutual funds, insurance trusts and European UCITs.
The National Association of Corporate Directors has three times named Jon as one of the 100 most influential people in American corporate governance. The ICGN awarded Jon its "Excellence in Corporate Governance" prize. Other awards include recognition by Ethishpere Magazine, the Director and Chief Risk Officers' organization and Global Proxy Watch. He has published more than 200 articles in academic and practitioner journals. His most recent book is What They Do With Your Money (Yale University Press). His previous book, The New Capitalists (Harvard Business School Press), was a Financial Times pick of the year.
Lunch will be served. Advance registration is required.
For any inquiries, please contact cjeb@gsb.columbia.edu.
Please kindly note the following:
Registration will begin at 12:00 pm. All guests must be seated by 12:30 pm.

Please arrive early as seating will be filled on a first-come, first-served basis. The registration does not guarantee your admission.

Your presence at this event indicates your willingness to appear in any photos or videos produced by Columbia and by third parties authorized by Columbia in advance. If this is an issue, please let us know. Thank you.



Organizer of The New Role of Board Director in Japan: A Global Context
Established at Columbia Business School in 1986 under the direction of its chairman, Professor Hugh Patrick, and led currently by its director, Professor David E. Weinstein, the Center on Japanese Economy and Business (CJEB) promotes knowledge and understanding of Japanese business and economics in an international context. CJEB is a research organization widely recognized for its vigorous research activities, international symposia, conferences, and lectures, held in New York City and Tokyo, which provide prominent speakers from the public and private sectors a forum for collaboration and reflection on Japan, the United States, and the global economy. For more information visit www.gsb.columbia.edu/cjeb. For more information, go to http://www.gsb.columbia.edu/cjeb