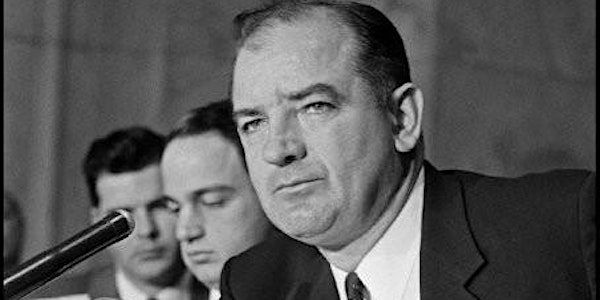 THE NEW McCARTHYISM: THE ATTACK ON FEMINISTS' JOBS AND LIVELIHOODS
Feminists in Struggle sponsors a forum on the modern-day witch-hunt against feminists who refuse to deny the existence of biological sex.
Refund Policy
Contact the organizer to request a refund.
Eventbrite's fee is nonrefundable.
About this event
In the 1950's it was "the Red Scare." In the second decade of the 21st century, the methods are the same but the target is different: feminists and others who do not agree with gender identity orthodoxy that conflates sex and gender and denies the existence of biological sex.
JOIN US FOR THIS IMPORTANT DISCUSSION ON HOW WE CAN PUT AN END TO THIS WITCHHUNT SO THAT WOMEN CAN STATE OUR OPINIONS AND FIGHT FOR OUR SEX-BASED RIGHTS WITHOUT FEAR!
SPEAKERS:
Christy Hammer is a sociologist with a 35 year university teaching career, and currently an associate professor of education at the University of Southern Maine. After telling her graduate students that there were only two biological sexes (with variations), students walked out of her classroom, demanded she recant and sought to get her fired all in the name of "restorative justice". One trans identified student who felt personally attacked, filed a Title IX sexual harassment/discrimination complaint against her, which was summarily dismissed by the University counsel. Christy has a long history working in LGBTQ youth advocacy, and in promoting anti-racism in schools. What happened to Christy was described by others as an example of the "woke attacking the woke."
Ann Menasche , radical feminist, Leftist, lesbian, and founding member of Feminists in Struggle (FIST), was fired last May from her job of 20 years as a Civil RIghts attorney at Disability Rights California without warning for asserting that abortion bans harm women as a sex and for her FIST activity ourside of work. The executive director had issued a statement opposing the threatened overturning of Roe and asked for staff feedback. DRC's statement had mentioned every group that could be harmed by illegal abortion except women. Ann faced an onslaught of name-calling and slurs and was condemned in abstentia as having opinions inconsistent with the values of the agency. See https://defendfeminists.net/
FIST's Feminist Forums series are interactive and organizing events. At our forums, women have an opportunity not only to hear interesting speakers on a variety of feminist topics but to meet each other, make comments, ask questions of the presenters and discuss feminist politics together. We also usually tape the events so they may be viewed later. Women in attendance are free to shut off their cameras and mute themselves, should they prefer to do so. If you prefer to remain anonymous within the group, or plan to sign in under a different name from the name you have used for registration and purchase of your ticket, please contact the organizer prior to the event. Thanks.
THIS FORUM IS OPEN TO EVERYONE. Women will be given priority in questions and discussion from the floor.