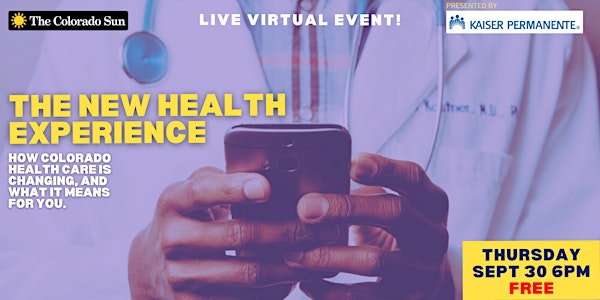 The New Health Experience: How Colorado health care is changing
The Colorado Sun with the support of Kaiser Permanente present- A conversation about health care, technology and our virtual lives.
About this event
Our lives have changed immeasurably — from how our kids go to school and how we go to work, to how we buy groceries and even access medical care. Join The Colorado Sun and leading Colorado health care experts for a conversation about how technology, virtual living and the pandemic are changing health care across the state, and what that means for you. Moderated by Colorado Sun environment and health writer Michael Booth, our wide-ranging discussion will focus on the changing patient experience, and how to stay ahead of the curve.
Is everything done by video now? Is there a wearable device that can send you home from the hospital sooner after a heart attack? How do you pay doctors fairly for six video visits in one hour? Do we still even need a 'doctor's office'? Can you see your doctor and still avoid COVID-19 worries?
See how quickly the health world is changing.
Featuring:
Dr. Autumn Orser, Senior Vice President of Clinical Informatics, Peak Vista Community Health Centers, Colorado Springs
Sharif Abdelhamid, Director of Patient Experience and Advocacy, Denver Health
Dr. Jeff Krawcek, President and Executive Medical Director, Colorado Permanente Medical Group serving the members of Kaiser Permanente