The New Era of Scale-up Entrepreneurship & Trillion Dollar Opportunities

Thursday, December 14, 2017 from 5:00 PM to 7:00 PM (Arabian Standard Time Qatar Time)
Event Details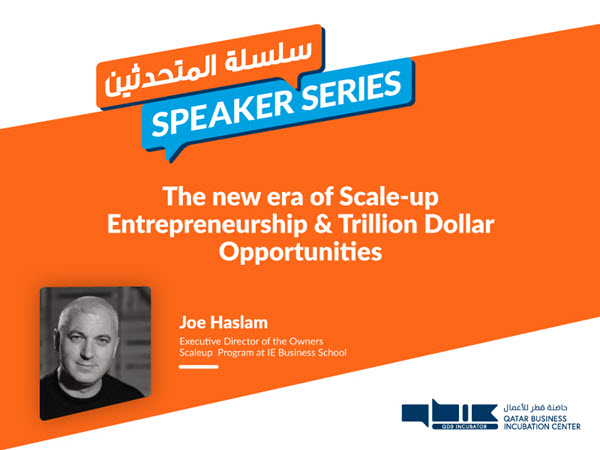 Speaker Series: The New Era of Scale-up Entrepreneurship & Trillion Dollar Opportunities
QBIC would like you to join Professor Joe Haslam - Executive Director of the Owners Scaleup Program at IE Business School & the cofounder of several successful companies - for an insightful seminar on the new era of Scale-up Entrepreneurship and the Trillion Dollar Opportunities of the future.
Be ahead of the curve & learn about the move away from a focus on innovation to one of sustainability. A move away from managing for scarcity to one of managing for abundance. A move away from thinking linearly to thinking exponentially.
Date: December 14, 2017
Time: 5:00 PM – 7:00 PM
Location: Four Seasons Hotel (Msaimeer Hall)

سلسلة المتحدثين: حقبة جديدة من ريادة الأعمال النامية وفرص التريليون دولار
تدعوكم حاضنة قطر للأعمال للانضمام إلى البروفسور جو هاسلام، المدير التنفيذي لبرنامج أصحاب الشركات النامية في كلية IE لإدارة الأعمال والشريك المؤسس لعدة شركات ناجحة، في ندوة تنعقد حول الحقبة الجديدة من ريادة الأعمال النامية واكتشاف فرص التريليون دولار المستقبلة.
كن سبّاقاً في التغيير، وتعلّم الانتقال من التركيز على الابتكار والاتجاه نحو تعزيز ممارسات الاستدامة، التحول من إدارة الندرة إلى إدارة الوفرة واعتماد نمط التفكير الأسي بدلاً من التفكير المنهجي.
التاريخ: 14 ديسمبر 2017
الوقت:  من الساعة 5 إلى الساعة 7 مساءً
الموقع: فندق فورسيزونز (قاعة مسايمير)
When & Where

Four Seasons Hotel (Msaimeer Hall)
Four Seasons Hotel Doha

Qatar

Thursday, December 14, 2017 from 5:00 PM to 7:00 PM (Arabian Standard Time Qatar Time)
Add to my calendar
Organizer
Email:info@qbic.qa
Website:http://www.qbic.qa
Phone:+974 4019 3000