Event Information
Refund policy
Contact the organizer to request a refund.
Eventbrite's fee is nonrefundable.
Read on for important registration and book order details for this free online event with three amazing DC writers & YA legends.
About this event
Celebrate the release of three new fantastic books from DC comics with writers E. Lockhart, Kami Garcia, and Laurie Halse Anderson!
How to Register
Register on this page to receive a Zoom link
Register free, pay what you like, or buy the book to enter the event
If you don't receive a confirmation email after registering, contact us right away
Get Your Books
We are selling copies of E. Lockhart's Whistle: A New Gotham City Hero, Kami Garcia's Beast Boy Loves Raven, and Laurie Halse Anderson's Wonderful Women of the World. Pick and choose, or buy all three and get a special discount!
Books are held for pickup or shipped after ticket sales have closed.
STORE PICKUP- Pick up your book in person at Brookline Booksmith (Click here for directions). You will receive an email alert when your book is ready.
SHIPPING - Have your book shipped via USPS priority mail. Shipping is only available in the United States.
If you have trouble checking out, check the Eventbrite FAQ located here.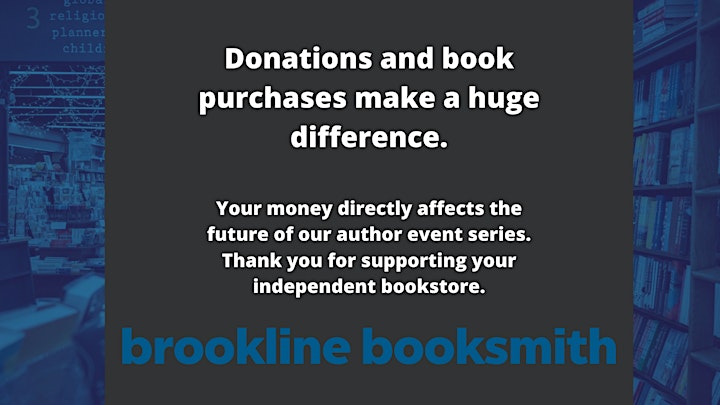 Whistle: A New Gotham City Hero
From New York Times bestselling author E. Lockhart (Genuine Fraud, We Were Liars) and artist Manuel Preitano (The Oracle Code) comes a new Gotham City superhero in this exciting YA graphic novel.
Sixteen-year-old Willow Zimmerman has something to say. When she's not on the streets protesting City Hall's neglect of her run-down Gotham neighborhood, she's working nights at the local dog shelter. But despite how much she does for the world around her, she's struggling to take care of her sick mother at home. She's got no time for boys (though there's one she really likes), and no means to adopt the amazingly loyal stray Great Dane, Lebowitz, that follows her around.
Without health insurance and with money running out, a desperate Willow reconnects with an estranged family friend E. Nigma--party promoter, and real estate tycoon. But soon, Willow discovers that Nigma and his poker buddies are actually some of Gotham's most corrupt criminals. Now she must make a choice: remain loyal to the man who saved her mother's life, or use her new powers to save her community.
Teen Titans: Beast Boy Loves Raven
From #1 New York Times bestselling author Kami Garcia (Beautiful Creatures) and artist Gabriel Picolo, the creative duo behind the New York Times bestselling graphic novel Teen Titans: Raven, comes the romantic meetup we have all been waiting for!
It seems like years, but it's only been a few days since Raven Roth recovered her memories; trapped her demon father, Trigon, in her amulet; and had her heart broken for the first time. But she doesn't have time to think about the past...she has to focus on finding a way to get rid of Trigon for good. Garfield Logan still can't believe he has powers that allow him to change into different animals, but the price of knowing that his parents kept this secret hidden from him just feels too high. And what's more, his difficulty controlling these abilities could have unexpected consequences. Both are seeking answers from the one person who seems to have them all figured out: Slade Wilson. When their paths converge in Nashville, Raven and Gar can't help but feel a connection, despite the secrets they both try to hide. It will take a great amount of trust and courage to overcome the wounds of their pasts. But can they find acceptance for the darkest parts of themselves? Or maybe even love?
Wonderful Women of the World
Women change the world...
...they've been doing it for centuries. Now New York Times bestselling author Laurie Halse Anderson has gathered female and nonbinary writers and artists to reveal the women making our world better day by day.
These are real-world heroes who exemplify the best of Wonder Woman herself: her strength, compassion, and commitment to truth, equality, and justice. Read the stories of Beyoncé (by Mikki Kendall and A.D'Amico), Keiko Agena (by Sarah Kuhn, Lynne Yoshii, and Carrie Strachan), Márcia Barbosa (by Corinna Bechko and Anastasia Longoria), Brené Brown (by Louise Simonson and Nicole Goux), Mariana Costa Checa (by Melissa Marr and Marcela Cespedes), Mari Copeny (by Olugbemisola Rhuday-Perkovich, Sharee Miller, and Silvana Brys), Teara Fraser (by Traci Sorell and Natasha Donovan), Ruth Bader Ginsburg (by Lilah Sturges, Devaki Neogi, and Triona Farrell), Judith Heumann (by Marieke Nijkamp and Ashanti Fortson), Marsha P. Johnson (by Jadzia Axelrod and Michaela Washington), Leiomy Maldonado (by Magdalen Visaggio and Emma Kubert), Ellen Ochoa (by Cecil Castellucci and Carina Guevara), Francisca Nneka Okeke (by Dr. Sheena C. Howard and Laylie Frazier), Greta Thunberg (by Kami Garcia and Igzell), Naomi Watanabe (by Jody Houser and Michiums), Serena Williams (by Danielle Page, Brittney Williams, and Caitlin Quirk), Edith Widnsor (by Amanda Deibert and Cat Staggs), Malala Yousafzai (by Son M. and Safiya Zerrougui), and Khatijah Mohamad Yusoff (by Amanda Deibert, Hanie Mohd, and Shari Chankhamma).
About Brookline Booksmith
We are one of New England's premier independent bookstores, family-owned and locally run since 1961. We offer an extensive selection of new, used, and bargain books; unique, beautiful gifts; award-winning events series; and specialty foods. Every day, we strive to foster community through the written word, represent a diverse range of voices and histories, and inspire conversations that enrich our lives. Find more at brooklinebooksmith.com!
EVENT ACCESSIBILITY
Barring technical difficulty, auto-transcription is enabled on all Brookline Booksmith Zoom Webinar events.
Date and time
Location
Refund policy
Contact the organizer to request a refund.
Eventbrite's fee is nonrefundable.
Organizer of The New DC Comics: E. Lockhart, Kami Garcia, and Laurie Halse Anderson!