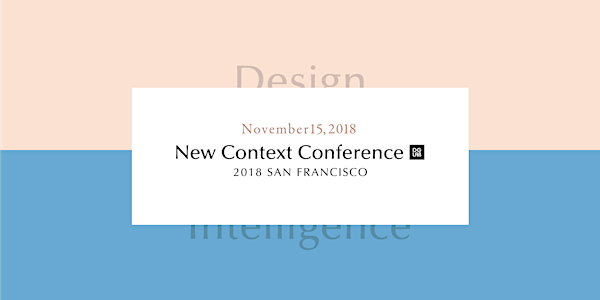 THE NEW CONTEXT CONFERENCE 2018 - Design Intelligence -
When and where
Location
DG717 space: coworking and events in SOMA, SF 717 Market Street #100 San Francisco, CA 94103
Description
THE NEW CONTEXT CONFERENCE 2018
Convergence of AI and Design Leads the Beginning of the "Design Intelligence" Era
Design has been around since the dawn of humanity. For Artificial Intelligence (AI), however, it is only the beginning.
Yet, the implication of AI on Design is both promising and threatening.


Is AI going to make Design, one of the oldest professions of the human race, irrelevant?

How can we use Design to infuse more humanity into AI?

What are the positive influences that Design and AI can have on each other?

The aim of the New Context Conference 2018 is to explore, debate and provoke possible clues to these questions and then some.
To do so, we are bringing an unusual mix of the most brilliant and fascinating minds from various fields that you rarely see in one place: AI, Architecture, Art, Branding, Business, Design, Media, Robotics, and Venture Capital.
By focusing on a handful of speakers in an intimate setting in the heart of San Francisco, NCC 2018 will help us understand the new context we live in and inspire us all in shaping the future at the intersection of design, data and technology.
---
PROGRAM (to be updated)
Session 1: Conference Session
10:00 AM - 3:00 PM

Speakers and Panels
Joi Ito - Co-Founder of Digital Garage, Inc & Director, MIT Media Lab

Rei Inamoto - Founding partner, Inamoto & Co

John Maeda - Head of Computational Design & Inclusion, Automattic

Elizabeth Kiehner - Global Leader, IBM Design Principal

Margaret Stewart - VP of Product Design, Facebook

Silka Miesnieks - Head of Emerging Design, Adobe

Eugenia Kuyda - Co-founder and CEO of Replika

Takayuki Todo - Artist
Session 2: Resi-Tech Global Pitch Session
2:55 PM - 5:15 PM

Complimentary drinks and foods (including a lunch box) are provided.
Official Event Page: https://www.dg717.com/ncc/
*The program contents are subject to change at any time.