Description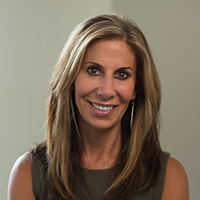 The Neurobiology of Binge Eating Disorder: Understanding and Applying Treatment Interventions from the "Top Down"
Dr. Julie Friedman is the National Senior Director of the Binge Eating Treatment and Recovery Program at Eating Recovery Center and a health psychologist whose specialties include Cognitive-Behavioral Therapy, Night Eating Syndrome, Binge Eating Disorder, Bulimia Nervosa, pre- and post-bariatric surgery care and post-surgical eating pathology, and Exposure and Response Prevention. She is also an Assistant Professor at the Northwestern University Feinberg School of Medicine in the Department of Psychiatry and Behavioral Sciences. Dr. Friedman is a member of the American Psychological Association, the Obesity Society, and the Academy of Eating Disorders. She received her BS in Psychology from Northwestern University and her PhD in Clinical Psychology from the Illinois Institute of Technology. She completed a fellowship in sleep disorders at Rush University Medical Center and a two-year post-doctoral fellowship in obesity medicine and eating disorders at Northwestern Memorial Hospital's Wellness Institute. Dr. Friedman has been featured in multiple publications and media outlets advocating for increased awareness, diagnosis, and treatment of Binge Eating Disorder and Night Eating Syndrome. Dr Friedman has also worked directly with third party payors to reshape level of care criteria to include patients with all kinds of eating disorder symptomatology and presentations and broaden the definition of who can benefit from specialized eating disorder care.
This workshop will:

1) Review basic neurobiological underpinnings of BED

2) Review comorbid psychiatric disorders that co-occur with BED and can interfere with ED treatment

3) Review obstacles to specialized eating disorder treatment for patients with BED and related disorders

4) Review behavioral interventions that are rooted in neurobiology and address the "binge eating brain"

5) Highlight the importance of Exposure and Response Prevention in the treatment of BED and comorbid mood/anxiety disorders.

Learning Objectives:

Participants will:

1. Understand the neurobiology that promotes binge eating and how binge eating behaviors change the brain in a way that encourages further bingeing.

2. Identify/ rule out comorbid psychiatric disorders that often cooccur with BED.

3. Describe obstacles to interventions for the patient with BED.

4. Identify behavioral interventions for the patient with BED.

5. Understand how Exposure and Response Prevention can be used to address eating disorder and mood/anxiety symptoms.

Topics Covered:

Neurobiology of BED

Exposure & Response Prevention

Nutrition Interventions
Event Details:
6:30-7:00 PM - Registraiton & Networking
7:00- 8:30 PM- Presentation
Continuing Education:
1.5 CE credits being offered for Licensed Professional Counselors, Licensed Marriage and Family Therapists

, Registered Dietitians, and Licensed Clinical Social Workers. All Pending Approval
1.5 CE credits for psychologists Pending GPA Approval
iaedp Foundation has been approved by NBCC as an Approved Continuing Education Provider, ACEP No. 5912. Programs that do not qualify for NBCC credit are clearly identified. iaedp Foundation is solely responsible for all aspects of the program.
iaedp is a Continuing Professional Education Accredited Provider, under Provider #IN004 recognized by the Commission of Dietetic Registration.
---
Co-sponsor:

Sponsors: