About this Event
**Note: This conversation will be hosted digitally, not in the real live world.**
Click HERE to tune in to the conversation.
We need more Women in office. Period.
The leadership gap defines U.S. politics. But why aren't more women elected to office? How can we counter the forces of misogyny in our political system?
Join us for a cyber conversation with founder of Emerge America Andrea Dew Steele to discuss why we NEED to elect more women.
More about Andrea:
Andrea Dew Steele is the Founder of Emerge America and the Co-Founder of our first affiliate, Emerge California. She is a passionate advocate for increasing the number of women in elected office at every level and is motivated by a life-long commitment to progressive politics and change.
Struck by the incredible lack of women holding elected office at the local level in San Francisco, Andrea co-founded Emerge California in 2002 to lead the fight to get more women elected to office in Northern California. Andrea worked tirelessly to develop a top notch training program and in 2005 she founded Emerge America to replicate the model in all 50 states. Emerge currently has training programs in 24 states across the country with plans to expand in the future.
While starting Emerge, Andrea served for 8+ years as Political and Philanthropic Advisor to Susie Tompkins Buell, co-founder of Esprit Clothing and Democratic activist and philanthropist. Prior to moving to the Bay Area, Andrea worked for many years in Washington D.C. as a policy analyst on Capitol Hill and fundraiser for Democratic candidates and committees. Andrea holds a B.A. in Political Science from Tufts University and a M.A. in International History from the London School of Economics.
Andrea is very active in the Democratic Party and regularly lends her expertise to women candidates for local, state and national offices.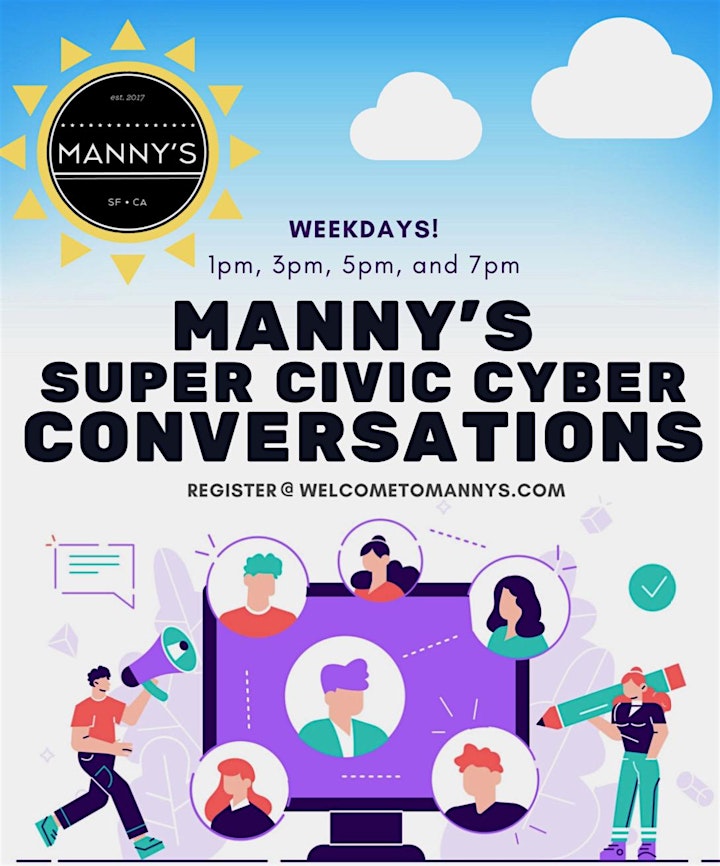 About Manny's Super Civic Cyber Conversations :
San Francisco and the surrounding 5 counties are in the midst of mandated shelter-in-place. All businesses except those deemed essential are closed and many Bay Area residents and scared, nervous, and wondering about the future.
Manny's , a civic gathering and events space located in the heart of San Francisco, is rising to the occasion to create and promote a month's worth of live civic conversations to distribute needed information, give people the hope, and continue to civically engage the public in a time of need.
About Manny's :
Manny's was opened on election night 2018 to create a physical place for people to go to become better informed and more involved citizens. Since opening we've hosted 17 of the Presidential candidates, over 550 civic events, talks, and gatherings, over 40 members of Congress including Speaker Nancy Pelosi, and leaders across different social justice movements like Alicia Garza, Jose Antonio Vargas, Michael Brune, Cleve Jones, and Gabby Giffords.