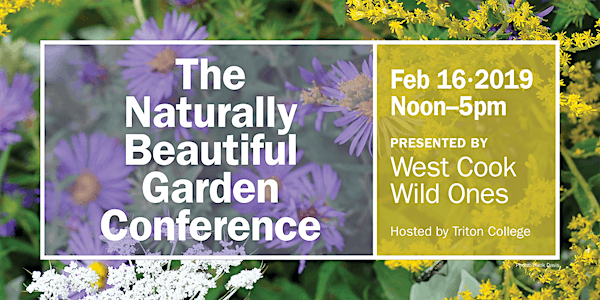 The Naturally Beautiful Garden Conference
When and where
Location
Triton College Robert M Collins Performing Arts Center R Building, 2000 5th Ave River Grove, IL 60171
Description
Learn practical strategies to get the garden of your dreams while saving the planet.
Learn from visionary landscape architect Claudia West, author of Planting in a Post-Wild World, and award-winning garden designer Ben Vogt, author of A New Garden Ethic: Cultivating Defiant Compassion for an Uncertain Future.
West and Vogt will lead a half-day conference on how to design stunning home landscapes that inspire human happiness, provide critical habitat for wildlife and fight climate change.
Please plan to eat before you come to the conference. We will serve light refreshments during a break, but the cafeteria at Triton is not available, and there are very limited dining options nearby.
Free parking in Lot 10, steps away from the Robert M Collins Performing Arts Center at Triton College
If you select the ticket option with a membership, please let us know your address, so you will receive materials from National Wild Ones.
Ticket price day-of conference will increase to $30 for members and $45 for non-members.
Check-in begins at 12 PM. Claudia West will begin speaking at 12:30 PM.
More about the conference...
First, Claudia West, a leading voice in the field of ecological design, will show you how to transform a smaller garden space into the native plant oasis of your dreams. She'll explain, step by step, the art of arranging native plants – which are aesthetically and functionally very different from typical garden plants -- using design principles learned from wild plant communities and archetypal landscapes.
Next, Benjamin Vogt, an award-winning garden columnist for Houzz, will delve into philosophy, science, and psychology to make a case for re-imagining urban landscapes into a network of wildlife refuges. These wild-inspired spaces then become democratic spaces, in the tradition of Olmsted, where all species intermingle while creating awareness and activism for ecological health and social justice.
West and Vogt will have a selection of their books for sale, and will be available to sign them.
Funding is partially provided by PlanItGreen, Oak Park and River Forest's Sustainability Plan, which is supported by CommunityWorks and the Oak Park River Forest Community Foundation.