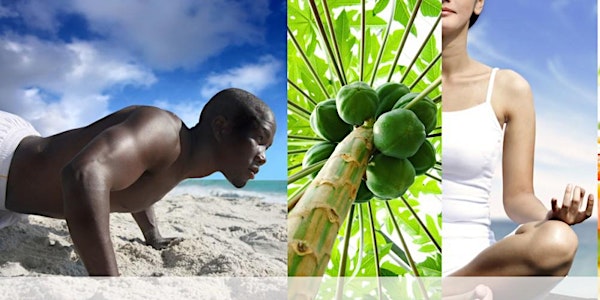 The Natural Lifestyle Masterclass
When and where
Location
St.Paul's Centre Queen Caroline Street London W6 9PJ United Kingdom
Description
Overview: We all produce thousands of rogue cells per day, which could potentially be cancerous, so how can we protect ourselves from diseases? We live in a fast paced toxic environment today which plagues on our lifestyle, which makes us vulnerable and susceptible to various types of illnesses.
Discover super-foods that deliver the most nutrients and the functions of over 100 micronutrients and essential oils to boost your overall wellbeing.
Join us for talks & interactive exercises from nutrition and holistic health professionals. Ticket prices include a goody bag with an aromatherapy oil blend to take home, hand outs with practical exercises & information, discounts on treatments & plenty more!
Workshop 1: Essential oils to boost physical and emotional wellbeing
Learn how powerful pure essential oils are beneficial and be amazed at their effectiveness on a range of health issues including; aiding restful sleep, boosting immunity, builds defence against colds and flu, digestive issues and gut health, emotional wellbeing including reducing anxiety and general overall wellness
Candi Giacchetti is a qualified holistic Health Coach and Kundalini Yoga teacher with a passion for using essential oils to support vibrant health and well being.
Workshop 2: Diet and Hormones
Can what we eat have a direct impact on our hormones and how our body functions? We live in a stressed out, fast paced world today, constantly busy and on the go so much we don't have time to pay particular attention to our diet and how it affects our lifestyle. Learn about what impact diet has on hormones and lifestyle and what quick and easy steps we can do to change or improve it.
Gloria Halim is a Holistic Health and Wellness Coach who empowers people to make the best health and lifestyle choices, with easy to understand information. She specialises in women's health and wellness with a focus on hormones, preconception health, and fertility. She is a member the international alliance of holistic therapists and international association of health coaches (IAHC).
Workshop 3: Heal your gut. Heal your body.
Gain knowledge of digestive health, signs and symptoms of imbalance with practical advice and recipes on how you can transform your health and improve your vitality by naturally restoring balance to reach optimal health. In this workshop, you'll learn how to;
Incorporate food and principles into your lifestyle in order to improve your gut health

The gut microflora – the key things you need to know about beneficial bacteria

The saboteurs – knowing what triggers can affect your gut health, as well as signs that mean your gut is struggling

Intolerances – how to understand if you have one and how to manage this
Petrina Ten, an Iridologist, Kinesiologist and smart nutrition expert will present this session. She runs a successful wellness clinic with her husband Ronald, guiding clients of various ages and nationalities recover from various diseases / illnesses.
Book your space now!
P.S
First ten lucky people get £10 off!!! simply enter First10 when purchasing