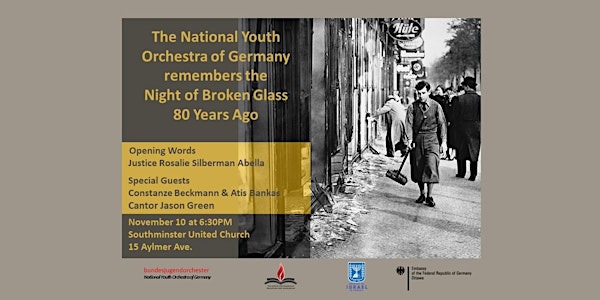 The National Youth Orchestra of Germany Remembers the Night of Broken Glass 80 Years Ago, with Special Guests
When and where
Location
15 Aylmer Ave. Ottawa, ON K1S 2W8 Canada
Description
The National Youth Orchestra of Germany Remembers the Night of Broken Glass 80 Years Ago
This special commemorative concert is in remembrance of the terror and violence faced by Germany's Jewish population at the hands of the Nazis, including the widespread destruction of Jewish businesses and synagogues on the night of November 9th in 1938, Kristallnacht - the "Night of Broken Glass". This concert is in memory of this terrible event and meant to be a sign that such crimes shall never be forgotten and should never be repeated.
The National Youth Orchestra of Germany and special guests will perform a unique and varied programme dedicated to the memory of the Holocaust.
The concert is free and open to the public, tickets must be reserved in advance.


About the
National Youth Orchestra of Germany:
"Just an Average Exceptional Orchestra
When Germany's youngest elite musicians pick up their instruments, the reaction from critics, soloists, conductors, and audiences is enthusiastic. The youthful energy and surprising professionalism of these young performers combine to produce an orchestral sound that is perhaps unique in the world. ..."
https://www.bundesjugendorchester.de/1/startpage/
About Constanze Beckmann:
"At the age of 9, she made her first concerto appearance, performing Haydn's Piano Concerto in D major. Her early musical maturity was further acknowledged when she had her debut at the Berliner Philharmonie at the age of 11, with Mozart's Piano Concerto in E-flat major KV 449. ..."
http://www.constanze-beckmann.com/
About Cantor Jason Green:
"A native of Montreal, Canada, Cantor Green (lyric tenor) began singing at age 6 as a child soprano in his Synagogue's choir. He became its conductor at age 15, under the tutelage of Stephen Glass. He continued his vocal development and knowledge of repertoire by joining the Shaar Hashomayim Synagogue Choir in 1992, soon afterwards becoming its associate conductor. ..."
Ottawa Cantor Jason Green will perform the Kaddish, the hymn of praise to God traditionally used in Jewish prayer services as well as mourning and funeral rituals.