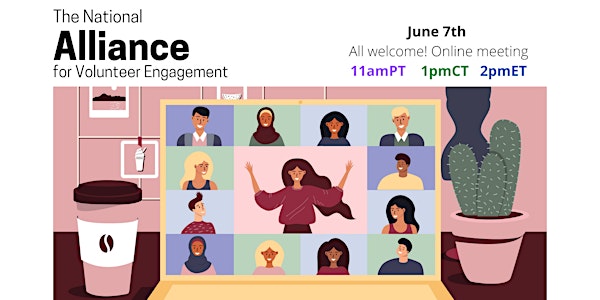 The National Alliance for Volunteer Engagement Meeting
Add Your Voice to the Volunteer Engagement Conversation!
About this event
Register NOW to hear the latest on Strategic Volunteer Engagement (SVE) and share your thoughts with colleagues and members of The National Alliance for Volunteer Engagement!
During this online, roundtable forum, we'll participate in a collaborative discussion around building the case for SVE support. Together, we will:
- Look at existing resources and discuss what's currently working for us.
- Share thoughts on additional needs for case building support.
- Learn about current, exciting Alliance SVE initiatives including:
Two national surveys, one for funders and one for nonprofit CEOs, to determine the current state of SVE.
We want to hear from YOU!
Bring your questions and ideas for sharing during group discussions and breakouts.
RSVP by Monday, June 6 and join in the conversation! Zoom link accessible upon registering.
Click here to learn more about The National Alliance for Volunteer Engagement.
We're looking forward to seeing you there!