Conversations with Emerging Leaders during Unprecedented Times *Hosted by NAMIC - New York & NAMIC Capital Area
About this Event
The NAMIC Sister Chapters will host a series of five events in honor of Black History Month. Executives within the Media, Marketing and Communications industries will serve as panelist for this discussion. Our goal is to provide members with a platform to reflect on Black Culture in the workplace as well as the hard and soft influences it has on one's career trajectory. The discussions will focus on panelists' experiences at a specific level in their career.
Hosted by NAMIC Capital Area and NAMIC New York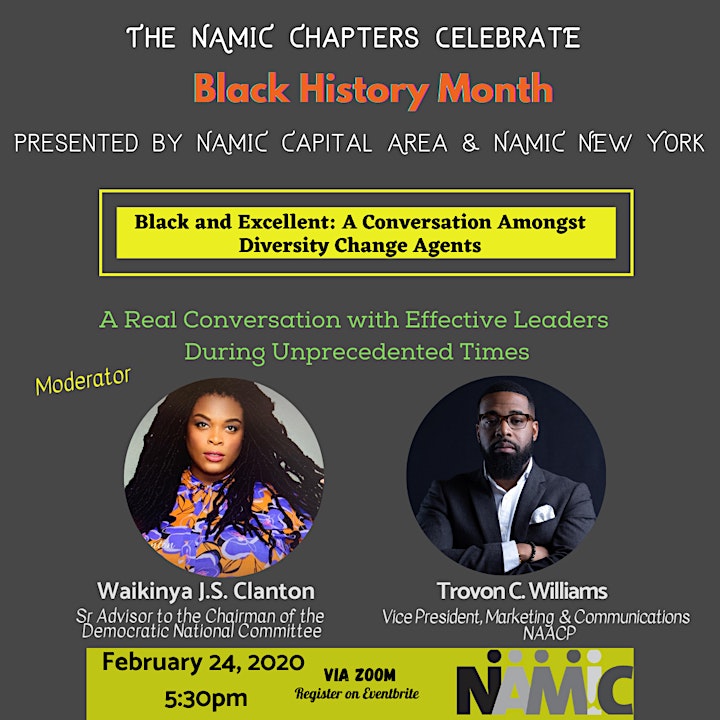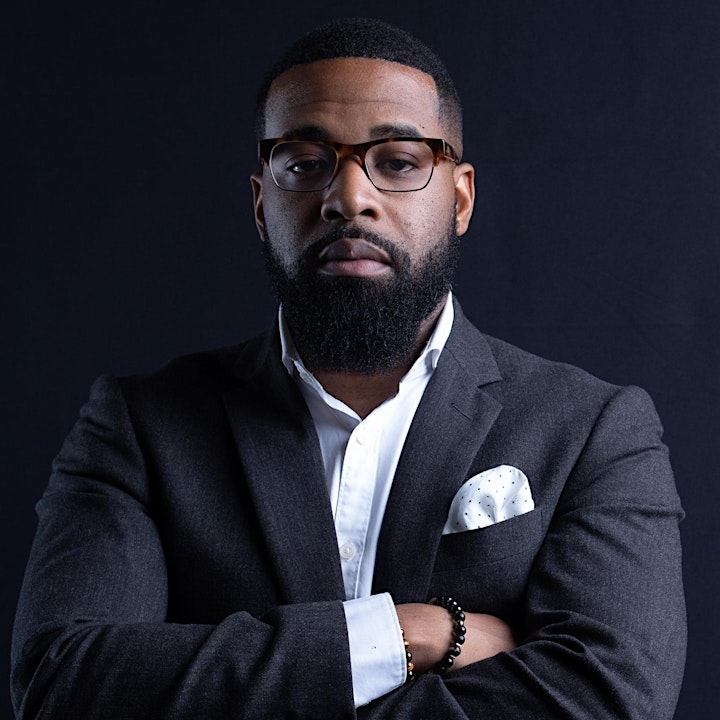 Trovon C. Williams is the Vice President of Marketing & Communications with the NAACP. Optimizing an extensive career developing integrated marketing and brand strategies across government, education, technology, non-profit sectors, Trovon leads an award-winning communications organization who are currently shaping and modernizing the premier civil rights organization in the nation.
Prior to joining the NAACP, Trovon served as Chief Marketing Officer at Perfecta, where he led the company's global marketing and communications efforts and brand expansion from government focus to commercial enterprise service offering. Previously, Trovon served as the Executive Director of Marketing and Communications at the College of Southern Maryland. He has also held senior marketing and communications roles with Iridium Communications, Citrix Systems, and the Bureau of ATF.
Trovon is one of three siblings who graduated from Hampton University. He graduated from the Hampton University School of Business with a Bachelor of Science degree in marketing in 2006. While at Hampton, Trovon was also a proud member of the National Association for the Advancement of Colored People (NAACP; Mr. NAACP 05–06), American Marketing Association (AMA), Student Government Association (SGA), and served as a member of the Executive Council for his beloved class, Ogre Phi Ogre XII. Trovon was inducted into the Hampton University Alumni Association's "Top 40 under 40" Alumni Society in 2017. Trovon has received numerous interactive media awards for his marketing and communications expertise over the last 14 years. While his career has taken him all over the world, he still remains committed to volunteering at local juvenile detention centers, prisons, homeless shelters, and group homes.
Trovon is a native Alexandria, VA a member of the Forbes Communications Council, American Marketing Association and is also a proud brother of Alpha Phi Alpha Fraternity, Inc.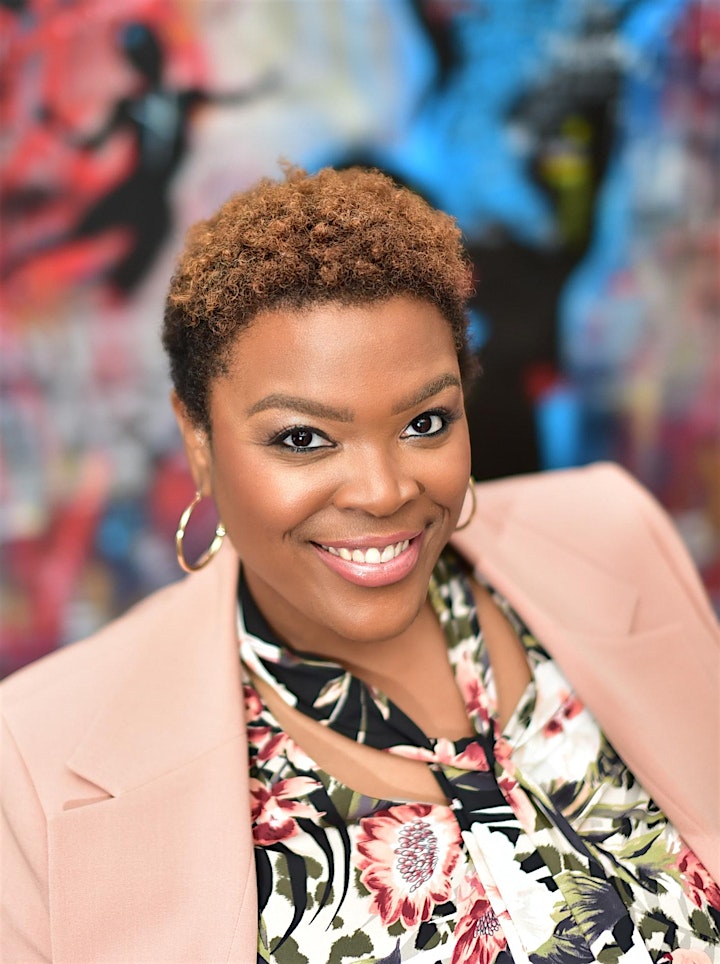 Waikinya J.S. Clanton serves as the Senior Advisor to the Chairman of the Democratic National Committee, Tom Perez, Clanton serves as the Chairman's chief advisor and strategist on critical matters relevant to the betterment of the Democratic party. In her previous role as Director of African American and Women's Outreach and Engagement, Clanton created and led the Party's highly popular engagement and organizing tour for Black women — Seat at the Table.
In 2017, Clanton was one of the lead operatives in the Party's electoral victories in Virginia, New Jersey, and Alabama. She is a nationally sought-after political operative, strategist and thought leader, having spent more than a decade as a trusted advisor to local, state and federal elected officials.
In addition to her distinguished career in public service, Ms. Clanton serves as a member of the leadership council and ambassador of the International Black Women's Public Policy Institute, an alumna of the Congressional Black Caucus Institute's Political Boot Camp training program as well as an alumna of the Women's Campaign School at Yale University.
Founder of the Power of the PUMP, a women's empowerment initiative of WJSC Enterprises, LLC, the former Bonner's Scholar, and owner and publisher of PUMP UP magazine, was nominated as a fellow in the American Council of Young Political Leadership International Exchange program and was presented with the Action and Authority Award by Rev. Al Sharpton and the National Action Network in 2017.
She serves as a Steering Committee and inaugural Board Member of the Black Millennial Convention based out of Washington, DC, serves as an Equity Advisor for the Paris–based French multinational chain of personal care and beauty stores, Sephora; is a member of the Washington Area Tougaloo Alumni Chapter and an At-Large Member of Delta Sigma Theta Sorority, Incorporated, where she was appointed by its 26th National President Beverly Smith to serve as a member of its National Social Action Commission.
Waikinya is a profound advocate for gender and racial pay equality as well as the overall advancement of women and girls.
She has a passion for fashion and is a published author under the pen name, J. Leigh Shontay.
She is a proud alumna of Tougaloo College in Tougaloo, Mississippi and is a member of the Alfred Street Baptist Church in Alexandria, Virginia.