Event Information
Location
The Astana & Anytime Online
112 E Cary Street
Richmond, VA 23219
Refund policy
Refunds up to 1 day before event
Description
Continuing our study of The Sufi Message of Hazrat Inayat Khan: Centennial Edition, we come now to the second half of the book, "The Mysticism of Sound."
The teachings contained in this volume represent the fruit of Sufi mystic Hazrat Inayat Khan's (1882-1927) lifelong study of sound and music as a musician and philosopher whose geographical, artistic and spiritual peregrinations encompassed multiple continents, musical genres, and spiritual paradigms. Hazrat Inayat Khan's teachings show how music is much more than an entertaining pastime. It is, in fact, the underlying code of the whole universe. Music is life, and Hazrat Inayat Khan's subtle elucidations on the nature of sound and music open broad vistas of discovery in the pursuit of life's inner meaning.
Pir Zia is our primary teacher for the Mysticism of Sound and Music and for the first three classes will be joined by special guest Indian musician, Sukhawat Ali Khan and for the fourth class will be joined by conductor, Tarana Jobin, and cellist, LatifaNoor Anderson.
The Mysticism of Sound & Music will be offered Thursday evenings, October 4, 11, 18, and 25, from 7-8 pm EDT. Sign up per class or for the full series.
Please register today on a sliding scale system ($0-$15/class) making this program accessible to you and to any friends drawn to these teachings.
The online class may be watched in real time or anytime after the original webcast. We will send a link the morning of each class which can be used to watch live or any time thereafter.
If you plan to join us in Richmond, please check this when you register. For those of us participating in person, we will continue on with music & refreshments until 9 pm.


BIOGRAPHIES
Hazrat Inayat Khan (July 5, 1882 – February 5, 1927) was the founder of the Sufi Order in the West in 1914 (London) and teacher of Universal Sufism. He initially came to the West, to Europe and the United States, as a Northern Indian classical musician, having received the honorific "Tansen" from the Nizam of Hyderabad, but he soon turned to the introduction and transmission of Sufi thought and practice. Hazrat Inayat Khan's message of divine unity focused on the themes of love, harmony and beauty. In his various written works, such as The Mysticism of Sound and Music, he interlocks his passion for music with his Sufi ideologies making a compelling argument for music as the harmonious thread of the Universe.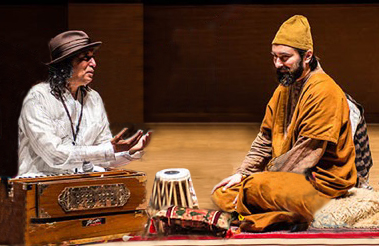 Pir Zia Inayat-Khan continues his grandfather's teachings as the spiritual leader of The Inayati Order, an interfaith, mystical fellowship with branches worldwide. His books include Saracen Chivalry: Counsels on Valor, Generosity and the Mystical Quest (2012) and Mingled Waters: Sufism & the Mystical Unity of Religions (2017). Pir Zia and his family live in Richmond, Virginia, where he teaches regularly at the Inayati Order's North American headquarters, called the Astana.
Sukhawat Ali Khan is a master Indian musician, specializing in Classical Raga singing and Sufi Qawwali music. He first began singing and playing harmonium under the guidance of his father, the legendary Pakistani/Indian vocalist Ustad Salamat Ali Khan. Sukhawat has performed at the Montreal, Monterey and Prospect Park Jazz Festivals, the Fillmore in San Francisco, the Getty Museum in Los Angeles, and at many other major venues across the United States and Europe, and lives in the San Francisco Bay Area.
Tarana Jobin is the Musical Director of the Inayati Order and has conducted the San Francisco Opera in seventeen performances of six different productions, including two world premieres, since 2004. She can be heard on disc conducting Frederica von Stade in music of Chris Brubeck, and leading John Musto's Volpone which was nominated for a Grammy in 2010. From 2015-2018 she served as Resident Conductor for the Toledo Symphony Orchestra. While working part-time for the Inayati Order, Tarana maintains varied professional projects including with the LA Opera, LA Philharmonic's Green Umbrella Series, and Center for Contemporary Opera in New York City.
LatifaNoor Anderson is a cellist and vocalist who plays with the Cassatt String Quartet and the New York City Opera. As a cellist, she has recorded for Telarc, Nonesuch, and RCA with performances in China, Japan, Mexico, Italy, England, Germany, Finland, Australia, Israel, India, and the US. LatifaNoor's studies of Indian Raga with Pandit Pran Nath, Shabda Kahn and Sarmad Michael Harrison inspired the creation of the CD LatifaNoor, a synthesis of Raga and Western classical music for cello, voice, and tamboura.
REGISTRATION
We are using Vimeo. To receive the live stream and/or video link, please sign up in advance through Eventbrite. We ask for contributions to support our costs, $15 per session or $50 for the full four-part, second-half of the series (the first half was spring 2018). There is also a free option to accommodate all those who would like to participate, regardless of financial ability to give. You may watch the video any time after its initial viewing and purchase the fall series up through October 25, 2018 at 3 pm EDT.
When signing up there is a place to say if you will join us online or in Richmond, Virginia. To purchase a copy of the course text, The Sufi Message of Hazrat Inayat Khan: Centennial Edition Volume II – The Mysticism of Sound, please visit Suluk Press.
QUESTIONS?
For additional information, questions about registration, or technical assistance, please contact our offices in Richmond, Virginia, astana@inayatiorder.org or 518-794-7834.
Location
The Astana & Anytime Online
112 E Cary Street
Richmond, VA 23219
Refund policy
Refunds up to 1 day before event