The Mystery of the Liturgy: A Retreat for Artists and Art Lovers
Join +Cordileone & your fellow Catholic creatives via Zoom to contemplate the Great Mystery of liturgy and creativity
Refund Policy
Contact the organizer to request a refund.
Eventbrite's fee is nonrefundable.
About this event
WELCOME LATE REGISTRANTS! Click on this link at 4 pm PACFIC/7 pm eastern to join us:
https://us02web.zoom.us/j/82647328077
The Mystery of the Liturgy: A Retreat for Artists and Art-Lovers
January 29 4 pm Pacific/7 pm Eastern via Zoom
At the heart of creativity is a mystery: where does the gift of beauty comes from and what inspires us to create? At the heart of the Mass is the Great Mystery: How God becomes Man and sacrifices Himself for us.
How does the art of liturgy affect the Catholic imagination and vice versa?
At this retreat you will:
Hear Archbishop Cordileone's reflections on the importance of your calling. Ask him anything you want to know.
Share your stories of your calling and its struggles with fellow artists and art-lovers. Meet new friends and colleagues.
Experience Dr. Anthony Lilles on Beauty and the Liturgy
Wonder at a prize-winning poem by Virginia's poet laureate Sofia Starnes based on a painting "Virgin of Hope" by the Spanish artist Matilde Olivera. Listen as two artists discuss how the sacred begets art. Sofia is the winner of the Catholic Literary Arts 2022 Sacred Poetry Ekphrastic Contest with an incredible poem responding to Matilde Oliviera's sculpture of the pregnant Blessed Virgin Mary.
Read Pope Benedict XVI's Letter to Artists. An annual tradition, it is much shorter and less well-known than Pope John Paul II's letter.
Read together Marcel Proust on liturgy and sacred architecture as art: "Death Comes to the Cathedrals" PLUS the thoughts of Agatha Christie and her fellow artists and intellectuals on the artistic catastrophe of the loss of the Latin Mass. And what did the former Archbishop of Canterbury say about this on page 53 of his play Shakeshaft?
Marcel Proust, then an ex-Catholic, wrote Death Comes to the Cathedrals as a newspaper essay protesting proposals to turn the Cathedrals into art and education centers. If you'd like to prepare in advance Wiseblood Books brought this essay into book form for the first time, purchase it here: https://www.wisebloodbooks.com/store/p117/Death-Comes-for-the-Cathedrals-by-Proust.html
Chant a Litany to St. Cecilia, patroness of music and musicians with Rebekah Wu and another member of the Archbishop's Schola.
Saint Cecilia is one of several virgin martyrs commemorated by name in the Canon of the Mass. The church of Santa Cecilia in Trastevere, founded in the 3rd century by Pope Urban I, is believed to be on the site of the house where she lived and died. It being written that, as the musicians played at her wedding, Cecilia "sang in her heart to the Lord" she is the patron saint of music and musicians.
Register now to receive the Zoom link. We ask for a donation of $50 if you can reasonably afford it. As always and unlike many fine organizations, we priortise serving you over charging you! Thank you for the gift of your attention in a busy and distracted world.
St. Cecilia with an Angel (1617 Domenichino)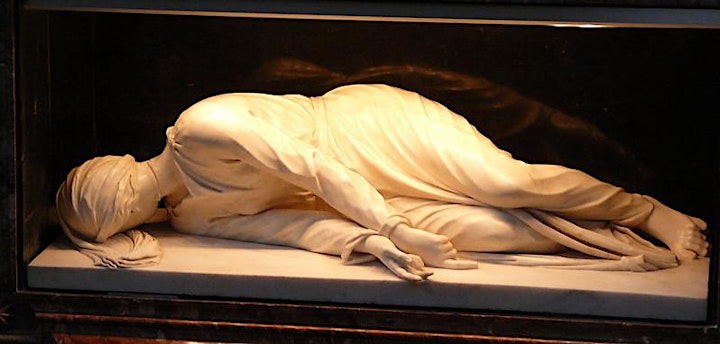 Stefano Maderno's The Martyrdom of St. Cecilia's martrydom in St. Cecilia's church in Rome. The saint's tomb had been opened in 1599, and Cardinal Paolo Emilio Sfondrato commissioned Maderno, very young at the time, to recreate the martyr's body in marble.