THE MYSTERY OF EDWIN DROOD

Multiple Dates
Event Details

"Boisterous and delectable. Shimmering musical pleasure to savor."
— The New York Times



ABET presents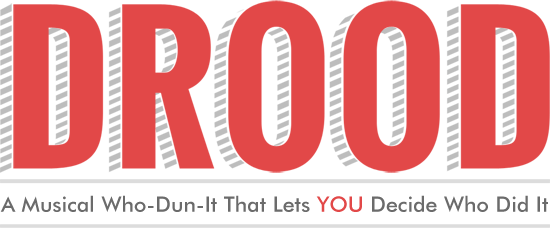 THE MYSTERY OF EDWIN DROOD 
music, lyrics and book by Rupert Holmes 
based on the book by Charles Dickens
 
SEPT 6, 7, 12, 13, 14, *15, 20, 21, *22 
THU, FRI & SAT 8:00pm • SUN *2:00pm 
 
MUSICAL | At this hit Broadway musical, you finish the story Charles Dickens didn't! It's the show that ends differently every night, depending on what the audience decides. This rollicking winner of the Tony "Triple Crown" (Best Musical, Best Book, and Best Score) unites the company and the audience in the joy of theatrical invention.

directed by SAMUEL FISHER
musical direction by ZEEK SMITH 
choreographed by CODY RUSSELL

stage managed by AMANDA EASON
costume design by TIFFANY JORDAN • set design by JESS TAYLOR 


starring 
DAVID JON DAVIS as Mayor Thomas Sapsea/Chairman William Cartwright
LESLIE RICHART as Edwin Drood/Dick Datchery/Miss Alice Nutting
JESSICA ALEXANDER as Rosa Bud/Miss Deirdre Peregrine
JAMES ALEXANDER as John Jasper/Mr. Clive Paget
AMY FARMER as The Princess Puffer/Miss Angela Prysock
BOB SHELLENBERGER as Rev. Crisparkle/Mr. Cedric Moncrieffe
ALEC HADDEN as Neville Landless/Mr. Victor Grinstead
DAISY MILLER as Helena Landless/Miss Janet Conover
RICHARD SPEED as Bazzard/The Waiter/Mr. Philip Bax
LEONARD ALTERMAN as Durdles/Mr. Nick Cricker
HAYS JACOBS as Deputy/Master Nick Cricker
S J ROCHE as The Stage Manager • LAUREN BELL as Beatrice/Ensemble
ANASTACIA GRIFFIN as Flo/Ensemble • ELEANA CARRION as Ensemble
Where

ABET: Atlantic Beach Experimental Theatre
716 Ocean Boulevard
Atlantic Beach, FL 32233


Multiple Dates
Add to my calendar
Organizer
ABET's mission is to bring the excitement of live theatre to diverse audiences. There is an emphasis on new and original plays and neglected classics, and on developing new talent.