Multiple Dates
The Myrtle Beach Princess Gala
Description
The Princess Gala is a magical morning where you and the special child you bring to the event create a charming memory during an enchanting morning at the Market Common in Myrtle Beach. And while you are enjoying this royal, make-believe time, your ticket will also be supporting Fostering Hope, a local nonprofit organization that helps children in crisis. This is our first year raising money for them thru the Princess Galas and we are honored to be associated with this wonderful organization that helps children during difficult times. Tickets are only available in advance and must be purchased at this site for each child and each adult attending. Please don't wait too long because we feel terrible when anyone is disappointed after they sell out.
Our BIG NEWS THIS YEAR is that we're celebrating a full decade of Princess Galas!!
Please take a look at our website for some more pictures of past events, FAQ and the full ittnerary: PrincessGala.net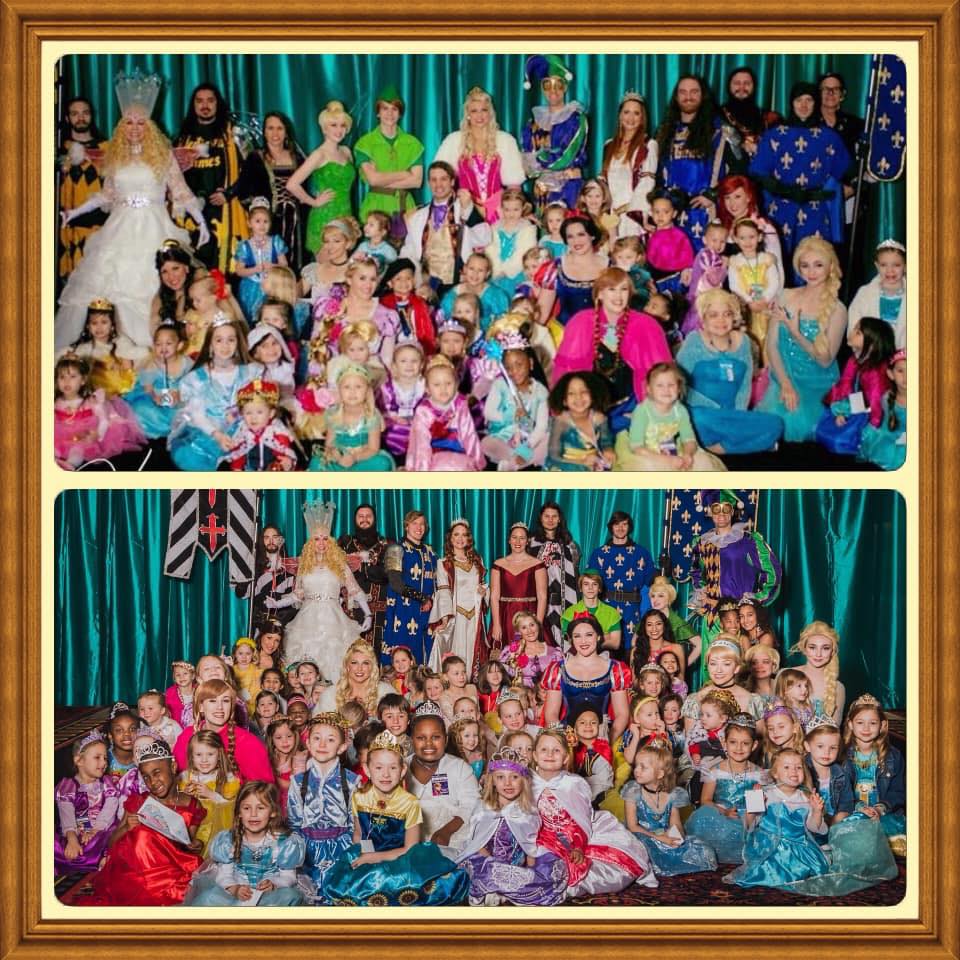 To celebrate our 10TH Annual Princess Gala, we've decided to give you these two Saturday morning choices: March 9 or March 16!! (In the upper right, click "Select a different date" to choose which date you are buying tickets for; it's above the location.) All inclusive tickets for the full morning are still just $30 each but if you decide to join us for all the fun of BOTH PRINCESS GALAS, we offer a reduced ticket rate of $25 per event.
We've included again an AUTOGRAPH BOOK option for your child and our amazing cast members will be delighted to sign it for them during the morning. If you are attending both events- only one is needed but please remember to bring it along to the second gala with you. You'll find the autograph books on the bottom of the ticket options once you choose a date. (Either date selected gives you the option of signing up for both Princess Galas or to purchase the autograph book.)
At 8:30 your morning begins with a royal breakfast at Travinia Italian Grill where you'll meet your Fairy Godmother and some other special guests who will grant wishes and hugs. Then the "Real Princesses" will arrive with great fanfare! (Since you always ask where we get such incredible, Disney-ish Real Princesses who love spending time with your little ones, we'll share that secret. In real life, they are local tv celebrities, professional entertainers and characters from The Character Company. Don't forget....that information is just between us adults, ok?)
Speaking of the royal breakfast, please don't forget to bring some cash along so you can leave a tip for your waitstaff since they are donating their morning off to make your breakfast magical and special.
After breakfast, your little prince or princess can practice their official royal wave during a short parade led by the Beautiful Princess and Handsome Knights & Squires from Medieval Times Dinner and Tournament. At the end of the parade, you will receive a royal welcome befitting your presence. Don't be surprised if Prince Charming shows up with his unicorn (provided by the Fidelis Foundation) and then it's time to pose for the official royal, group photograph taken by Creative Xpressions Photography and PHV Photo. Next, you'll enjoy a princess-themed movie at Grand 14 - Stone Theater with popcorn and a drink. *The movie is princess themed and usually lasts for reasonable timespan for you and your child. Around 11:30 it's time to start to say goodbye but not before your little princess or prince receives their special goody bag filled with things for both of you. And before you go, you will each get a delicious, magical cupcake made extra special by Coccadotts Cake Shop.
As you leave we hope you'll feel warm inside for creating a new, wonderful memory while also supporting Fostering Hope who are helping children. These are children entering Foster Care system or suffering a tragedy such as a house fire. Fostering Hope makes a traumatic time feel less hopeless and showers them with love in the form of clothing from head to toe and even Christmas Presents to hundreds of children. Approximately 200 children are served thru Fostering Hope every month.
FINAL WORDS AND RULES OF THE EVENT:
It's mandatory for your child to attend in full princess (or prince) costume and that at least one paying adult attends with them**. (Of course you may have more than one paying adult per child and many do.) Pre-ordered tickets** at this site are a must; there will be no tickets available at the door and we will most likely sell out so please order soon. Our all-inclusive price is $30 per ticket per event - plus Eventbrite charges a small processing fee. If you wish to attend both mornings you will get a discounted price of $25 per ticket. This year you also have an opportunity to purchase an autograph book also only in advance when ordering your tickets. Every member of our amazing cast will be delighted to sign it for your little one and we will have special times set aside to do that. We ask that the adults carefully monitor these books and put their child's name in it as soon as possible after receiving the books at the event.
**One necessary legal thing we have to add about the tickets: "by proceeding with ticket purchases you are agreeing to be solely responsible for the safety and well-being of the child you bring to the Princess Gala." ** (In other words, we're not babysitting them or taking responsibility for them during the Gala. You and your child/grandchild/neice are enjoying the event together and you are watching over them. Kind of like if you took them to Disneyworld.)
Our ticket prices includes full, online access to all pictures taken by our royal photographers such as the official group portrait and many amazing moments captured during breakfast, the parade and their time at the theatre.
Please visit our website at PrincessGala.net for more information on the full itinerary, pictures from past galas, a look at our amazing sponsors and answers to FAQ's about this enchanting event that you and your child will experience together. (Our site is best viewed on a PC or ipad instead of your cell phone.) We also hope you'll stop by and "like" our new Facebook page "The Myrtle Beach Princess Gala" where we will keep you in the loop on all things Princess Gala.
If you have any questions or need additional help, just email your fairy godmother Cindra Marshall at CindraLM@aol.com. Please make sure to put "Princess Gala" into the subject line.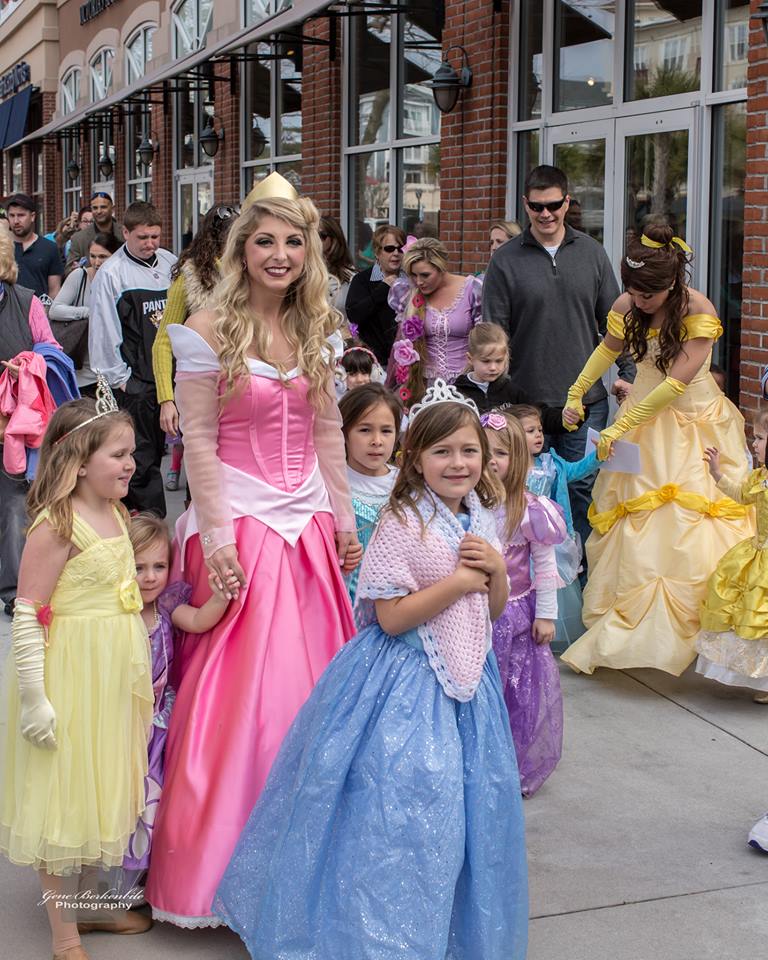 Little Princesses and Princes with their accompaning adults and the Real Princess are led by handsome Knights and Squires to meet Prince Charming in front of the theater!
* The adult(s) accompanying the child is/are solely responsible for their safety and well-being during this event.