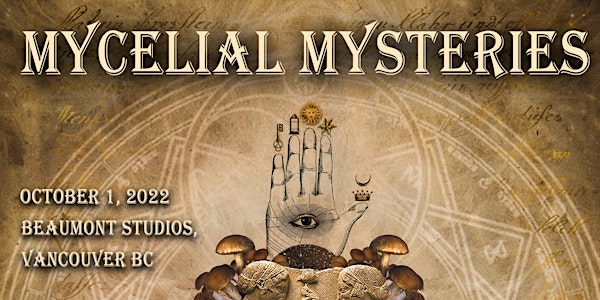 The Mycelial Mysteries
A Summit on Entheogens - Herbalism - Mycology - Esoteric Mysteries - And More...
When and where
Location
The Beaumont Studios 316 West 5th Avenue Vancouver, BC V5Y 1J0 Canada
Refund Policy
Contact the organizer to request a refund.
Eventbrite's fee is nonrefundable.
About this event
Life is Mysterious. She hides her truth amongst those who are curious. Waiting for the time when they will turn their attention inward. The One who struggles to find their way in darkness shall cast light on the deepest shadows of self and emerge, like the mushroom, victorious in its splendor, connecting all in the web of creation.
We are diving into the Mysteries.
Join us together with an intimate group of like-minded initiates for a day of connection and expansion as we explore eclectic facets of the psychedelic revolution.
Enter: The Mycelial Mysteries. A Summit featuring a dynamic group of presenters who will delve into the intersection of Entheogens, Herbalism, Mycology and Esoteric Mysteries. Step beyond the veil as we collectively co-create the initiation into the aeon of the Ancient Future.
Brought to you by:
Microgenix · House of Origins Apothecary · Fungi Academy
𓁿 𓁿 𓁿 𓁿 𓁿 𓁿
PRESENTER LINE UP & SCHEDULE
DOORS OPEN AT 9:30 AM
Join us for bulletproof mushroom coffee!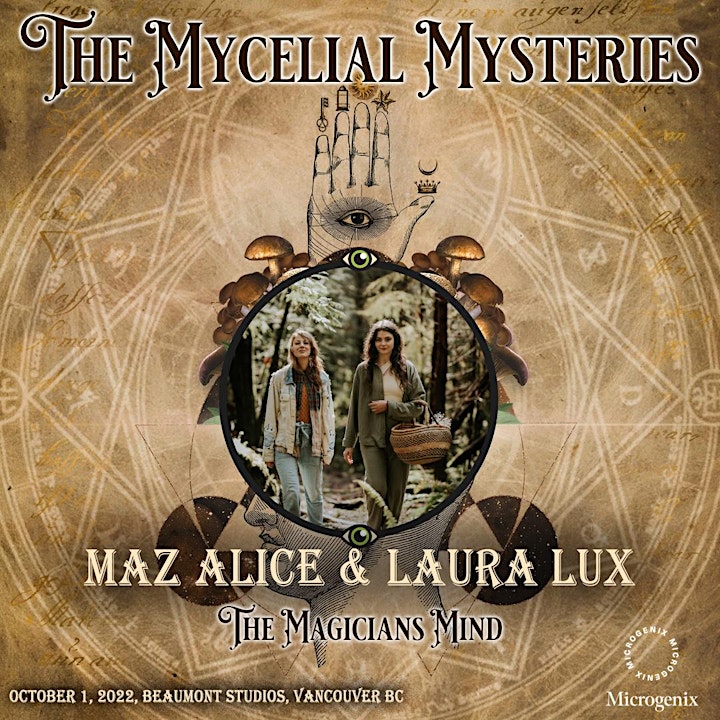 10am - 11am
The Magicians Mind
with Laura Lux & Maz Alice: House of Origins Apothecary
An exploration of how ritual and entheogenic medicines are powerful tools for mental health through the lens of western herbalism, hermetic arts, and the scientific perspective. Patterning consciousness by weaving magic into the mundane.
House of Origins Apothecary is a home of magically minded botanical preparations based on the Sunshine Coast, BC. In addition to supporting people with tinctures and other herbal medicines, Laura and Maz support people in their journey of internal alchemy through the weaving of herbalism, microdosing, and spirit-science.
Laura is a non-binary medical herbalist whose practice merges western medicine and traditional methods, including scientific and spiritual practices.
​Maz is a multidisciplinary practitioner who works with oracle and ritual arts, herbalism and astrology, to support clients in thriving on their path moving forward.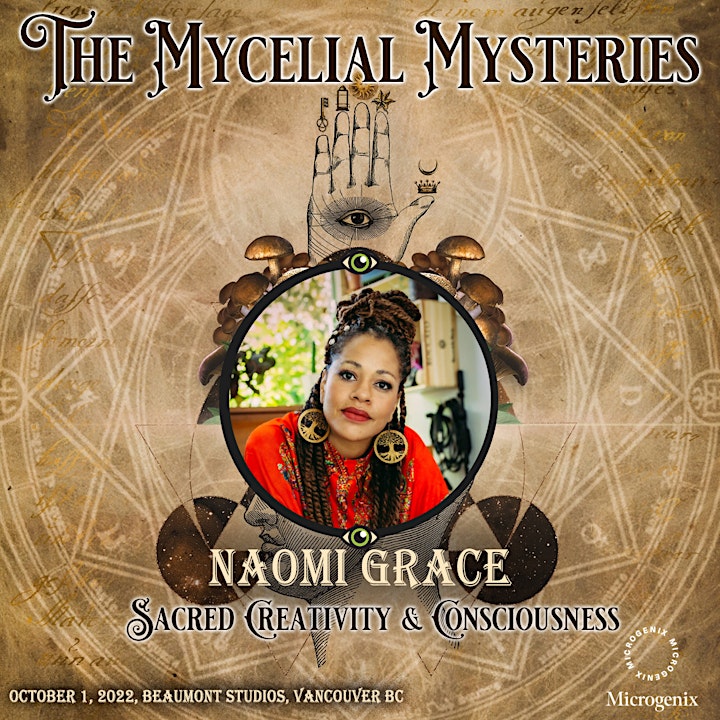 11:15am - 12:15pm
Sacred Creativity & Consciousness
with Naomi Grace
The essence of human identity is creativity. Our creativity can be expressed in many ways and guides our evolution, particularly though artistic expression. Although wisdom around the function of art as sacred medicine has been obscured by colonial dominant culture, we still instinctively lean into its healing power, even if subconsciously. Much like entheogenic medicines, art as medicine endeavours to expand our consciousness and perceptions of self, thus expanding our capacity for imagination and co-creating collective evolution. Art is a reflection of life, just as life is a reflection of art; both of which we are the creators.
Naomi Grace, multidisciplinary artist, will share how her relationships with sacred mushrooms shape and guide her artistic process, as well as how her art intends to encourage exploring personal and collective value systems, relationships to the natural world, expression of our collective human story, and challenge our definitions of leadership as we enter a new era of being and co-creation.
Naomi is the founder of Melanin Rising, a tech integrated, plant-based lifestyle brand creating empowering apparel and wellness products that celebrate creatives of the African diaspora; past, present and future. Melanin Rising offerings can be found online and through various retail partners across Canada. www.melaninrising.com
𓁿 𓁿 𓁿 𓁿 𓁿 𓁿
12:15pm - 1:15pm LUNCH / NETWORKING / VENDOR MARKET
𓁿 𓁿 𓁿 𓁿 𓁿 𓁿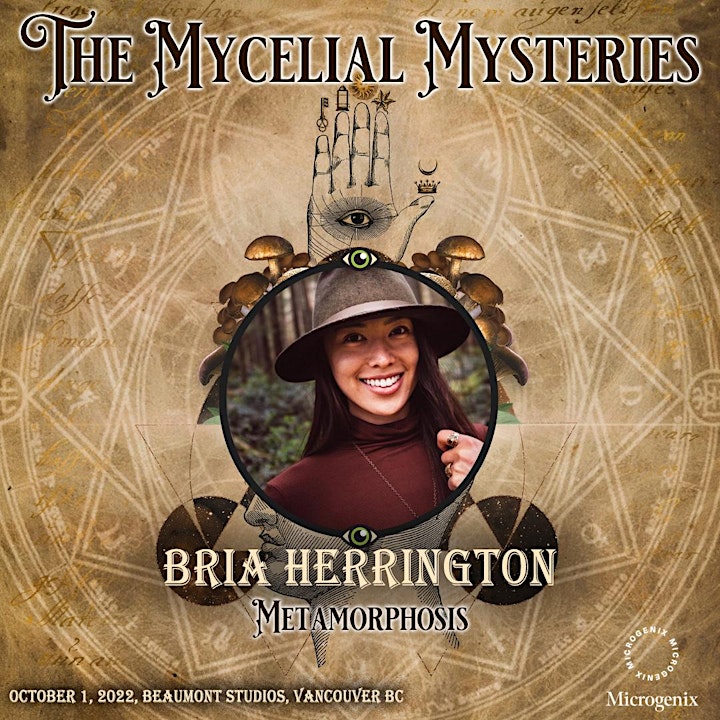 1:15pm - 2:15pm
Metamorphosis : Entheogens and Pharmaceuticals
With Bria from Nu Earth Alchemy
A deep dive into the intersection of pharmaceuticals and entheogens. Discover current scientific evidence, side effects, contraindications, and practical tools to safely weave or wean these medicines to establish inner harmony and vitality (explore actions with antidepressants and ADHD pharmaceuticals, including SSRI's, SSNRI's, and central nervous system stimulants). The path of holistic wellness is optimized by full spectrum awareness of science, spirit, and safety.
Bria is a practicing Registered Nurse and founder of Nu Earth Alchemy, sharing transformative breathwork, plant medicine journeys, womb circles, and embodiment practices. Her work is deeply rooted in earth wisdom, esoteric mysteries, nervous system regulation, and awakening the inner healer.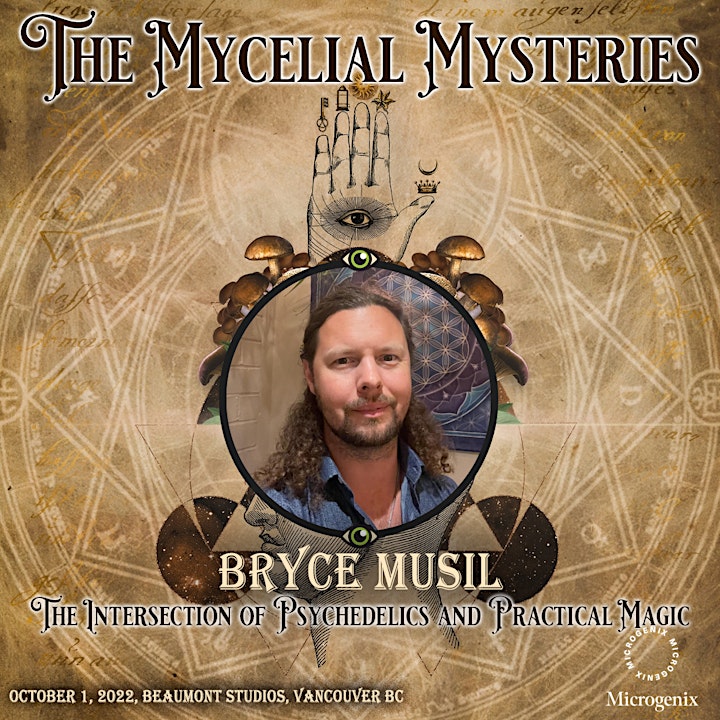 2:30pm - 3:30pm
Into the Mystery: The Intersection of Psychedelics and Practical Magic
with Bryce Musil
Explore the intersection of psychedelics and practical magic from a western esoteric Viewpoint.
Introduce and experience some practical tools and ritual frameworks to aid in connecting with the mystery.
Discuss some key insights which directly apply to Psychedelics, Practical magic, and life in general.
Bryce Musil is a Transformational coach, practicing ceremonial magician and multidisciplinary artist. He teaches practical approaches to personal transformation and esoteric subject matter. He currently works with individuals and groups to integrate stuck emotional charges and use that energy for creative purposes.
He will be leading a group journey to Egypt in December 2023.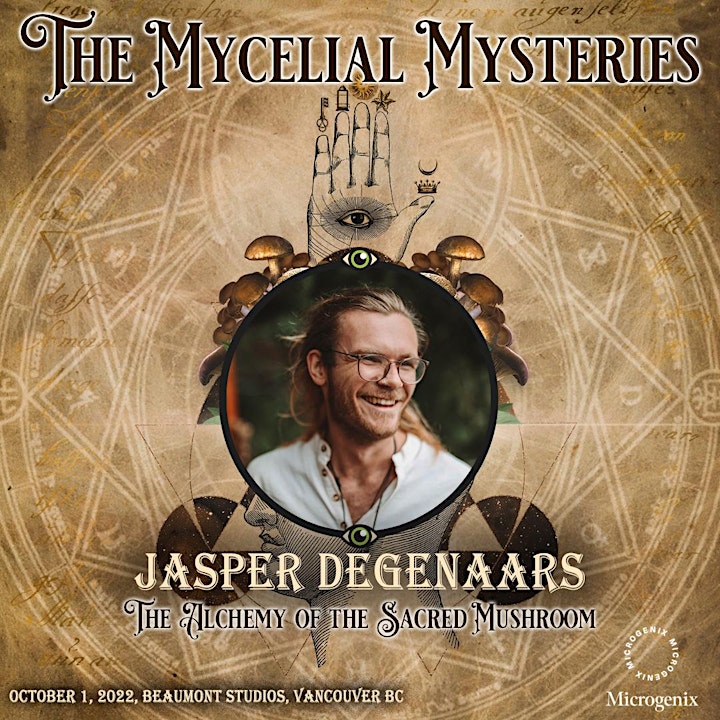 3:45pm - 4:45pm
The Alchemy of the Sacred Mushroom
with Jasper Degenaars : Fungi Academy
Dive deep into the ancient mycelial networks. In this talk we will discover the origins, chemistry and co-evolution of entheogenic, alkaloid producing naturally occurring fungi. How the have shaped their ecosystems and human cultures since the beginning of time.
Jasper Degenaars is the Hyphae Headmaster at Fungi Academy in Guatemala. He has taught over 2,000 people how to successfully grow all kinds of mushrooms. Born and raised in the Netherlands, he believes that sacred mushrooms have the potential to deepen our connection with nature, ourselves, and our communities.
𓁿 𓁿 𓁿 𓁿 𓁿 𓁿
5pm -5:30pm : CONVERSATIONS & VENDOR MARKET
𓁿 𓁿 𓁿 𓁿 𓁿 𓁿
We want to say a special thank you to Microgenix for their sponsorship. Microgenix is a group of passionate individuals who use the highest quality Canadian sourced mushrooms, to enhance and uplift the lives of their community. With confidence and passion in holistic medicine, they offer a safe hand as you begin your journey of intention and exploration. Check out their premium mushroom products!