Description
INNOVATION • ENTREPRENEURSHIP • OPPORTUNITY
Bunker Labs Raleigh-Durham, a 501(c)3 organization committed to veteran entrepreneurship, is excited to announce the Muster RDU. Presented by the Military Veterans Network at MetLife, the Muster RDU will be held on Thursday, September 22nd from 8am – 5pm at the MetLife Global Technology Campus in the Research Triangle Park. The event welcomes veterans, corporate partners, and innovators to come, bring their best ideas and develop new connections and insights. The program will bring together hundreds of participants and partners for a full day of veteran entrepreneurs pitching their businesses, keynote speakers, an Idea Lab, and a Marketplace to showcase opportunities and products from veteran-owned small businesses and companies that support the veteran community.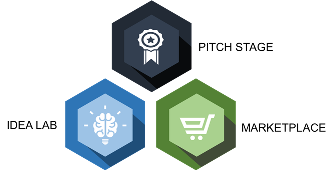 MetLife Global Technology Campus
The Muster RDU will be held at the MetLife Global Technology Campus comprised of two state-of-the-art 213,500 square-foot office buildings overlooking Lake Crabtree. The facility houses a highly-skilled workforce of technologists. The site features an outdoor amphitheater, basketball court, walking trails, all part of a Wi-Fi-enabled work environment that offers employees a great deal of flexibility in where and how they get their daily work done.
Since MetLife began hiring in RTP, employees have contributed thousands of volunteer hours to local community service projects. In addition to partnering with Bunker Labs RDU, the MetLife Foundation has made grants exceeding $2 million to support a wide range of community programs in North Carolina.
AGENDA
7:30 AM – 8:00 AM Check-in, Breakfast & Networking
8:00 AM – 12:00 PM Opening Ceremonies, Speakers, Panels & Breakout Sessions
12:00 PM – 1:30 PM Lunch, MetLife Presentations & Panel
1:30 PM – 4:00 PM Pitch Stage & Breakout Sessions
4:00 PM – 5:00 PM Speakers, Awards and Closing Remarks
5:00 PM – 7:00 PM Open Networking, Food and Drinks