Description
This year's Muster theme, Big Ideas, invites veterans, corporate partners and innovators to come, bring their best ideas and develop new connections and insights. Previous Muster events have won praise as "the most exciting innovative veterans' event I have ever been to."
This year's program, presented by JPMorgan Chase, will bring together hundreds of participants and partners for a full day of veteran entrepreneurs showcasing their businesses, and an Idea Lab from leading business and military leaders.
Chuck Newhall, author of Fearful Odds, and David Silverman, co-author of Team of Teams will be doing book signings and 150 attendees will receive a signed book with donations of their choosing.
All veterans, former military, entrepreneurs, business leaders are welcome to join.
Idea Lab: Featuring expert talks and panel discussions with political, military and corporate leaders to cover topics such as defense innovation trends, the investment and talent landscape, and veteran social impact.
Marketplace: A space for Bunker member companies and other veteran-owned businesses to showcase their products and services.
The Canteen and Reception: We will provide a casual dinner, beverages and lots of sidebar conversations throughout the day. Like any good canteen we invite people to come, relax, connect with old friends or make new connections.
*** REMINDER: FORMAL PROGRAM BEGINS PROMPTLY AT 1:00 P.M. ***
Current Speaker Lineup: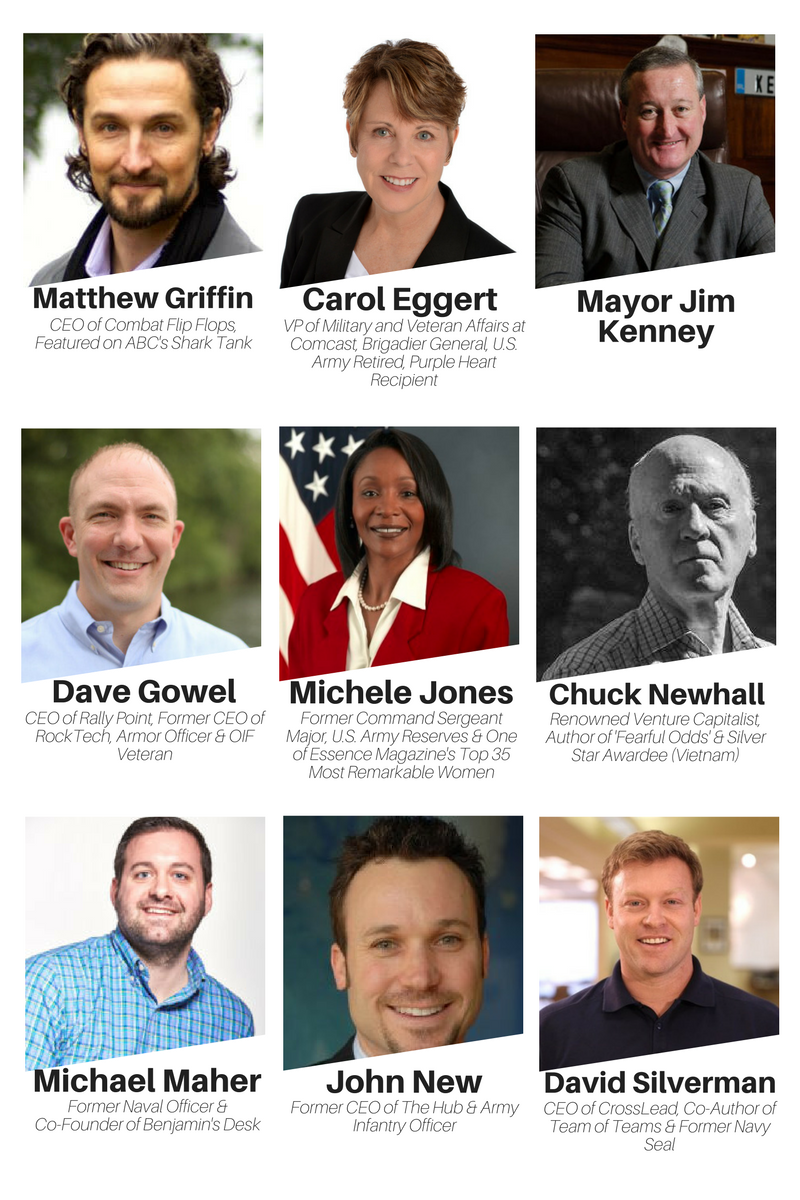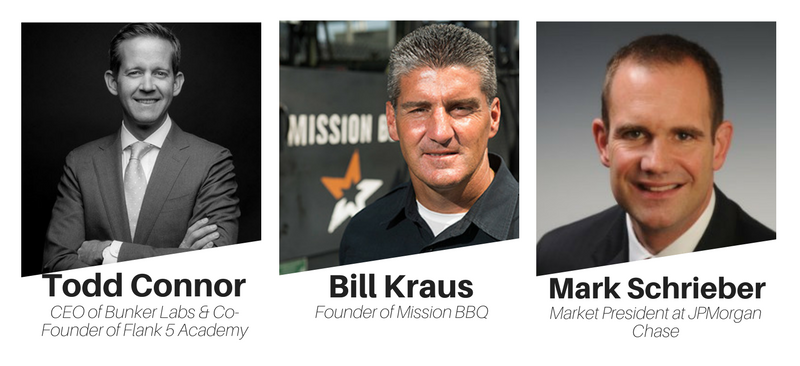 Additional Veteran Speakers Include:
Coded By Kids CEO, Sylvester Mobley
GoPaperBoy CEO, Jen Padova Gallagher
Kinetic Ceramics CEO, Rob Frantz
Serve1 CEO, Chris Diaz
StarchUp Founder, Dan Tobon
General Agenda:

12:00 - 1:00 pm: Registration
1:00 – 1:20: Opening Ceremony with Mayor Jim Kenney and Todd Connor, CEO of Bunker Labs
Idea Lab Begins
1:20 - 1:50: Philadelphia Vision for Digital Inclusion: Sylvester Mobley, CEO of Coded By Kids joined by Mayor Jim Kenney
1:50 - 2:10: "Socializing Today's Forces": Dave Gowel, CEO of RallyPoint (Former Army Ranger)
2:10 - 2:30: Veterans Disrupting Real Estate: John New, former CEO of The Hub, Mike Maher, CEO of Houwzer, Dan Tobon, CEO of X Appeal.
2:35 - 2:50: Financial Planning for The Masses: Ben Pitts, CEO of MyFinancialAnswers.com (USMA grad and former Goldman Sachs Wealth Manager)
2:50 - 3:00: Conneting Dots for Veterans: Mike Woody, CEO of Job Advocate (retired Army Airborne Ranger)
3:00 - 3:25: "Giving Back": Jeff Courtney, JPMorgan Chase; Bill Kraus, Mission BBQ; Ryan Manion, The Travis Manion Foundation
3:25 - 3:55: Vietnam to Venture Capital: Chuck Newhall (renowned Venture Capitalist, Silver Star Recipient and Author of Fearful Odds)
4:25 - 4:35: Purposeful Childcare: Jen Gallagher, CEO of GoPaperBoy (Recovering attorney, Navy spouse and mother of 4)
4:35 - 4:50: Fighter Pilot to Piezo Pumps: Rob Frantz, CEO of Kinetic Ceramics (former F-18 Pilot)
4:50 - 5:05: Catalyst of Change: Brigadier General Carol Eggert, Vice President of Military and Veteran Affairs Comcast
5:05 - 5:15: Cleaning up an Industry, Dan Tobon, Co-Founder of StarchUp (former Army Sniper and Recovering Attorney)
5:15 - 5:35: Breaking the Glass Ceiling: Michele Jones, former Command Sergeant Major of the Army
5:35 - 5:50: Reaching Your Potential: CEO Chris Diaz, (former Navy Corpsman, PhD Student at Drexel)
5:50 - 6:10: Flattening Communication: CEO David Silverman (former Navy Seal and co-author of Team of Teams)
6:10 - 6:35: Hope from the Hanoi Hilton: Ralph Galati, Director of Veterans Services at St.Joseph's University (former USAF Officer and POW)
6:35 - 7:00: Business Not Bullets: Matt Griffin, CEO of Combat Flip Flops, former Army Ranger
7:00 - 7:15 pm: Closing Remarks (Mike Maher, Todd Connor, Joe Witte)
7:15 pm – 9:00 pm: BBQ Reception, Happy Hour and Networking