About this Event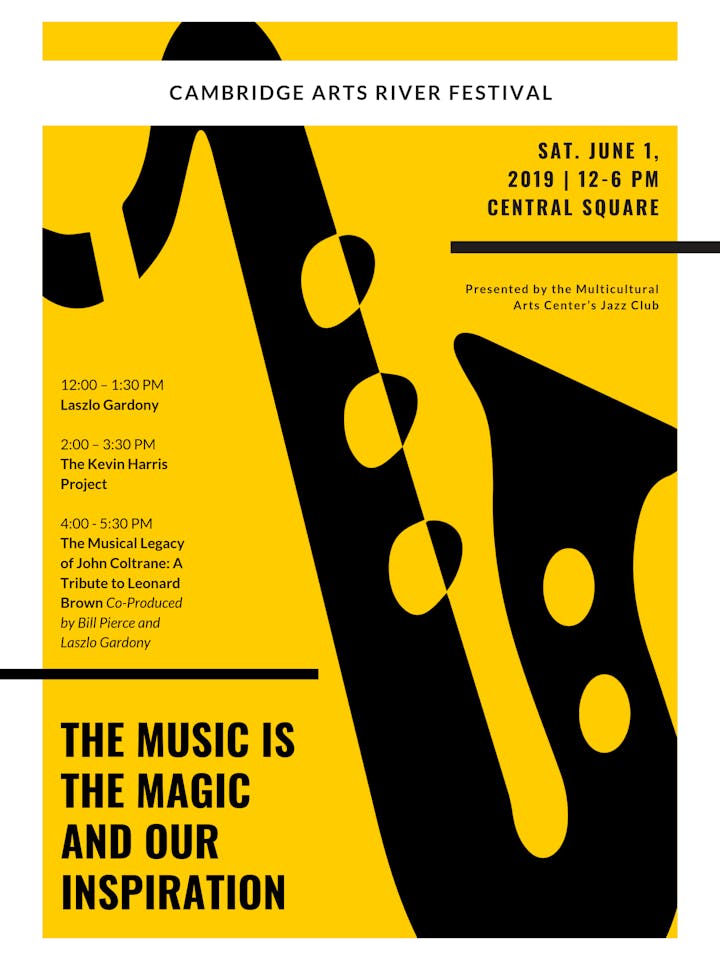 Join the Multicultural Arts Center at the Cambridge Arts River Festival on June 1, 2019 12:00 – 6:00 PM for a FREE concert at the Jazz, World Music, and R&B stage. For over 10 years the Jazz Club at the Multicultural Arts Center has brought together an exciting line-up of exceptional musicians – and this year is no exception! This year's amazing musicians include Laszlo Gardony on Solo Piano, The Kevin Harris Project's Roots, Water and Sunlight: A Contemporary Octet Expedition through the Expressions of James Baldwin, and The Musical Legacy of John Coltrane: A Tribute to Leonard Brown Co-Produced by Bill Pierce and Laszlo Gardony. The schedule and artist details for the day will be as follows.
This event is free and open to the public. No registration or ticket is needed for this event.
12:00 – 1:30 PM
Laszlo Gardony – Solo Piano
Real music in real time featuring in-the-moment improvisations, of-our-time originals, and fresh takes on standards performed solo by internationally acclaimed jazz pianist and composer Laszlo Gardony.
2:00 – 3:30 PM
The Kevin Harris Project : Roots, Water and Sunlight A Contemporary Octet Expedition through the Expressions of James Baldwin
In looking to expand his skills as a composer, Harris set out to put music to the renowned and significant thoughts shared by James Baldwin from his book The Fire Next Time. The project comprises three movements for a wind octet to be accompanied by rhythm section, digital instrumentation, and recorded words of Baldwin. Baldwin's book courageously addresses racial injustice in America. With his musical composition, Harris aspires to convey Baldwin's perspective on how blacks and whites must transcend what they think they know, believe, understand and fear; and that only by expanding their perceptions can they fulfill and honor the way society can and perhaps should be.
Personnel: Kevin Harris, Composer and Director | Anggie Obin, Flute | Jonathan Suazo, Alto Sax | Gregory Groover, Tenor Sax |Cosimo Boni, Trumpet | Daniel Dszczepanski, Trumpet | Max Acree, Trombone | Brandon Lin, Trombone | Max Ridley, Bass | Brian Richburg, Drums |Nikolai Mishchenko, Piano | Calvin Limuel, Electronic Digital Instrumentation
4:00 – 5:30 PM
The Musical Legacy of John Coltrane: A Tribute to Leonard Brown
Co-Produced by Bill Pierce and Laszlo Gardony
John Coltrane is considered one of the greatest musicians of our time. His music is timeless and transports the listener to a higher level of understanding that is both serene and unforgettable. Bill Pierce and Laszlo Gardony seek to both keep his legend alive, and to honor Leonard Brown, a musician who loved John Coltrane's music, and until his death in March of this year, was one of the principal organizers of the annual John Coltrane Memorial Concert.
Personnel: Bill Pierce, Tenor and Soprano Sax | Laszlo Gardony, Piano | Bill Lowe, Bass Trombone and Tuba | Bobby Tynes, Alto and Soprano Sax and Flute | Yoron Israel, Drums | Ron Mahdi, Bass
MULTICULTURAL ARTS CENTER: The Multicultural Art Center is a non-profit corporation founded in 1978 as an arts center focused on helping diverse populations better understand one another. Our mission is to present multicultural visual and performing arts programs that educate the community about diversity, and to make our facility available to artists or groups that might not otherwise have access to a professionally equipped facility or the cultural mainstream.
For more info visit www.multiculturalartscenter.org