Actions and Detail Panel
The Multiplicity of Intuition
Fri, April 15, 2016, 7:00 PM – 8:30 PM EDT
Description
An Inspirational Evening of Idea Sharing with: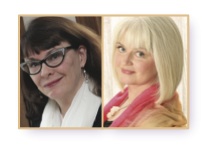 Cassandra Joan Butler M.S., L.M.T.
Astrologer & Medium
and
Kathleen Boldt B.Ed., C.Ht., R.M.T.
Psychic Medium
Join Cassandra and Kathleen and ignite your intuitive wisdom, as they discuss and provide experiences of the intuitive in all its facets and parameters. A dynamic, live event, customized for the individuals in attendance, topics may cover: intuition's purpose, how it works, how best to access it, how astrology influences it, when to allow it's imput to ignite your actions and other wonderful spontaneous, channelled surprises. Seating is limited so be sure to register early.