Description
The 7th Beneficial MudBall Ball & Ephemeral Piazza
A Garden Celebration of Bioremediation & Symbiosis
WHEN: Sunday, May 21, 2016
TIME: 2:30-7:30 pm

WHERE: El Jardin Del Paraiso, 313 4th St, NY NY. Between Ave C and Ave D in The Lower East Side Manhattan.

The tickets are free becuase this is a co-created event which we all contribute our human capital in this town square. There are options to donate.

WHAT: We are a co-created Garden Celebration of Bioremediation & Symbiosis (naturally detoxing & interdependent). Adventure in a lush gardin with the Masters of Succession. We collectively create and then celebrate our natural economy. It's a village center, a place, a public square, a piazza. We make Mud Ball that eat pollution in waterways, seed balls, mushrooms and slurp up some chilly oysters -- all restore ourselves and the ecosystem.

BRING: It is a picnic potluck – bring a dish if you wish, a spork, clay bowl, a goblet from which to sip. Bring your instruments, gifts, seeds to swap.

ATTIRE: Come as you are! OR dress up in diaphanous gowns, silk, cashmere, top hats, regalia and mud boots. You can make regalia, haberdashery and hats at the ball.
FACEBOOK: Join, invite friends

WEBSITE: http://moscollective.net/WP/the-mudball-ball/
---
SCHEDULE in 4 PARTS:
The MudBall Ball is an experimental experience of interconnected activities that create a living machine of human activities, a jovial public space and a pop-up, a serendipitous living, a picnic to honor the lifestyles we are living.
Event runs from 2:30 -7:30,
Opening Ceremony 3:00

Piazza 3:30
Celebration 5:30
Procession 7:00
Closing Ceremony 7:30

––––––.––––––.–––––.–––––––.–––––––
Your presence is requested, your connectivity and participation is gratefully accepted!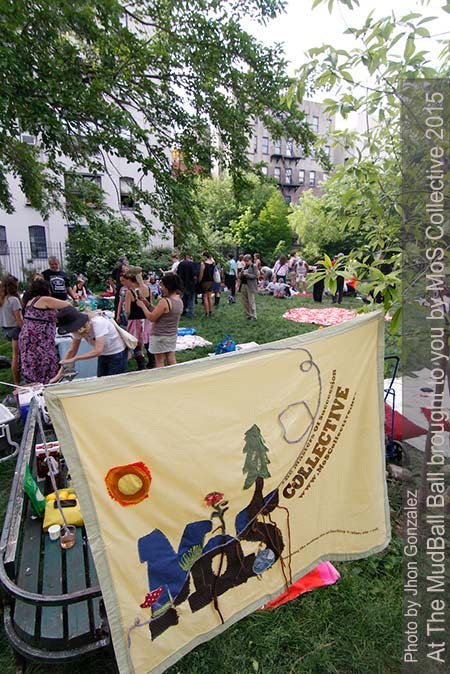 ---
HISTORY of The MudBall Ball
At the first Mudball Ball in 2012, it started as a way to make waterway revitalizing Mud Balls for Figment Project Weekend. We made mud balls and ball gowns in garden while eating oysters, learning how to redesign for a healing regenerative life by making beneficial mud balls, and eating oysters. We purified water -- a spiral of betterment making.
In 2013 it grew into detoxing not only water but air, water and soil plus detox of self.
In 2014 we invited many people to bring what they do to detox air, water and soil in what they like to do. Basically a MoS village of activity. The Ephemeral Piazza was born. We have created a village center.
2015 it grew and now 2016 it's still growing. The Six Annual MudBall Ball will carve out new channels of how we can better meet our needs, support each other through sharing of materials, time and skill-- but most of all we have a super chill time with a deeper sense of camaraderie and that our uniqueness can matter in this economy of things.
2016 it was a a connected village but we noticed it ws hard to keep connectivity. So this year we advise to come as already connecting micro villages and then connect. The micro village can keep intouch over the year and build the project.
HISTORY of El Jardin Del Paraiso Community Garden
Formerly this garden was a truck garage and toxic empty lots next to a public school. Organizers organized many lots to combine and declared eminent domain and turn it into a community garden. There will be an audio tour available of the history hosted by 596 Acres.
Now a vibrant garden paradise has vegetables, fruit trees and a medicinal herb garden by JK and Marie, a nest-like tree-house by Roderick. Now people shed their city vibes after one step inside this garden.
The Gaia Institute worked with a team and made the chemical cap and a water retaining swale system that catches all the rain falling on the land and the near by roofs.
---
---