'The Mount Rushmore Scandal: Chief Carver's (Nearly) Lost Legacy' Webinar
Sales Have Ended
Registrations are closed
Looking to register for the replay? Visit AdventureClub.com > Virtual Events > Active Replays to browse our active replays, which expire one week after the program's original air date.
Sales Have Ended
Registrations are closed
Looking to register for the replay? Visit AdventureClub.com > Virtual Events > Active Replays to browse our active replays, which expire one week after the program's original air date.
Can't make it live? Register and get access to the full replay for one week! New York Adventure Club | www.AdventureClub.com
About this event
"Out of all the artists in the world, Mr. Borglum chooses me to do this work." - Luigi Del Bianco, Chief Carver of Mount Rushmore
Five years into designing Mount Rushmore, lead sculptor Gutzon Borglum realized that without a world-class stone carver by his side, the memorial's reputation was in serious jeopardy — after all, how could Americans be inspired by the country's largest sculpture if their presidents' faces were botched or unrecognizable? This is the story of an obscure Italian immigrant with a gift for stone carving who not only saved the monumental project, but made it one of the world's finest — a story which would have been forever omitted from the history books if it were not for his family's 25-year fight to get him the recognition he deserved.
Join New York Adventure Club as we explore the incredible untold story of Luigi Del Bianco, whose prolific role as master carver of Mount Rushmore went unrecognized until recently unearthed documents proved his invaluable contribution.
Led by Lou Del Bianco — grandson of Luigi and author of his touching story, Out of Rushmore's Shadow — this digital showcase surrounding the profound life of Luigi Del Bianco will include:
Luigi's early life, from training to become a stone carver in Italy, to his immigrant journey to America and great desire to "carve something special"
How Luigi became Chief Carver at Mount Rushmore at the request the lead sculptor, Gutzon Borglum
Stories surrounding Luigi's time living in South Dakota, from his family's unique American experience, to his special relationship with Native Americans, to first-hand documents detailing his experience of how the mountain was carved
Luigi's life after Rushmore, with a look some of his finest works over his career
Why the definitive book on Rushmore doesn't even mention Luigi, and what shocking documents Lou and his uncle unearthed that explained this "error of omission"
A suspenseful reveal of whether Luigi's Mount Rushmore triumphs and tribulations were ever properly recognized
Dozens authentic photos and primary source documents researched at the Library of Congress
Afterward, we'll have a Q&A with Lou — any and all questions about his grandfather are welcomed and encouraged!
Can't make it live? Don't worry, you'll have access to the full replay for one week!
See you there, virtually!
*Immediately upon registering, you will receive a separate, automated email containing the link to join this webinar
**For the best possible viewing experience, please ensure you're using the latest version of your internet browser — Google Chrome is the most compatible. Exact technical requirements and a webinar user guide will be shared in the automated confirmation email upon registration.
**A full replay of the experience will be available to all registered guests for up to a week
About Lou
Actor, singer and storyteller Lou Del Bianco has been working with children of all ages since 1982. According to the New York Times, Lou's dramatic approach to storytelling "puts pow into passivity!" The Parents Choice foundation states that "few performers excel as both storyteller and musician, but Lou Del Bianco is one who does."
Testimonials
"Such passion and enthusiasm from the presenter! Loved every part of it!" -Joanne
"I liked the depth of the details needed to make the case for their grandfather's work." -Celia
"The heartfeltness of the family connection. The videos are great. very interesting story." -Noelle
"Fascinating story and Lou's very personable style and clear presentation made it extremely enjoyable. Plus we learned about something that we didn't know before." -Susan
"Very well done, concise, well documented." -Rick
"The speaker was fantastic as well as his research!" -Peter
"Everything!!! All the details of how Luigi endured the carving of Rushmore and how Lou had to fight to get his grandfather recognition. Lou is a fantastic story teller. I enjoyed every minute of this presentation." -Madeline
"Personable, entertaining and great history!" -Lisa
"It was such an interesting story! great to learn all of this." -Melissa
"Not only was the subject matter of Luigi Del Bianco and Mt. Rushmore most intriguing, but the way in which it was presented, most engaging! Bravissimo!" -Petra
"The person experience of Luigi Del Bianco with his grandfather. Looking forward to watching it again." -Sherry
"Lou was phenomenal. Delivery was great, humorous, sweet, historic, held my interest, detailed.....just so enjoyable." -Pam
"The personal relaxed presentation was engaging and full of such interesting information." -Donna
"Very descriptive and revealing about a part of history that has been kept under wraps. It made me think that there are other stories like this to be told about great US monuments and other lasting legacies." -Catherine
"Both the story —as context to a well-known iconic landmark and the behind the scenes reality of an immigrant in America — and the manner it was told. It was an energetic, informative webinar." -Dana
"Very well presented, educational and entertaining. Lou was very engaging was fun to watch!" -Douglas
"Speaker was so interesting and had a remarkable story to tell. A dramatic and engaging presentation. Bravo!" -Camille
"Very thorough coverage of the topic--told in an interesting manner--kept my attention!" -Helen
Disclaimer
By attending a New York Adventure Club experience, you accept our terms of service.
Categories: Virtual, Moments in History
Organizer of 'The Mount Rushmore Scandal: Chief Carver's (Nearly) Lost Legacy' Webinar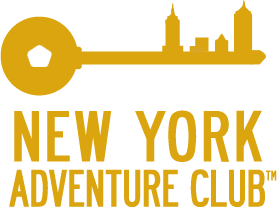 NEW YORK ADVENTURE CLUB
Unlock Your City
We give you insider access to the city's best-kept secrets. But we're so much more than a tour company.
WHO WE ARE

We are a community-driven club that curates the most unique experiences in town, with a focus on history and storytelling. We show you a city you never knew existed, and offer a community you can't live without.
You won't find our special-access tours and exclusive events anywhere else. Think after-hours tours of New York City's most celebrated spaces, themed parties in unexpected locations, and weekend excursions to incredible destinations. All of our events end with social hangouts so you can meet people who love exploring as much as you do.
THE 'CLUB' IN NEW YORK ADVENTURE CLUB

Our current community is more than 23,000 members strong and includes everyone from recent NYC transplants to lifelong residents. Whatever borough you're from (or city or country, for that matter), we'll make it easy for you to take full advantage of the unique places and great people this city has to offer.  
WHERE WE GO
To ensure a one-of-a-kind experience each and every time, we handpick events and outings specifically for the New York Adventure Club community. Recent events include:
* An after-hours tour of New York City Hall
* Special access into some of New York's most coveted private social clubs, including the Explorers Club and National Arts Club
* Petting baby kangaroos, holding sloths, and feeding leopards at Staten Island Zoo

* An NYPD Precinct tour, including a meet-and-greet with detectives and Emergency Service Unit crew members
* A tour of the Polish Consulate led by the Consul General and Vice Consul General of Poland

* A special-access tour of Brookhaven National Laboratory and its Relativistic Heavy Ion Collider (RHIC)
* A Halloween party in a historic gothic crypt, complete with a five-piece brass band
Subscribe with our newsletter to get the inside scoop on the city's most interesting events: http://eepurl.com/1cnVH
Unlock Your City with New York Adventure Club