About this Event
***The benefit will honor Oakland-native and longtime Hips fan Gregory Walsh, who passed away suddenly in October 2017. All proceeds will go to the Declan Walsh Special Needs Trust, established to benefit Walsh's son Declan.***
The Mother Hips & The Coffis Brothers
A benefit for Declan Walsh
February 1st, 2020 @ The Mystic Theatre
-
The Mother Hips:
Twenty-five years into a celebrated career is an unlikely time to switch things up, but the "divinely inspired" (Rolling Stone) Mother Hips have never been ones to follow convention. For their brilliant and exhilarating tenth album, 'Chorus,' the California stalwarts turned their recording process on its head in order to make their most fully realized and essential collection yet.
Originally signed by Rick Rubin while still just students at Chico State, The Mother Hips have spent two-and-a-half decades at the forefront of a new breed of California rock and roll—one equally informed by the breezy harmonies of the Beach Boys, the funky roots of The Band, and the psychedelic Americana of Buffalo Springfield—and established themselves as "one of the Bay Area's most beloved live outfits" (San Francisco Guardian) through countless headline shows, massive festival appearances, and dates with everyone from Johnny Cash and Wilco to Lucinda Williams and The Black Crowes. The New Yorker lauded the band's ability to "sing it sweet and play it dirty," and 'Chorus' is perhaps the finest example yet of that intoxicating dichotomy, a richly melodic album firmly rooted in gritty rock and roll with the kind of evocative storytelling that The Mother Hips do best.
"Chorus, their first album of all new material in four years, finds them still fully ablaze, the ragged melodies and determined stride still intact. Similar in stance to Crazy Horse, they create an unrepentant sound that's still fully in fashion." - Paste
"Those of us in the know can rejoice in the fact that we still live in a world that boasts The Mother Hips – one of the finest rock n' roll bands to have ever taken a stage or sealed themselves in a recording studio." - Glide
-
The Coffis Brothers:
The Coffis Brothers are a rootsy rock n' roll band born and raised in the Santa Cruz Mountains. Influenced by those early surroundings, songwriters Jamie and Kellen Coffis' blend of folk, blues, R&B and straight-ahead rock is evidence an upbringing spent listening to all of the right records from Tom Petty, Neil Young, and The Beatles.
On their third full-length album, Roll With It, The Coffis Brothers put that rock into overdrive, looking ahead to the good things coming and suffering no fools. First single "You Ain't Got the Heart" is a barn burner and a fan favorite, having already been part of the band's live set for a couple of years. "There's a little bit of that sense of angst and that sort of 'I don't need this' attitude," says Kellen Coffis, "but don't overthink this one."
Not that there isn't plenty to think about on Roll With It. Tracks like "Bad Luck" and "Better Days" reflect on how to live with and learn from rough times, while "You and Me" is a testament to how people can make it through these things together. But on every song, The Coffis Brothers stay true to a rock sound that draws from Southern grit and California hills.
Roll With It was recorded on analog tape over a week at Barefoot Studios in Hollywood with producer Andy Zenczak and engineer Cian Riordan. The band's near-constant touring throughout California and elsewhere has earned them not only devoted fans, but lots of critical praise as well. Jamie and Kellen are joined by Kyle Poppen on lead guitar, Aidan Collins on bass and Sam Kellerman on drums. Their debut self titled full-length album was released in 2011 and was followed by 2012's Waiting For You EP 2014's Wrong Side of the Road and 2017's Roll With It.
"The Coffis Brothers & the Mountain Men have developed a sound that has an easy rock vibe that's actually hip." – San Francisco Chronicle
"The Coffis Brothers mix a blend of folk, country and rock with the intensity of personal lyrics into a gritty and often tender harmony of sound… a show that delivers one part Avett Brothers and one part early Neil Young for a full night of dancing and fun." – Santa Cruz Weekly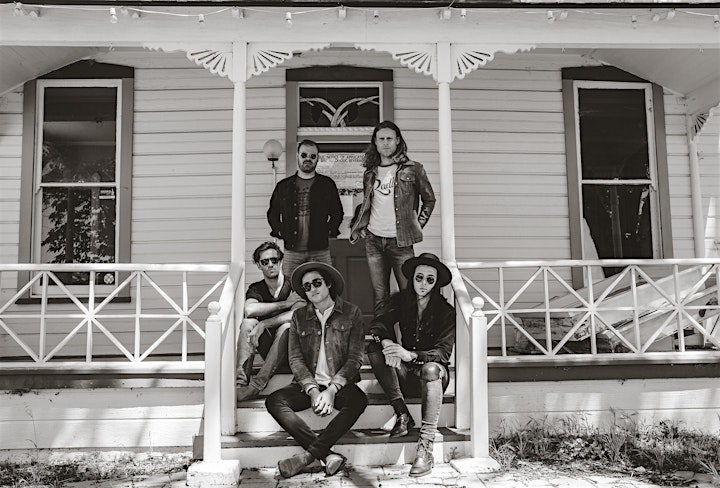 Performers
Date and Time
Location
Refund Policy