An INTERACTIVE murder mystery show. 3 course meal & comedy murder mystery where YOU live the story, question suspects and SOLVE the crime.
About this event
Mother Goose Murder - The Story
It is the 15 year high school reunion of Gooseland High and all the gang is invited!
The characters of your favorite nursery rhymes are looking forward to reconnecting in a new world filled with Netflix, Internet and Video Games. The world is certainly different than it was when they were kids. They are older, forgotten and have all had their fair share of 'life experiences' since we have last thought of them.
Tonight they hope to relive and remember the days when every child knew of them; but, instead of "merrily merrily merrily merrily, life is but a dream," one well known character won't be "put back together again" as they will end up DEAD.
In this mystery we learn that the world of Mother Goose is not as simple as we hear as children and that the world of Mother Goose may be far more darkly intertwined than we thought as children.
Join Mother Goose, Jack B. Nimble, Little Miss Muffet, Little Boy Blue, Jill and Old MacDonald for an evening of business... and MURDER.
PLEASE NOTE THAT DESPITE ITS THEME, THIS SHOW IS NOT CHILDREN'S THEATRE. FAMILIES ARE WELCOMED AT ALL OF OUR SHOWS WITH PARENTAL DISCRESSION BUT SHOWS ARE GEARED TOWARD ADULTS.
******************************************************************************************************
Your ticket puts you in the middle of the action as this immersive mystery experiences happens all around you. You will meet the suspects, you will question each of them and you will determine whodunnit as you enjoy an amazing dinner at Fish Camp on Lake Eustis.
Three course dinner includes your choice of entrée, Little Boy Blu Cheese Waldorf Salad and Fire at the Prom Crème Brule. Nonalcoholic beverages also included.
Alcoholic beverages available for purchase.
Gratuity NOT included.
Entrée choices include:
Old MACdonald's Baked Ziti - Meat and Tomato Sauce
Jack B. Nimble's Chicken Alfredo - Chicken and Linguini tossed in home made Alfredo Sauce
Little Miss Mahi Mahi - Baked mahi mahi served with Long and Scott's Farm winter vegetable mix and seasoned rice.
Dessert will be "Fire at the Prom" Crème Brule.
Groups are asked to please purchase tickets at one group if they wish to be seated together. We can not guarantee that multiple groups of 2 will be sat together if not purchased as one larger group.
Please know that smaller parties MAY be seated with other smaller parties that they do not know.
As YOU are also members of the Gooseland HS class, we encourage you to come dressed in your favorite nursery rhyme costume and really get into the evening.
Large groups welcome!
Our show is rated PG-PG13 for potential adult topics and innuendo. Most of our show is improvised so you never can be sure in which direction things will go. We do promise no graphic violence, overt sexuality or excessive adult language.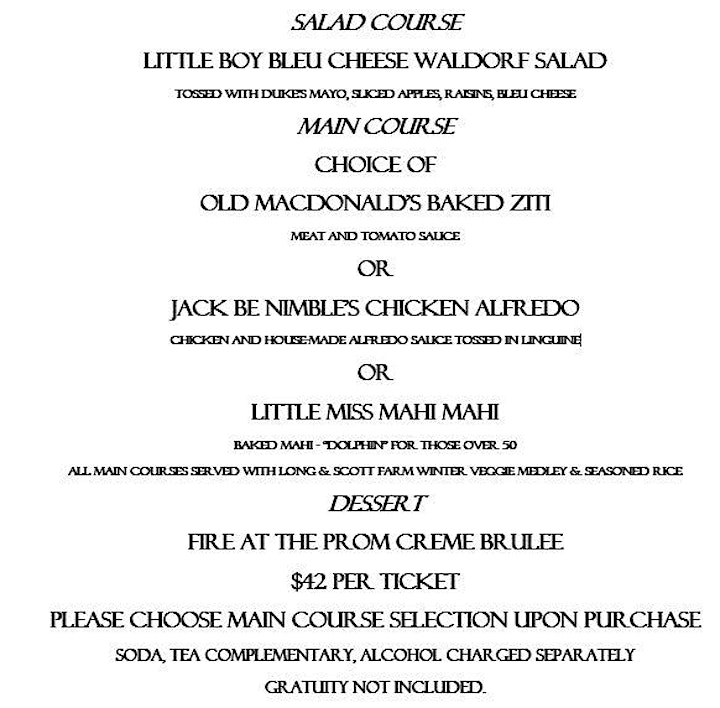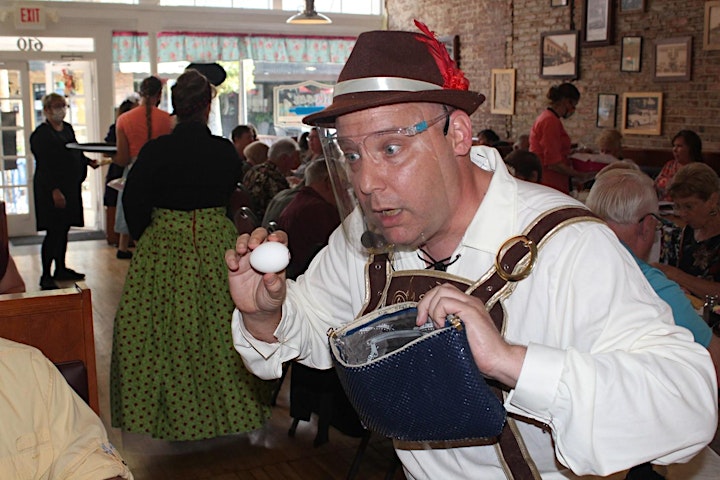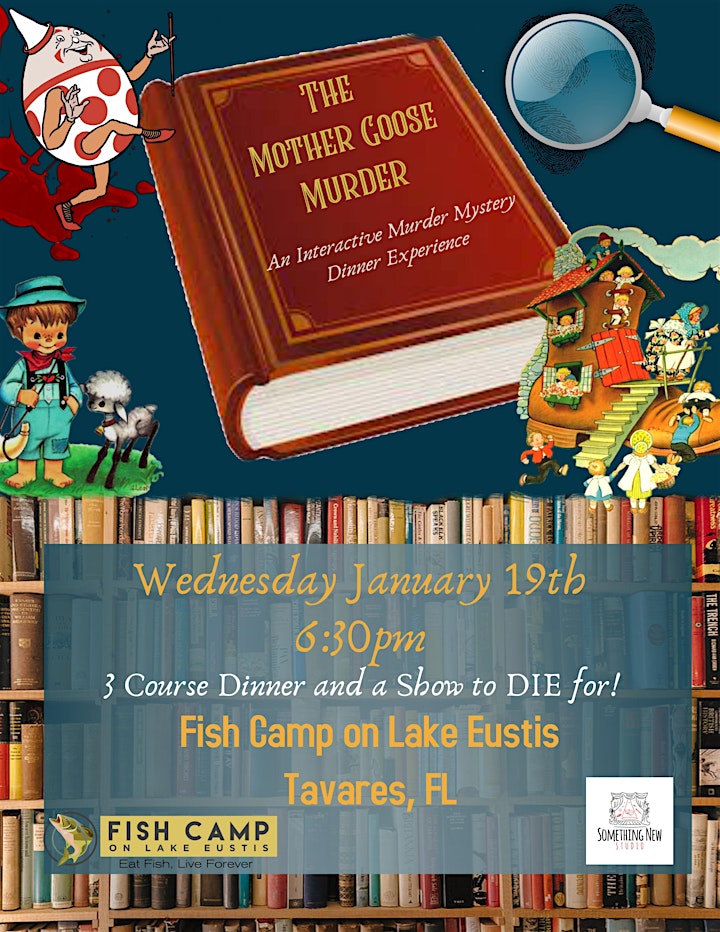 Organizer of The Mother Goose Murder - An Interactive Murder Mystery Dinner Event