About this Event
The Motet
___________________
_______________________
TAUK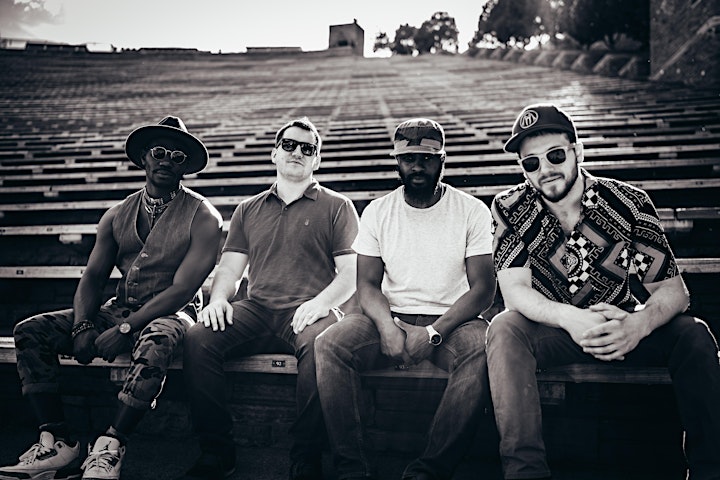 The Motet
Dave Watts (drums)Joey Porter (keys)Garrett Sayers (bass)Ryan Jalbert (guitar)Lyle Divinsky (vocals)Drew Sayers (sax)Parris Fleming (trumpet)
Throughout history, unity starts on the dancefloor. From ancient tribal cultures to neon night clubs, beats bring bodies together. Once grinding and grooving in unison, the movement generates friction, sparks, and light. That might just be the purest form of energy on the planet. The Motet harness such energy on their ninth full-length, Death or Devotion. In fact, the Denver septet—Dave Watts [drums], Joey Porter [keys], Garrett Sayers [bass], Ryan Jalbert [guitar], Lyle Divinsky [vocals], Drew Sayers [sax], and Parris Fleming [trumpet]—encode a message in their energetic mélange of boisterous badass funk, swaggering soul, and thought-provoking pop.
In the process, they challenge convention and arrive with a dynamic, diverse, and definitive statement.
"The essence is always going to be the groove, but we wanted to expand the idea of what a funk album could be," says Lyle. "Of course, you want a driving backbeat. However, with the division that's going on in this country and the world, I think it's every artist's responsibility to create a conversation. That conversation doesn't have to be political either. It can be about love or an introspective journey. I think the commentary should be on what it's like to be alive today. By drawing on funk, we create a fun, palatable musical vehicle for the message to go down. Our goal is for you to recognize we're all dancing on the same dance floor—even though our steps may look a little different."
Death or Devotion earmarks an important point in the band's own journey. Since emerging in 1998, the boys have cooked up eight full-length albums and entranced countless crowds. 2016's Totem saw them welcome Lyle behind the mic and Drew on sax. Shortly after, they kicked off what has become an annual tradition by selling out the legendary Red Rocks Amphitheater for the first time. "It was my six-month anniversary and first show for a hometown crowd," recalls Lyle. "I've got 10,000 people looking at me like, 'Who the hell is that?'," he laughs.
That night would be chronicled on the fan favorite Live at Red Rocks. In the meantime, the group maintained a prolific pace of 100 shows per year in support of Totem. Along the way, The Motet started recording Death or Devotion during intermittent sessions at Scanhope Sound in 2017.
For the first time, Lyle, Drew, and Parris (who joined in 2018) worked on a Motet record together from start-to-finish.
"On Totem, the train was already moving, and I was just a train hopper," says Lyle.
"Drew, Parris, and I came onboard within the same year. Now, we're all bringing our pieces to the puzzle. For me, I brought that R&B style. Funk is the common ground, but the music is a result of different inspirations: namely Drew's hip-hop and reggae knowledge, Ryan's psychedelic jamming, Dave with the worldbeat, Joey with his encyclopedic understanding of punk, and Garrett being the best bass player to exist. We found a really cool balance between the funkiness and songs that challenge your emotional headspace more than typical pop."
The first single "That Dream" showcases the myriad of musical flavors from all seven members. Clean palm-muted guitars bristle against a swaggering beat as the horns enliven each verse, while a vocal call-and-response relays a head-spinning tale.
"I took a nap, and I had the craziest dream I've ever had," he recalls. "In the dream, I'm heartbroken from a nonexistent relationship, so I go out to a bar. I get seduced by this beautiful woman who serves me a glass of wine with poison. I wake up handcuffed and she's stealing from me and torturing me. It was so dark, but I woke up and thought, 'That would be a crazy subject to write a party song about!'"
Elsewhere, "Highly Compatible" hinges on an unshakable riff and raucous refrain upheld by sizzling sax. "It's like that beautiful moment of falling in love where you recognize something as supremely real-life magic," Lyle goes. "Harry Potter couldn't conjure a better spell. It's the magnetic nature of the chemistry. We captured that chemical recognition."
From the infectious hooks of "Contagious" to the instrumental fireworks on "Speed of Light," The Motet ultimately propose an important question at the heart of Death Or Devotion.
"What are you going to bring to yourself and the world?", Lyle leaves off. "Are you going to bring death, or are you going to bring devotion? The choice is yours. When you listen to this record, I'd love for you to walk away feeling a little bit more connected, whether it be to yourself, to your friends, or to your community. Being able to drop all of the vision for a minute, be present, smile, and dance reminds us we're all going through this together."
www.themotet.com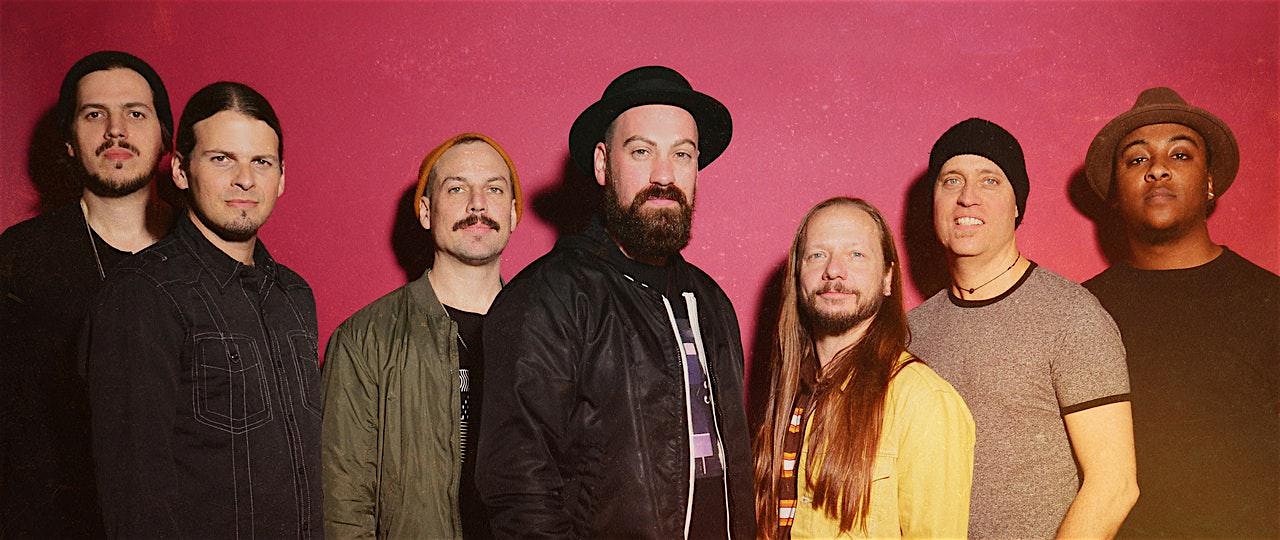 Tauk
New York-bred TAUK has been laying down an all-instrumental blend of progressive rock, hip-hop and jazz on stages across the U.S. for the last several years, and recently released several iterations of "Real TAUK", to document some of the great moments from each tour. Though fans have clamored for each "Real TAUK" release (now up to Volume 3) they've also reveled in the deep sonic explorations from the band's studio forays.
Their most recent studio album Shapeshifter II: Outbreak, offered an unsettling but ultimately exhilarating look at artificial intelligence and its potential to upend our world. With its dynamic sense of tension and cinematic mastery of mood, it proved to be an album that's both powerfully hypnotic and intensely thought-provoking.
"We're all very much interested in A.I., and this idea of machines getting out of the hands of the people trying to control them," notes TAUK guitarist Matt Jalbert, whose bandmates include bassist Charlie Dolan, keyboardist Alric "A.C." Carter, and drummer Isaac Teel. "This album felt like a good setting to tell that kind of story, but in a way where we could have fun with it and let the listener escape into a whole other world."
Equally inspired by classic sci-fi like Blade Runner and more recent films like Ex Machina, Shapeshifter II: Outbreak embeds that narrative into TAUK's most sonically adventurous, emotionally expansive work to date. A continuation of their early-2018 EP Shapeshifter I: Construct, the new album picks up its predecessor's narrative thread with "Prelude": a fantastically unsettling intro track whose frenetic keyboard work and chilling vocal samples set the tone for what's to come. "The idea is that in the EP you're seeing the construction of this being, and in the album you're seeing it break out and become something that you can't ignore anymore," Carter explains.
Free-flowing yet elaborately composed, Shapeshifter II: Outbreak came to life in collaboration with TAUK's longtime cohort Robert Carranza—a Grammy Award-winning producer/mixer/engineer also known for his work The Mars Volta, Ozomatli, Marilyn Manson, and Taj Mahal. In a departure from their previous releases (including 2016's Sir Nebula), the band shunned the typical studio environment and holed up for weeks in a long-abandoned, century-old home that Teel describes as "the Jumanji house meets Addams Family meets Amityville Horror." Located in their homeland of Long Island, the house turned out to be the ideal spot for their makeshift studio, allowing for a creativity-enhancing seclusion.
Inspired by their work on Shapeshifter II: Outbreak TAUK has taken to broadening their live sonic palette to include a vast spectrum of synth sounds and programmed effects (such as those exquisitely eerie vocal samples heard in "Prelude")Esteemed musicians who contributed to the album such as The Naughty Horns and Ghost-Note's Nate Werth (a percussionist who's also played with David Crosby, Q-Tip, and Snarky Puppy) have also joined the band onstage.
Each Real TAUK release showcases the potent chemistry they discovered in childhood, when longtime friends Dolan, Jalbert, and Carter formed their first band in seventh grade. After playing together in various projects, the trio brought Teel into the fold in 2012, cementing the final lineup. Since then, TAUK have shared stages with acts like Umphrey's McGee, Widespread Panic, and Lettuce, appeared at festivals like Electric Forest and Bonnaroo, and earned acclaim from major outlets like the Washington Post (who praised TAUK for "creating a hard-charging, often melodic fusion that—thanks to a penchant for improv—offers limitless possibilities"). As Teel points out, the band's incessant touring over the years has significantly strengthened their musical connection. "The four of us as individuals are all very animated souls in our own right," he says. "We each have our ideas and our perspectives, and when it all comes together, it creates this collective statement that takes on a life of its own."