Description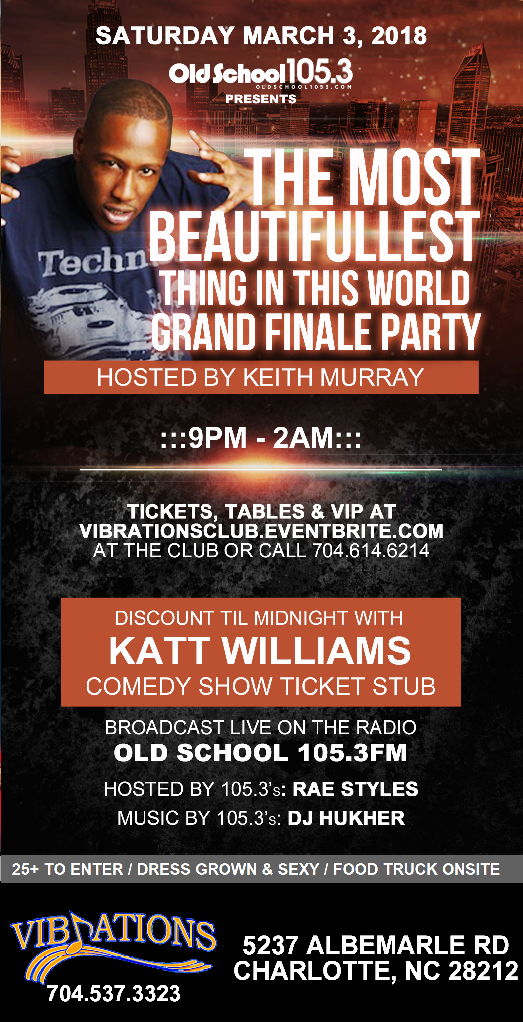 ***********A 100 % GROWN FOLKS PARTY**********
SATURDAY MARCH 3, 2018 IT'S THE MOST
BEAUTIFULLEST THING IN THIS WORLD
GRAND FINALE PARTY HOSTED BY KEITH
MURRAY. COME CELEBRATE THE 20 YEAR
ANNIVERSARY OF THE KEITH MURRAY'S
HIT SINGLE "THE MOST BEAUTIFULLEST
THING IN THE WORLD" AND THE BIG
TOURNAMENT GRAND FINALE. DOORS OPEN
AT 9PM DISCOUNT TIL MIDNIGHT WITH KATT
WILLIAMS COMEDY SHOW TICKET. GET THERE
EARLY BECAUSE EVERY YEAR THE CLUB IS AT
CAPACITY AS THE PARTY IS BROADCAST LIVE
ON THE RADIO ON OLD SCHOOL 105.3FM,
HOSTED BY OLD SCHOOL 105.3's RAE STYLES
AND DJ HUKHER. VIBRATIONS IS CHARLOTTE'S
HOTTEST GROWN FOLKS NIGHT CLUB. LOCATED
AT 5237 ALBEMARLE ROAD CHARLOTTE NC 28212
(IN THE BUSINESS PLAZA NEAR THE CORNER OF
ALBEMARLE ROAD AND SHARON AMITY ROAD)
JUST 3 MINUTES FROM BOJANGLES COLISEUM,
10 MINUTES FROM UPTOWN CHARLOTTE AND 15
MINUTES FROM UNIVERSITY AREA. FREE PARKING IN
THE FRONT AND IN THE BACK OF THE CLUB. VIP
PARKING ALSO AVAILABLE. EARLY ARRIVAL ADVISED,
ADVANCE TABLE AND VIP SEATING PURCHASE HIGHLY
RECOMMEND IF YOU WANT PLACE TO SIT DOWN. VIP
PARKING PURCHASE IS ALSO HIGHLY SUGGESTED.
TICKETS, TABLES & VIP CAN ALSO BE PURCHASED AT
THE CLUB. DRESS CODE GROWN AND SEXY: NO BALL
CAPS, NO SNEAKERS, NO WHITE T-SHIRTS OR OVER
SIZED HANDBAGS. 30 PLUS PREFERRED BUT MUST BE
25 PLUS TO ENTER. MILAGRO'S LATIN CUISINE FOOD
TRUCK WILL BE ONSITE. FOR MORE INFO TEXT OR CALL
704.614.6214
*****PLEASE NOTE*****PLEASE NOTE****PLEASE NOTE****
*ABSOLUTELY NO REFUNDS
*IDENTIFICATION REQUIRED TO ENTER
*NO PAY PAL E-CHECK ACCEPTED
*FREE SEATING IS VERY LIMITED!
* LIQUOR BOTTLE OF CHOICE MUST BE A BRAND WE SALE!
********************************************************
EXPRESS LINE TICKET HOLDERS WITH PHYSICAL TICKET IN
HAND WILL ENTER THE CLUB BEFORE GENERAL ADMISSION
TICKET HOLDERS AND PAY AT THE DOOR CUSTOMERS IF
THERE IS A LINE WHEN YOU ARRIVE.