A 2-Day Money Mindset Training On How To Reprogram Your Mind For More Money...Forever
About this event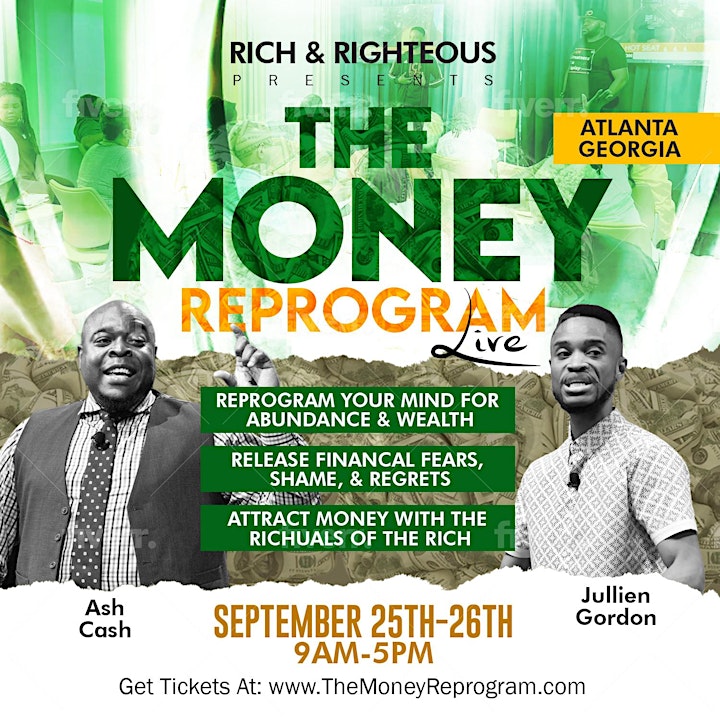 This 2-day experience will transform the financial trajectory of your life forever.
For Individuals:
Overcome Money Blocks that keep you in scarcity and
Correct subconscious thoughts that keep you earning less
Get beyond vision boards and learn how to manifest with your image-in-nation (not magazines)
​Identify your passion and most high income skill
For Entrepreneurs:
Uncover your million dollar Business & Blessing Model
Finally stand in your true value and increase your prices
Shift from being a hustler wearing every hat to a leader
​Create a sellable business with systems (even if you don't intend to sell)
$517 worth of bonuses for attendees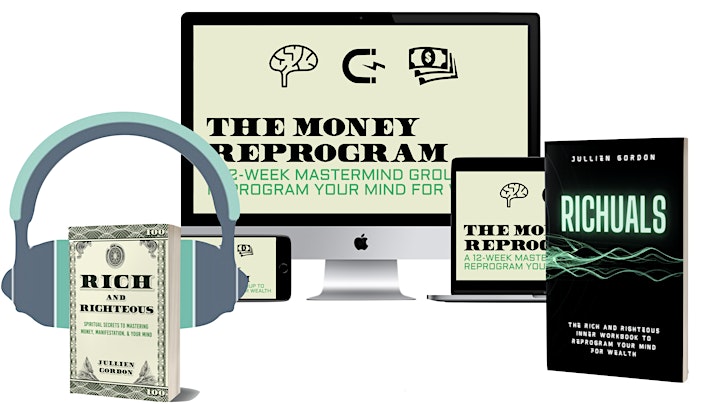 Bonus #1:
All attendees will receive a signed copy of Rich And Righteous
(Value: $100)
Bonus #2:
All attendees will receive the Rich And Righteous audiobook
(Value: $50)
Bonus #3:
All attendees will receive The Money Reprogram online course
(Value: $297)
Bonus #4:
All attendees will receive the RICHUALS workbook
(Value: $40)
Bonus #5:
All attendees will receive an ABUNDANCE IS MY BIRTHRIGHT or CHILD OF GOD t-shirt
(Value: $30)
About The Presenters
Jullien Gordon
Jullien Gordon's work is Heavenly and Earthly. His Heavenly work is teaching financial spirituality through his book Rich & Righteous: Spiritual Secrets To Mastermind Money, Manifestation, & Your Mind and related products and services. His Earthly work is founder of The Multifamily Movement, where he teaches 1,000s how to achieve rent/mortgage freedom by acquiring their first multifamily home.
Ash Cash
Ash Exantus aka Ash Cash is one of the nation's top personal finance experts. Dubbed as the Hip-Hop Financial Motivator, he uses a culturally responsive approach in teaching financial literacy and entrepreneurship. He is also a speaker and bestselling author of many books. Ash is best known for helping people maximize their full potential by giving them the inspiration, tools, and resources needed to live their best lives.
Watch Their Recent Interview