The Momentum Experience

Tuesday, September 1, 2015 from 9:00 AM to 4:00 PM (EDT)
Event Details
We have been doing a workshop for the wedding artisans of our wedding library for the past couple years and it has been an incredibly enriching experience for everyone involved. This year, we opened this experience up to any creative entrepreneur looking to gain momentum in their passion-turned business.
We find, day in and day out, as we consult with the creative businesses that are part of our studio that their work has evolved out of a God-given passion. They want their work to fulfill them thus they embark into often uncharted territory of being a small business owner. We have found creativity is key, but it must be paired with solid strategies that allow creation of beautiful products and exceptional services, while being consistent, reliable, professional and clear communicators.
We have reached out to thought leaders and small business owners from around the country who have a strong message and mastered some incredibly important skills to be speakers at this year's business workshop called "THE MOMENTUM EXPERIENCE".
Our Goal is to bring you a balanced curriculum of solid business strategies that will include the following topics & MORE: 
Defining yourself as an ARTIST & PROFESSIONAL and what that looks like for you

In a world of multi-tasking, checklists can transform your life and business practices

Gaining a social media following that isn't just about numbers and popularity but turning them into paying clients

Managing your email versus your email managing you; mindsets and strategies that keep you in control

Photo Styling: If you have a creative product, this could be essential to your growth
SPEAKERS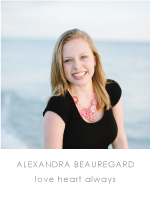 Think inbox zero is a myth? Think again! My tips for organization, tools for answering emails quickly, and effective email strategy will have you tackling that inbox in no time, being more productive with your overall time, checking email less often, and being the hero of online communication! Plus, a live demo of my everyday email routine!
- Alexandra Beauregard, Full-time blogger, small business owner and heart behind Heart Love Always blog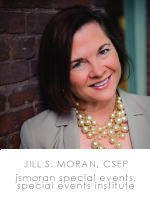 Do you dream of getting paid for doing what you love and what you are good at? Do you want to turn your hobby into a profitable business and successful career? It can be challenging, but putting the right systems into place to manage the many moving parts of a successful business - from marketing and sales to fulfillment and delivery - is critical to the success of a professionally-run business.  
- Jill S. Moran, CSEP, author, educator and event strategist, will share advice on how to create a business that you are proud of - doing what you love to do! jsmoran special events, Special Events Institute  
Jill will be selling and signing her books for attendees during The Momentum Experience.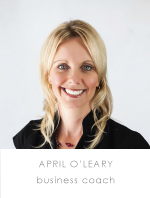 The Checklist Manifesto for Creative Entrepreneurs
What is the best way to create a superior, systematic and stress-free experience for every client you serve? A checklist! For most people having a checklist seems too easy. Too basic. But the largest and most complex companies on the planet (think everything from fast food restaurants to airlines to surgery centers) use checklists to prevent errors and create consistent results. 
Using a checklist from start to finish for every client that comes through your door ensures them that you are a trusted professional and the results that you produce are guaranteed. A checklist helps you prevent things from falling through the cracks and helps you lead every job much more effectively. This leadership will lay the foundation for future referrals because your clients see how organized you are and know you will take care of their friends in a similar fashion.
Join us as April O'Leary, Business Coach, takes you through some exercises to help you create checklists that work and see how your business can produce better results on a more consistent basis than your competition. You will have less stress and more peace of mind as you work from a customized list for your business so you know exactly what you need to do next on every project!
Since 2010 April O'Leary has been immersed in the world of online business building and personal and professional coaching.  She is the author of 2 books and has appeared on national radio shows to discuss the importance of work-life balance.  Today she loves to teach women how to use these skills to grow their at-home businesses so they can provide for themselves and their families while having flexibilty and freedom to live the lifestyle of their choice.  
- April O'Leary, author and business coach will present on creating checklists and the transformation it can have on every aspect of your life and she will be selling and signing her books for attendees during The Momentum Experience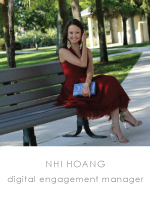 Social media can be overwhelming. When it comes down to it, however, it's not a popularity contest - it's about doing what makes sense for you and your business.  We'll be tackling trends, best practices, content curation, time management and more!  The goal is for you to leave with the tools to truly engage with and learn from your customers.  
- Nhi Hoang is the digital engagement manager at Alfred Angelo Bridal and a social media specialist in the master's program of the College of Journalism and Communication at UF.  A social media aficionado with a background in journalism, she's worked for publications such as Harper's Bazaar, Weddings Illustrated and the Gainesville Sun. In her spare time she enjoys Netflix marathons, traveling and long walks down the aisle.  
TICKETS
Early bird rate of $200 per person available until July 10. After July 10, fee will be $250 per person. 
A light breakfast, lunch and snacks will be provided. If you have any food allergies, please email us at hello@theperfectmatchstudio.com so we can plan accordingly.
If you're coming to Naples and need overnight accommodations, Naples Bay Resort has graciously extended a special rate of $109 per night to attendees of The Momentum Experience.  Please contact the hotel directly at 866-605-1199 to make your arrangements. Mention THE PERFECT MATCH WORKSHOP.
If there are any other questions, please contact us at hello@theperfectmatchstudio.com or 239-249-3330. 
Looking forward to seeing you September 1!
When & Where

Naples Bay Resort
1800 Tamiami Trail E.
Naples, FL 34112


Tuesday, September 1, 2015 from 9:00 AM to 4:00 PM (EDT)
Add to my calendar