About this Event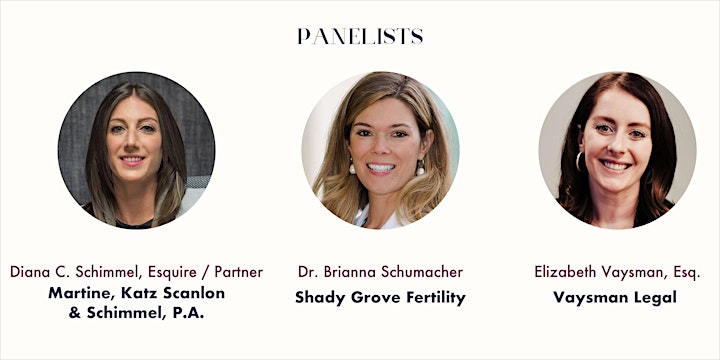 Philadelphia Magazine recently asked "Doesn't Anyone Want Kids Anymore?". Perhaps another question is "What are all of my options??".
Join us on Thursday, March 5th from 5:15pm - 8:30pm for an engaging and open panel on the Modern Family: everything you need to know about your medical and legal options in building your family. The discussion is open to all individuals, couples, and partners, including family building for LGBTQ families and Single Parents by Choice. Societal norms on when, who, and how we have families is changing, and we're here to navigate this new normal.
Hosted by Vaysman Legal, a boutique family building law firm in Philadelphia, we are bringing together medical and legal leaders to share their wealth of knowledge with you in planning for your family.
Our panelists will share the comprehensive landscape of fertility, family law, and family planning. Panelists and topics include :
Brianna Schumacher, MD, MSCR, a reproductive and infertility doctor with Shady Grove Fertility, will discuss your options in egg freezing, embryo creation, donor options, and IVF.
Diana C. Schimmel, Esq., a partner at a Philly and NJ law firm, will discuss the importance of prenuptial and postnuptial agreements, co parenting arrangements, and divorce/separation concerns.
Liz Vaysman, Esq. from Vaysman Legal will chime in with family building options of adoption, ART law (embryo/surrogacy), and how to access such family building benefits at your workplace.
This event is to open the discussion and remove the stigma around knowing and protecting our options for family building.
There will be drinks, hors d'oeuvres, and dessert from Pretty Tasty Cupcakes provided. This is an inclusive event and all are welcome!
Panelists
Diana C. Schimmel, Esquire / Partner of Martine, Katz Scanlon & Schimmel, P.A.
Diana C. Schimmel, Esq. (she/her) has been practicing family law for the better part of the last decade. She works with families in the Greater Philadelphia area, South and Central New Jersey. In addition to guiding families through the difficulties divorce and custody matters can cause, she also focuses her practice on building families through the adoption process.
She has represented couples and families in complex legal matters including divorce, custody, support, prenuptial and postnuptial agreements, enforcement and modification of agreements, same sex rights, grandparents' and third party rights, adoption, name changes of minors and paternity disputes/establishment.
Dr. Brianna Schumacher of the Shady Grove Fertility
Brianna Schumacher, MD, MSCR, (she/her) earned her medical degree from the Medical College of Wisconsin and completed her residency in obstetrics and gynecology from the University of Massachusetts Medical School. She then went on to complete a fellowship in reproductive endocrinology and infertility and a masters in clinical research at the University of North Carolina, Chapel Hill.
An advocate for early fertility diagnosis and treatment, as well as egg freezing for women to preserve their fertility for future family building options, Dr. Schumacher was a clinical instructor in gynecology at the University of North Carolina, and has held a variety of leadership roles within the American Society for Reproductive Medicine, New England Fertility Society, Pacific Coast Society, American College of Obstetrics and Gynecology, and American Medical Association.
Elizabeth Vaysman, Esquire of Vaysman Legal
Liz Vaysman, Esq. (she/her) is the Owner of Vaysman Legal and can't wait to meet you! Liz is a licensed Pennsylvania lawyer that has helped clients with all types of adoption matters in the Southeast Pennsylvania and Greater Philadelphia area. Liz builds trustworthy relationships with clients by educating and guiding them through the challenging process of adoption. Liz also works on simple wills and estate planning, and can help guide you through the benefits and insurance aspects at your job that may help with family planning.
Sponsors
Industrious Coworking
Industrious is the largest premium flexible workplace provider in the country. From our welcoming reception area and dedicated Community Managers to daily breakfast, snacks, and refreshments, our professional and inviting environment ensures that you have your most productive workday, every day. Our thoughtfully-designed spaces can accommodate companies of all sizes and stages, from solopreneurs to enterprise-level businesses. We also offer flexible terms that allow you to easily scale up (or down) as the needs of your business change.
With three locations in Philadelphia, plus access to our nationwide network spanning 45+ major cities, Industrious is everywhere you want to be. Schedule a tour today to find your perfect workspace.
Getting to the Space & Parking
The event is held at Industrious at 230 S. Broad Street, 17th floor. Please enter the building from Locust St. between Broad and 15th, between Estia and Tuscany Cafe, and head right up to the 17th floor.
This is right off of the Broad & Locust St. Subway stop. Parking can be found on the street (a bit challenging) or in one of the nearby garages such as the Bellevue Garage or Latimer Garage (cash only).
If you have any questions, please don't hesitate to reach out to liz@vaysmanlegal.com or khrys@khrysoros.com for any marketing / press questions.