The Modern Executive Leadership Success Group

Tuesday, February 6, 2018 from 6:30 PM to 7:30 PM (EST)
Event Details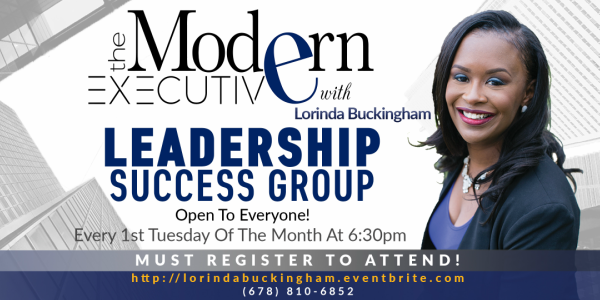 The Modern Executive Leadership Success Group 
  (First Tuesday of Every Month At 6:30pm) 
The Modern Executive Leadership Success Group with Lorinda Buckingham, Business Strategist and Success Blueprint Developer, with Modern Empowerment.
The Modern Executive Leadership Success Group is a group for contemporary individuals to come together to discover amazing lessons on leadership that can be used in today's society and work-home balance. The Moder Executive group is apart of the Modern Empowerment company, and has many more workshops and events.
This leadership success small group was created by Modern Empowerment as a way to help local leaders with leadership development. This is an ideal group for contemporary individuals who strive for work-business-home balance and strive to be the best leaders in business and personal life. In this FREE monthly leadership training, based off the 21 Irrefutable Laws of Leadership, attendees will get amazing leadership strategies that they can use in their personal life and business in a "friendly roundtable environment". You will get to learn valuable lessons with like-minded individuals who desire to grow in leadership success as you do! 
Seating at the location is limited. Registration is required to attend. 

This is a FREE event!
Located inside of Starbucks near Steinmart
130 S Peachtree Pkwy Peachtree City, GA 30269
Please be sure to bring your own notebook, and purchase a copy of the 21 Irrefutable Laws of Leadership which can be purchased at a local bookstore or Amazon.We will cover about 2 principles a month depending on how the flow of the training goes. 
*Must register to attend. The location is small and seating is limited. This event is open to everyone who desires to attend. 
*Dates subject to change or cancel based upon holidays, weather, or event conflicts
When & Where
130 S Peachtree Pkwy
Peachtree City, GA 30269


Tuesday, February 6, 2018 from 6:30 PM to 7:30 PM (EST)
Add to my calendar
Organizer
Lorinda Buckingham, Business Strategist & Success Blueprint Developer, is CEO of Modern Empowerment, a premier Personal & Professional Development Training and Consulting firm, specializing in developing and executing development training programs to grow the capabilities of companies, employees, business owners, and sales professionals to become effective leaders to lead others, build cross-functional team work and communication, increase productivity and efficiency, enhance brand reputation, and align their personal development with their business strategies. 
Lorinda has been very successful in helping clients who were frustrated with the lack of internal leadership, anxious to eliminate the fear of rejection, angry about high turn over rates, disappointed in the lack of follow-thru, concerned about the low morale within their organization, and worried about being able to face the challenges and meet the opportunities ahead. 
To learn more about our how our development programs can help you and your team, connect with Lorinda or to work with Lorinda, contact us at modernempowermentgroup@gmail.com.