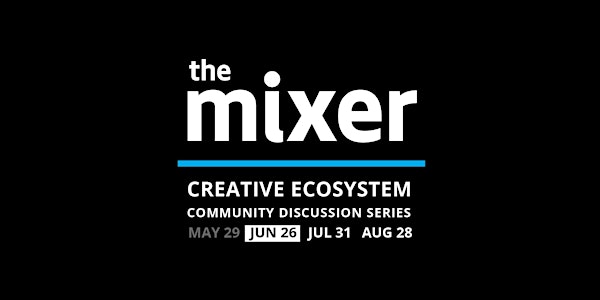 The Mixer: June - Surviving & Thriving in the Creative Gig Economy
When and where
Location
Clock-out Lounge 4864 Beacon Avenue South Seattle, WA 98108
Description
Join us at Clock-Out Lounge on 6/26 for our second in a series of community discussions to help shape the City's vision for the future of our creative economy.
Seattle's creative workers earned over $6 billion dollars in 2017, and creative jobs in Seattle are growing at a faster rate than in the rest of the country*. On a national level, the "gig economy" is on the rise—allowing flexibility and freedom for creative types, but with less of a safety net. At this month's Mixer, Amy Lillard of Washington Filmworks will lead a discussion with panelists from different creative fields who will share their secrets of success about freelancing, entrepreneurship, and what it takes to make it professionally in Seattle's growing creative economy.
Afterwards, attendees will break out into small groups for more networking and to give feedback about how the city can help creatives find the resources they need to not only survive, but thrive in our rapidly growing city.
This event is free and open to the public. All ages are welcome. Refreshments will be provided, and alcohol is available for purchase for guests 21+.
For ADA accommodations or accessibility information, contact filmandmusicoffice@seattle.gov.
All members of Seattle's creative community are welcome at this conversation: visual artists, musicians, music and film industry professionals, teaching artists - whatever role you play in our local creative scene, we want to hear from you!
Amy Lillard - Amy Lillard is the Executive Director of Washington Filmworks and has been with the program since it launched in 2007. Under her leadership, WF has helped over 90 film projects complete principal photography, which have brought an estimated $242 million to the statewide economy. Amy Lillard started her career as an independent film publicist out of New York and Los Angeles, designing the release campaigns for groundbreaking films such at "The Blair Witch Project," "American Psycho" and "Lock, Stock and Two Smoking Barrels." Amy retired from publicity in 2000 and took a trip around the world. Two years and 42 countries later, she settled in Seattle where she has worked in various capacities including, director of publicity and promotion at SIFF, festival director of the Reel Cinerama Film Festival, and producer of the Fly Filmmaking Challenge.
*This data and more is available in the 2019 Creative Economy Report. Of note, the report found that Seattle creative workers employed in tech (web developers, for example) are the highest paid in the nation, while creative workers employed in arts and entertainment occupations (such as photographers and musicians) are the lowest paid in the nation. The report also found that women and people of color are underrepresented in certain creative occupations, and that wage disparities exist along job title, race, and gender. We need to hear from you, Seattle's creative workers, to help us better understand the full story behind these disparities and find ways to bridge the gap.
Please mark your calendars for the two remaining Mixers in this creative economy series: July 31 and August 28.