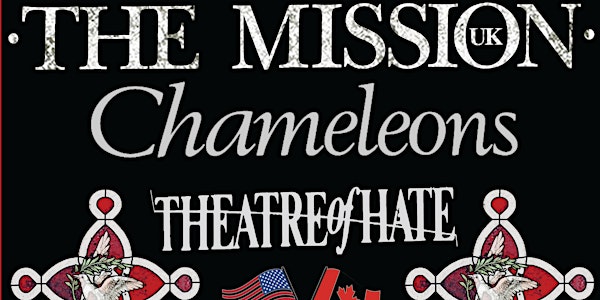 The Mission (UK)
(((folkYEAH!))) Presents Deja Vu Tour 2022
Performers
The Mission UK
The Chameleons, Theatre Of Hate, DJ Omar Perez (popscene)
Location
The Chapel
777 Valencia St
San Francisco, CA 94110
The Mission (UK) w/ Chameleons + Theatre of Hate at The Chapel
About this event
$40 advance / $45 day of show
PLEASE NOTE: Effective February 1, 2022, The Chapel is changing our COVID-19 policies to align with the latest health directive from the City of San Francisco. In order to attend a show at The Chapel you must provide either: 1) proof of full vaccination + booster.* OR 2) proof of a negative COVID test taken within one day for antigen tests, and two days for PCR tests. Proof can be either a printed document or an electronic notification on your device. Self-administered antigen tests cannot be accepted without electronic third party verification. *Booster must have been administered at least one week prior to entry. If a person is not yet booster-eligible, they are considered fully vaccinated two weeks after the last vaccine shot was administered. We highly recommend wearing a mask at all times. More info here. Let's all stay safe!
British Post-Punk legends The Mission (UK), Chameleons, and Theatre of Hate will embark on the Deja Vu Tour that will hit North American cities in the fall of 2022.
The Mission (UK) will be making its return to the States for the first time in nearly a decade. Wayne Hussey, one of the architects of Goth and Post-Punk, emerged from playing guitar in The Sisters of Mercy to form The Mission in 1986 along with Craig Adams and Simon Hinkler. They have enhanced their reputation as one of the best and most exciting live bands in the world winning countless accolades, and inspiring both lurid media stories and a fanatical following.
Chameleons original members Mark Burgess and Reg Smithies will reunite for the first time in many moons. The Manchester post-punk legends have an endearing and untarnished legacy having released many classic albums that warm the dark hearts of fans globally. Their debut album, Script of the Bridge, set the tone and remains an essential album to this day.
Theatre of Hate will be returning to North America after successful tours in previous years. Led by singer/songwriter, Kirk Brandon, Theatre of Hate released their iconic debut studio album, Westworld, that was produced by Mick Jones of The Clash and entered the Top 20 charts in the UK. Known for being one of the era's best live acts, Theatre of Hate have continued building upon that legacy.