Event Information
Location
Don Bailey Auditorium
700 East Oakwood Boulevard
Chicago, IL 60653
Description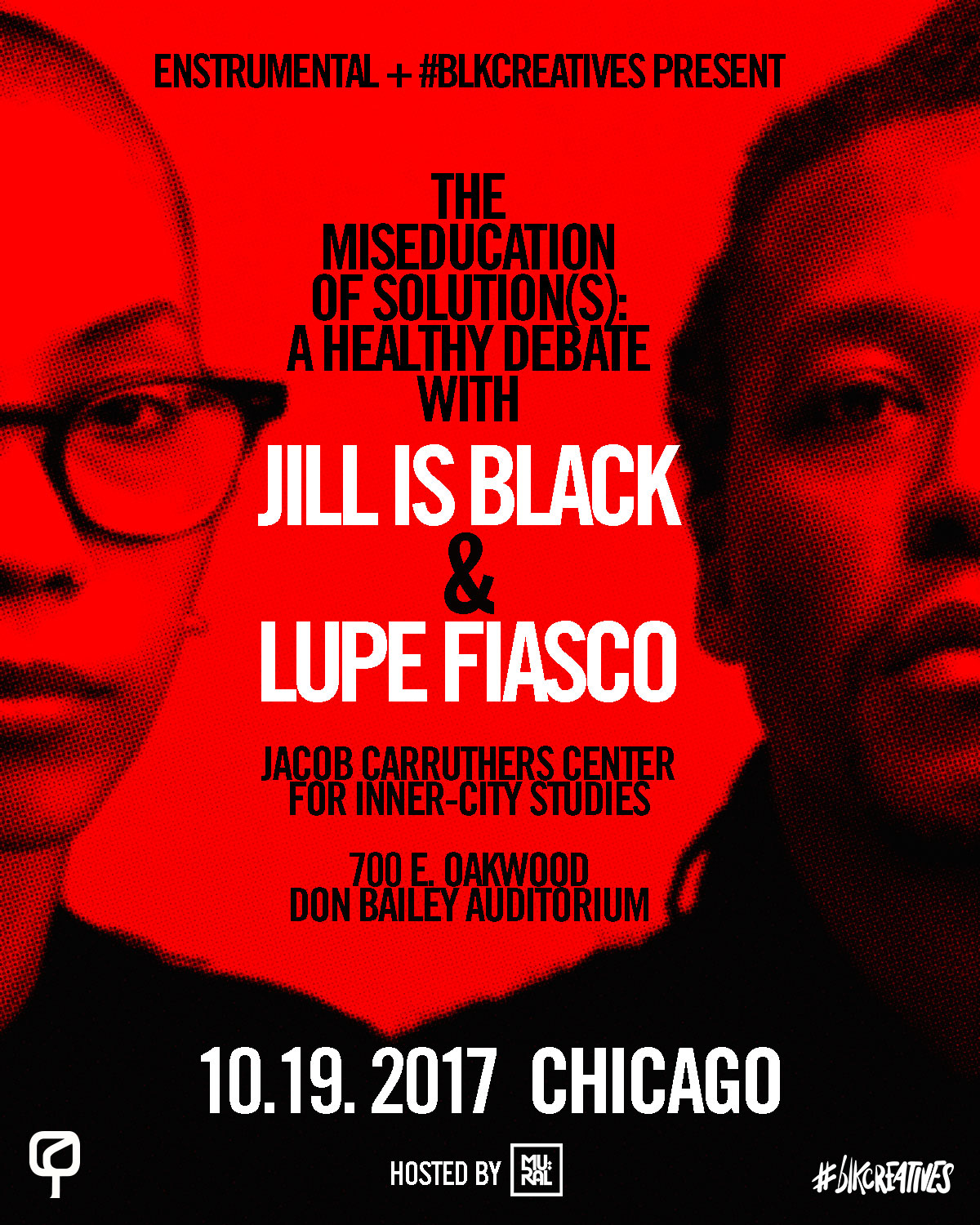 Enstrumental + #blkcreatives Present
The Miseducation of Solution(s): A Healthy Debate With Jill Is Black & Lupe Fiasco
In The Miseducation of The Negro by Carter G. Woodson in 1933, he outlined the facts for the need of the people to develop the power of execution and action to deal with the fundamental matters of education, religion, literature, philosophy, etc.
Inspired by this phraseology, in 1998, Lauryn Hill released The Miseducation of Lauryn Hill, in which she used her creativity and musical platform to dispel the notion and reaction to faulty guidance and direction, to further dive into the themes of liberation, community and popular culture.
On October 19, 2017 in Chicago, Enstrumental and #blkcreatives will present an in-person live experience for a generation who prefers solutions over symbolism, and the use of our talents and mental fortitude to consistently uplift our imagination, our art, and our history, for meaningful change.
The Miseducation of Solution(s) is an interactive discussion with two of the most prolific, profound, passionate, and principal proponents of the collective elevation of the culture. Think TED Talks meets a presidential debate meets Def Poetry Jam. Come prepared to engage with like-minded, mission-driven, and motivated individuals, and walk away with practical and tangible objectives for the world we all want and deserve to live in.
About Jill Is Black
Jill is Black is a writer, blogger, and facilitator/trainer/lecturer, focusing on issues of Race, Power, and Privilege in modern-day America. She amassed a diverse following via her social media account, @jillisblack --where her social commentary is centered around inner and outer-community hierarchies, the myth of white fragility and other words for racism, the endlessly-pending and highly-exclusive revolution, and dating and relationships through the eyes of social media. It is Jill's belief that the shift away from anti-blackness will begin with an outpouring of radical, multi-generational, inclusive and validating honesty. This is the revolution she wishes to be invited to. Jill was born in Oakland, raised in Alabama, and recently relocated to Atlanta.
About Lupe Fiasco
One of the most cerebral and enigmatic rappers active since the mid-2000s, Lupe Fiasco is also among the most prominent artists in his field, as proved by Grammy recognition, and several gold and platinum certifications. The Chicago-based MC, born Wasalu Muhammad Jaco, began rapping in junior high school and in addition to music, Fiasco has pursued other business ventures, including fashion. He runs two clothing lines, Righteous Kung-Fu and Trilly & Truly; he has designed sneakers for Reebok. In 2009, Lupe and co-founder Ayesha Jaco (his sister) realized the need to organize, expand outreach, and continue the mission of empowering inner-city youth as artists, activists and global citizens. They started the organization - The Lupe Fiasco Foundation. In 2015, the organization changed their name to M.U.R.A.L. The acronym stands for Magnifying Urban Realities and Affecting Lives. Coined as one of the "Top Organizations to Save Chicago" in XXL Magazine, M.U.R.A.L. has served hundreds of youth throughout the city of Chicago.
About Enstrumental
Enstrumental Brand is a clothing company that was founded by the activist, urban historian, and Chicago-based designer, Dwamina K. Drew ("Drew"). Enstrumental is a company defined by the desire to create products and concepts that reach beyond the expectations of the masses, with a personal obligation to consistently engage the consumer in fulfilling relationships with originality and creativity. Drew has officially collaborated with such notable artists and musicians such as Lupe Fiasco, Little Brother, DJ Premier, Hebru Brantley, Robert Glasper, Ed Steckley, and Wood Harris. In September 2015, through Enstrumental Brand, Drew released his first film, "The Revenge of Emmett Till," which he wrote and directed. "The Revenge of Emmett Till" analyzes the gruesome and horrific murder of Emmett "Bobo" Till. www.enstrumental.com
About #blkcreatives
#blkcreatives is a digital media platform empowering the (Black) culture's best. Founded by digital and social media strategist Melissa Kimble, #blkcreatives is a primary resource at the intersection of culture, history and community. The brand has been recognized by NYLON, EBONY, Black Enterprise and Karen Civil's Live Civil. www.blkcreatives.com
Date and time
Location
Don Bailey Auditorium
700 East Oakwood Boulevard
Chicago, IL 60653
Refund policy