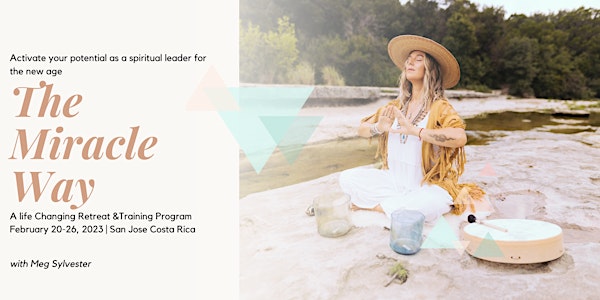 The Miracle Way Retreat & Training
A retreat & training for soulful leaders & spiritual entrepreneurs ready to reach higher ground in life & business. Costa Rica, 2/20-26, '23
Date and time
February 20 · 7pm - February 26 · 10am CST
Location
V Entertainment CR 114 heredia Barva, Heredia 40101 Costa Rica
Refund Policy
Contact the organizer to request a refund.
Eventbrite's fee is nonrefundable.
About this event
WELCOME, LIGHTWORKER
Your vision of being a transformational leader can't be ignored. That dream is in your heart because it's meant for you.
…but maybe you have no idea where to start or how to get the ball rolling. Or maybe you have already achieved a certain level of success and now you're ready to go deeper by merging into even greater alignment with your calling.
The Miracle Way™ Facilitator Training is a unique combination of retreat + training and certification to drop you into your inner wisdom while supplying you with a framework to turn your passion into heart-centered work in the world. You will receive the support, guidance, and inspiration you've been seeking to turn your vision into a magical, soul-fulfilling reality.
THE MIRACLE WAY™
This experience is for you if:
You are a teacher, healer, coach / mentor, soulful entrepreneur, or creative who is ready to access the next level of free-flow, channeled, intuitive leadership.
You are a way-shower who desires clarity and confidence around your unique offerings, and to connect to the deep genius that lives within you.
You aren't interested in regurgitating a one-size-fits-all method, and are ready craft a style that is unique to your energetic signature.
You know that sharing your story and message will positively impact the lives of people all over the planet.
You are an agent of change who is committed to activating the power of the divine feminine to bring about the healing this planet so desperately needs.
You feel an urgency to light up the world by sharing the heart-centered medicine that runs through your soul.
You are often told that you have a unique and powerful energy, and now you are ready to explore these facets of yourself so you can share them with the world in a way that brings you deep fulfillment and joy.
You are ready to drop into a community of lightworkers, leaders, and mission driven creatives who are here to change the world.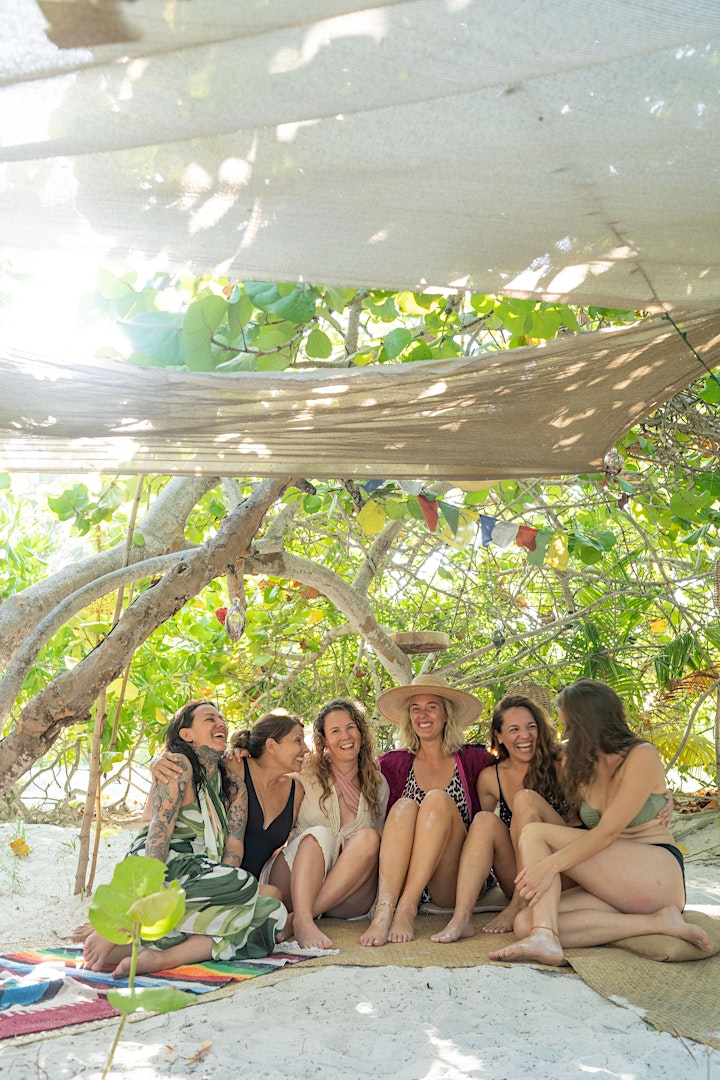 How will this experience impact your life?
Learn and experience the Art of Transformational leadership for the New Age and shift from Seeker to Vision Keeper.
Your desire to rise into your calling as an authentic leader for the New Age has led you on a quest to access the ancient wisdom that lives within the deepest parts of the Self. During this one-of-a-kind experience, you will gain the confidence, clarity, and tools to activate your highest purpose from deep down within.
You are motivated and mission-driven and often told that you make others feel so safe and seen. Now, you are ready to unleash your gifts and light up the world. You are here because you have been called to immerse yourself in a methodology that will equip you with practical wisdom, grounded tools, and creative flow to ignite personal and group transformation.
During this retreat & training, you will experience deep cathartic release dissolving the tension and self-doubt of the inner critic by experiencing your unique energetic blueprint. Think of The Miracle Way as your compass and map to guide yourself and others through powerful transformative experiences.
Get all the tools and insights, so you can:
Lead others through transformational mentorship sessions, classes, meditations, and experiences that are an extension of your zone of genius.
Learn how to create unique retreats & life-changing experiences that people can't wait to sign up for
Hone in on your authentic message that inspires others to grow and live fully
Craft your method and core offerings for leading others with intuition and flow
Hone in on your messaging and unique magnetism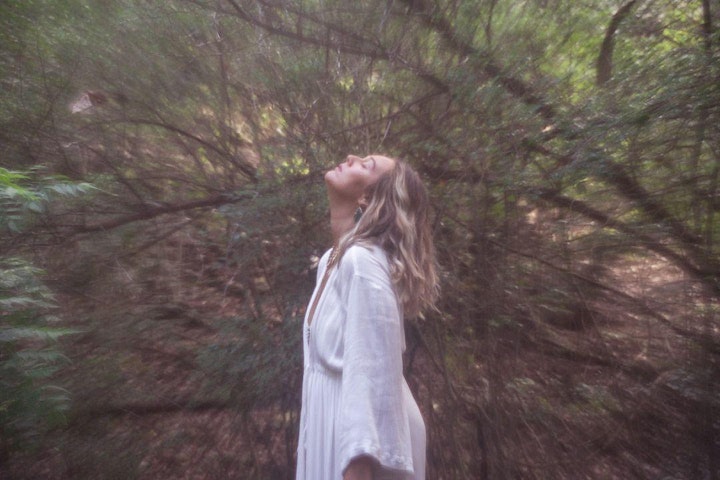 During this training, you can expect to create deep connections with like-hearted individuals who are also craving community with others who are here to do the good work. You can expect to laugh, cry and forge deep relationships that will last a lifetime during the Miracle Way Training™. Graduates will enjoy alumni-exclusive private groups and calls in which you can meet, share, support, and celebrate each other.
A Typical Day During the Miracle Way:
Morning Kundalini Yoga and Meditation
Breakfast
Miracle Way Training
Somatic Transformational Experience
Lunch
High Vibe Curriculum Workshop
Group Practicum
Dinner
Evening Ceremony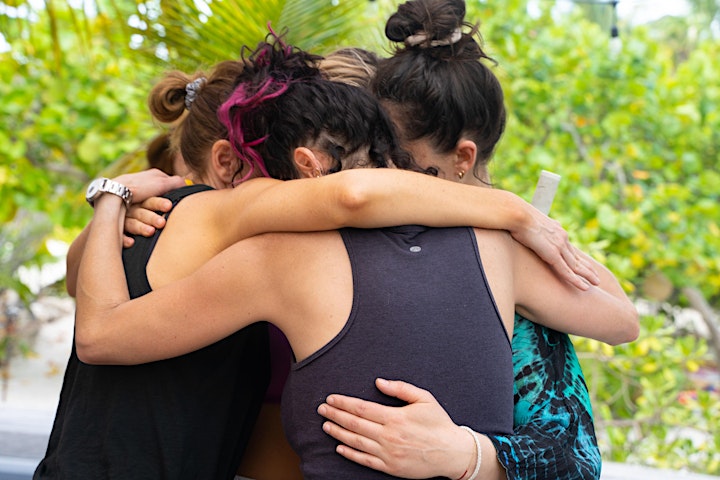 The Details
When: February 20-26th, 2023
Where: San Jose, Costa Rica
Investment: $3200
- Scholarships available, we highly encourage BIPOC and Mamas to apply! If interested in a scholarship, please email support@megsylvester.com, and tell us about yourself and how you think this would benefit you and those you serve. Please put "Miracle Way Scholarship" in the subject.
-If you have questions or would like more info please email support@megsylvester.com
YOUR EXPERIENCE INCLUDES
The Full Miracle Way Training + Manual
1:1 Pre-Retreat Call with Meg
Kundalini Yoga + Meditation
Mindful Movement
Holotropic Breathwork
Ceremony + Rituals and More
Fireside Chats
Workshops for Practical and Tactical
Gateless Creativity Workshops + Embodiment Sessions
Luxury Accommodations
3 Nourishing Chef-Prepared Meals Daily
Free Time to Lounge and Connect with Community
Certificate upon completion
Access to Alumni Group + 2 Scheduled Integration Calls Post Retreat
NOT INCLUDED:
Airfare
Optional Spa Treatments
Travel Insurance
Covid Testing if needed for return to your country of residence
Transportation to and from the retreat venue (just a 20 minute ride from San Jose Aiport)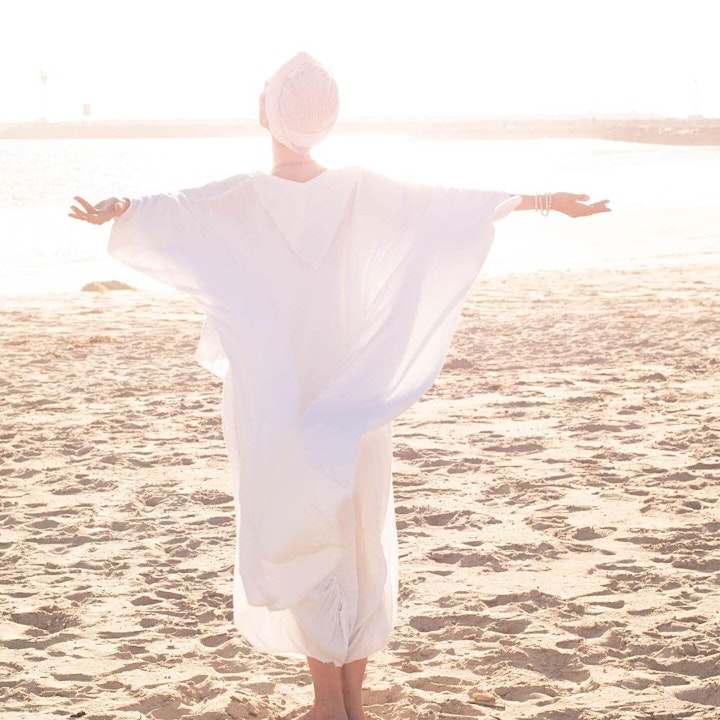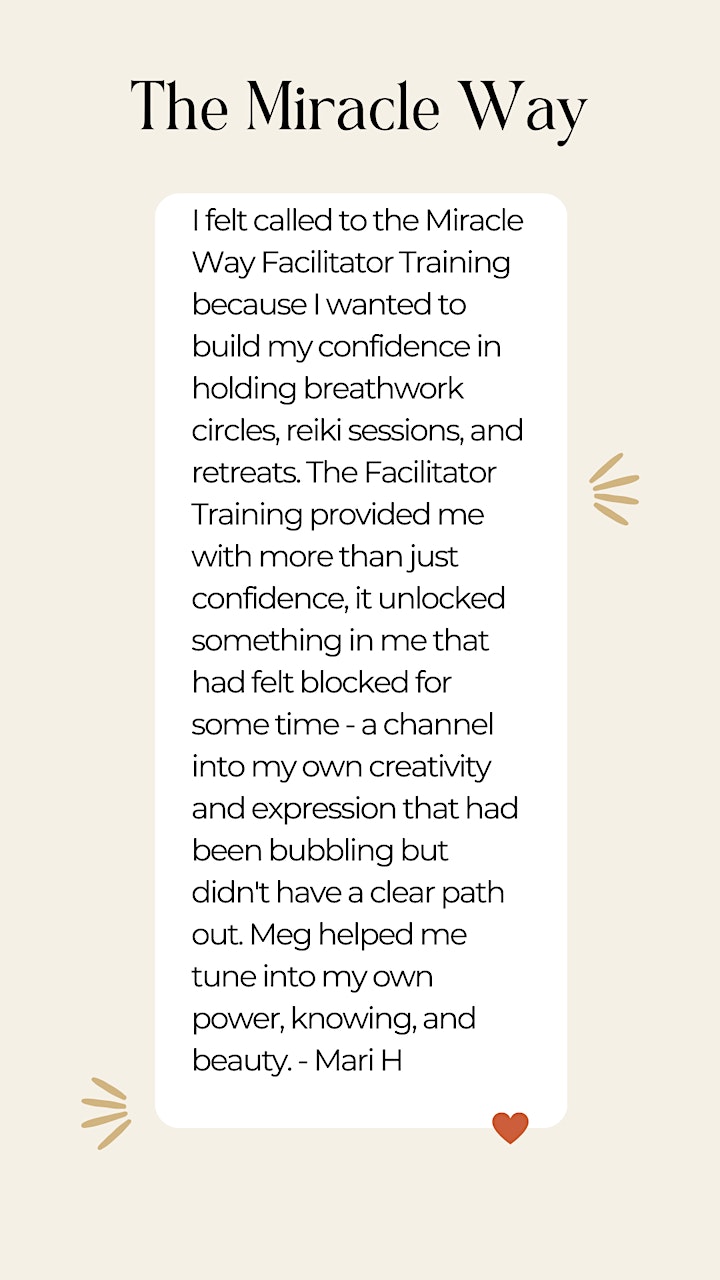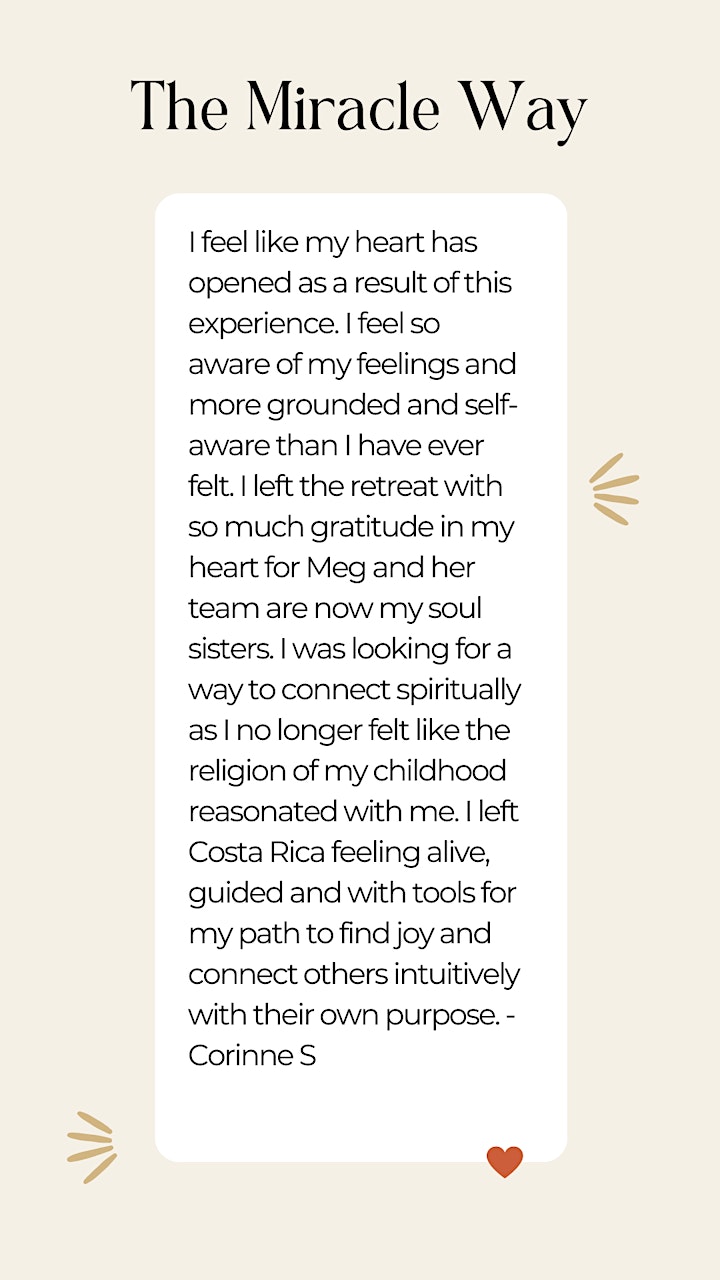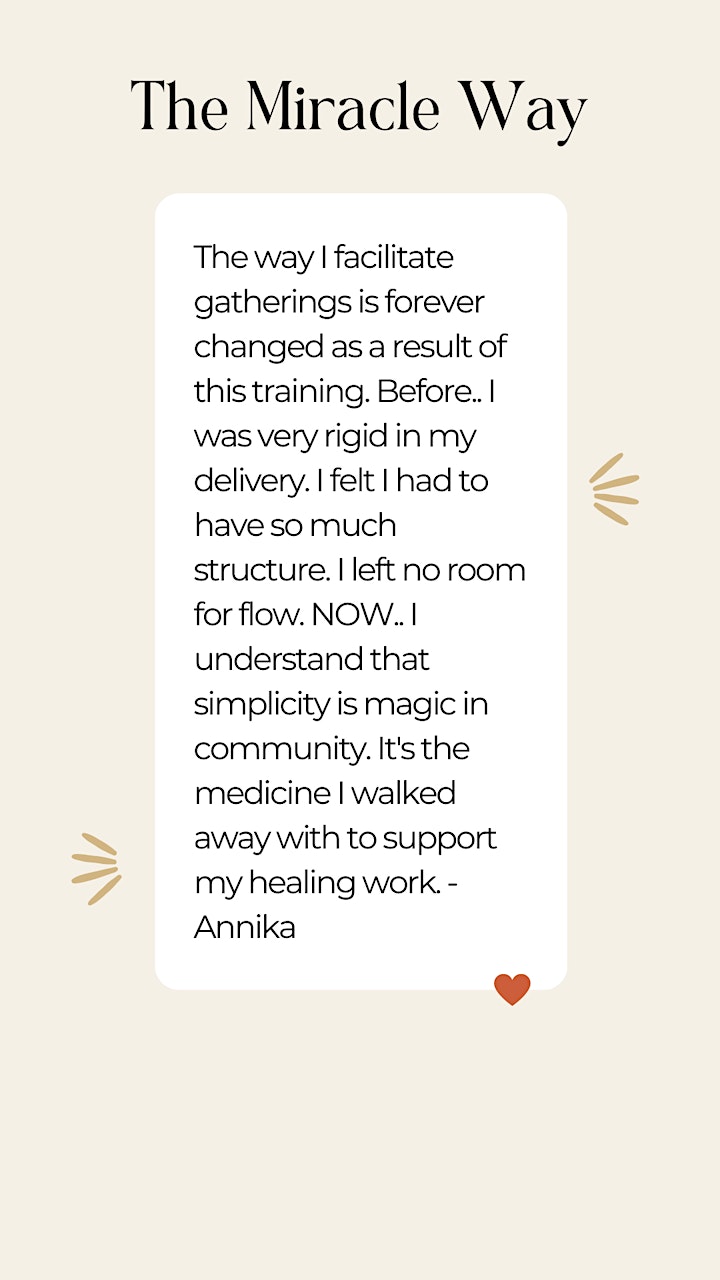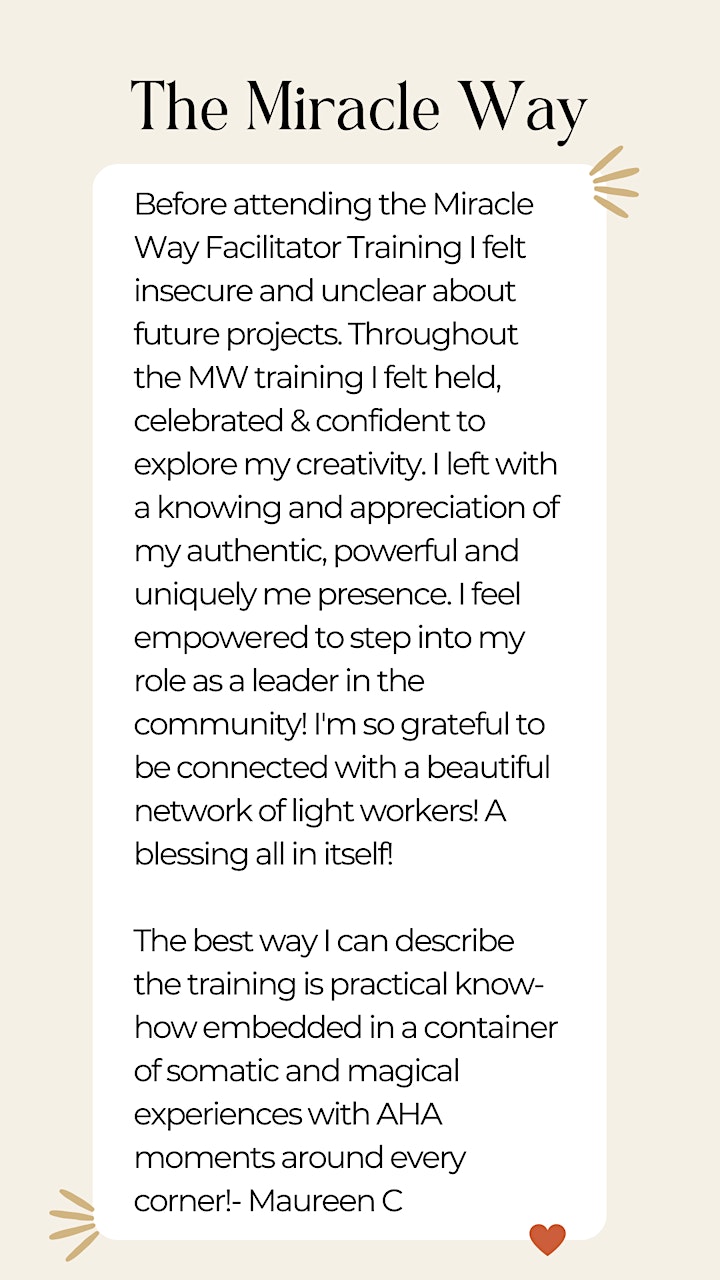 This training is for anyone who feels the call to dive more deeply into their heart-centered work. Whether you are a seasoned entrepreneur looking to amplify your message and make some magnetic tweaks or you are just starting off and ready to take the leap, this training will give you grounded tools and methodologies to ease into more freedom, softness, and creative force in your life and business! I hope to see you there!
About your host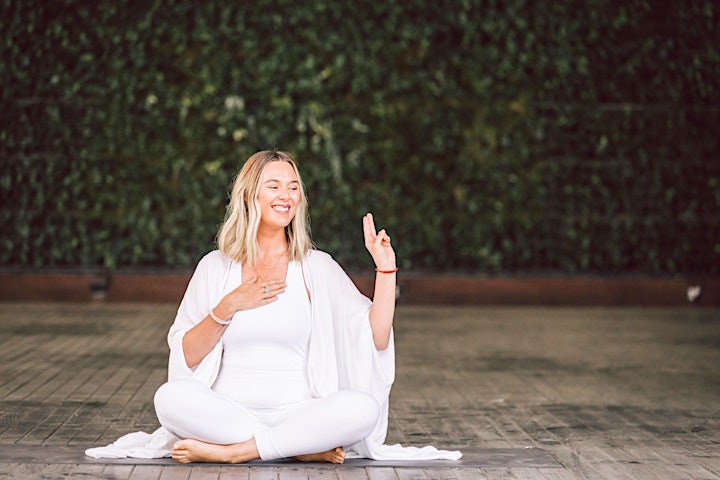 Meg Sylvester is an author, creator, and spiritual entrepreneur who helps kind-hearted humans to "live life well". Meg is the founder and creator of The Miracle Way, a love-based approach to personal, professional, and spiritual transformation, and has helped thousands worldwide to uncover their purpose while reaching deeper levels of fulfillment and pleasure. She is passionate in guiding others to experience their genius and creative potential through retreats, online programs, certification trainings, publications, and more. Meg holds training and certifications in Gateless Writing, Kundalini yoga and meditation, transformational breathwork, life coaching, pre-natal, yin, and trauma-informed yoga. When she is not leading retreats in dreamy destinations around the globe, you can find her at home in Austin, TX with her husband Justin consciously corraling their three kiddos, Lily, Ruby, and Happy, and taking care of their senior dog, Dr. Pancake
About the organizer
Meg Sylvester is a heart-centered sound healer, kundalini yogini, spiritual coach and manifestation teacher. She empowers others to live through purpose and authenticity - no matter how wacky, woo woo or wild that may be! Meg provides a safe space for individuals to find inspiration, clarity, and inner guidance through a variety of healing modalities. Her mission is to elevate the energy of the planet by inspiring others to do what they love. 
www.megsylvester.com
@meghansylvester