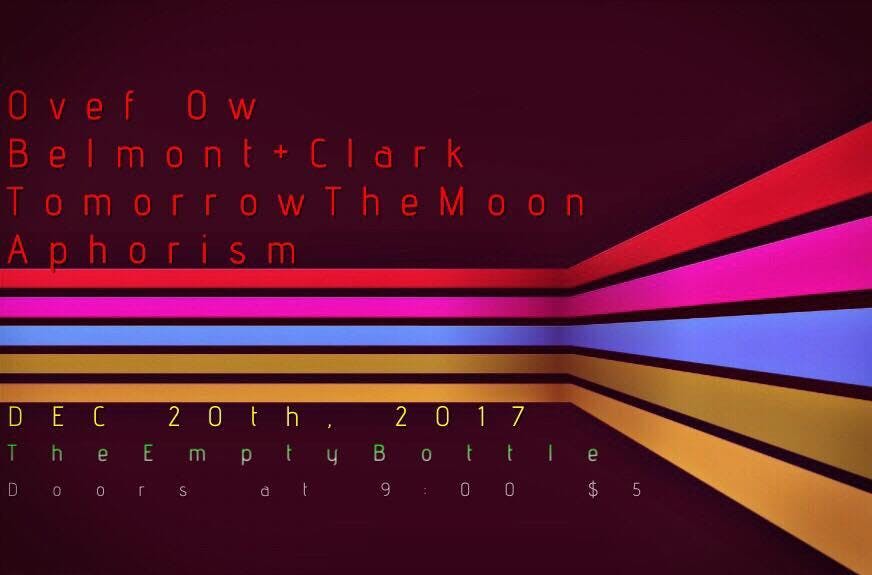 About this Event
The Minimal Beat, TMB Limited and The Empty Bottle present:
OVEF OW is a 4-piece rock band that formed in the spring of 2015. The band's lineup features Marites Velasquez (bass), Sarah Braunstein (drums), Kyla Denham (synth) and Nick Barnett (guitar). Over the past year, the quartet has quickly built a following in the Chicago indie-music scene around their surf and garage/punk-inspired and multi-vocalist sound. They draw influences from Sonic Youth, Sleater-Kinney, and the B-52s.
BELMONT + CLARK (Randy Nieto and Jason Duerr) are an electronic duo from Chicago influenced by minimal wave and electronic acts like Cabaret Voltaire, Kraftwerk, and Aphex Twin who explore chaos and entropy archetypes through sonic and visual storytelling. A nod to their formative years, their name is derived from the days they would take the red line down to Belmont and Clark in Chicago in the late 80's and early 90's and spend their lunch money at The Alley, local cafes, and soak up the black lights at the now defunct Medusa's nightclub. This show marks their second release of four of a limited run of cassette singles being released through TMB Limited. 
TOMORROW THE MOON trips on a level of bombastic euphoria that has rarely been reached since the early 70's. Launching with hooks that could peel the plywood off any neighborhood bar, they cruises at an altitude of catchy British pop before ultimately soaring into a pocket of outer space reserved exclusively for the galactic one-note symphonies at the far end of Steve Gerlach's silver guitar. They have worked with John Cale, Shirley Manson, Tommy Keene, and probably your cousin out in LA.
APHORISM's Josh Pyle is a Chicago-based artist who creates a powerful hybrid of analog and digital soundscapes. With a previous release on Tympanik Audio and a few compilation appearances spanning the range from ambient to experimental to industrial, Aphorism delivers heavy beats fused with melodic themes and digital complexities, blending disparate sonic elements into an innovative, cinematic style of modern electronic music.