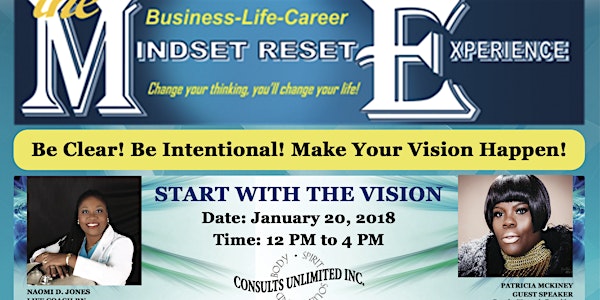 The Mindset Reset Experience - Start With The Vision!
When and where
Location
The Staten Island Museum 1000 Richmond Terrace Building A Staten Island, NY 10301
Description
The Mindset Reset Experience - It's More Than Just a Vision Board Party!


Confused about where you're going in your life? Unsure of your purpose? Not living your dreams? Want to start a business or change careers?
If you're feeling like your life is just going through the motions and deep down Inside there's a small or maybe even BIG gnawing in your heart that says you are meant for much more.....Then this workshop is for you!

In my life I've had these feelings of confusion as to my purpose. I figured out early that it had to be more than just working, amassing things and leaving them behind when I'm gone.
Early on in my career I got tired of the day to day existence. I wanted to be better, and have better. As a forever learner both personally and professionally, I started out in healthcare as a Home Health Aide, I found my calling but still found it difficult to understand my "why". My journey led me to become a Licensed Practical Nurse, then a Registered Nurse earning a Masters degree and several certifications. I found out these were tools that supported me in finding my real purpose. As an entrepreneur, I ran in to some of these same hurdles. It was in the discovery of some mental patterns (a 'chicken' mentality) that I was able to become unstuck and live my purpose, intentionally and fully with joy.

Let me help you find your real "why"! Learn how to 'Check Y.U.R. Chicken'! Your journey is about connecting the dots of your life in your mind, body, soul and spirit! I can help you connect those dots and discover how to live your purpose, ON PURPOSE! It all starts with the Vision! What do you see for your life? What do you want and what's holding you back from getting it? Let me introduce you

If you're ready to get off of the Merry-go-round of life and stop living below your DESIRED potential, then this workshop is for YOU!
Benefits of Attending:
In this workshop you will be able to:
*Gain insight into why you need to be clear about your vision in order to set achievable goals

*Discover mindset patterns that may be keeping you stuck

*Create a blueprint for your vision to help reset your thinking.

Who should attend:
*If you want to move from Employee to Entrepreneur. Reset your mindset to know the difference and succeed!
*If your vision feels like a Nightmare. Reset your mindset to recognize and diminish obstacles like fear.
*If your past appears larger than your future Reset your mindset on how to regulate your inner conversation.
Registration begins 11:15am. Light Lunch Served. Includes supplies for vision board. Enjoy the Museum free of charge after the event!


Reset Your Mindset!
FAQs
What are my transportation/parking options for getting to and from the event?
The venue is located on the grounds of Snug Harbor. Upon entering the grounds, take the 1st left and then the next left. Parking is available and free to particpants. For further directions use this link http://www.statenislandmuseum.org/visit/location-directions/
How can I contact the organizer with any questions?
Info@Lifecoachrn.com
What's the refund policy?
No Refunds