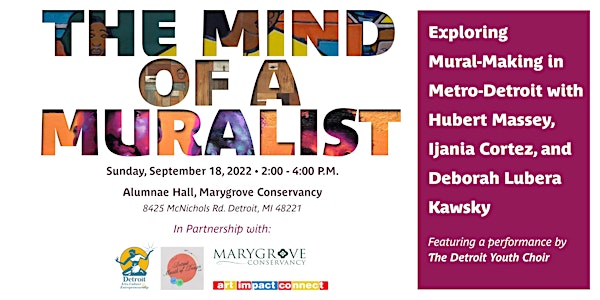 The Mind of a Muralist: Exploring Mural-Making in Metro Detroit
Location
Alumnae Hall @ The Marygrove Conservancy
8425 McNichols Rd.
Detroit, 48221
Explore the media motivations and messaging behind mural-making in Metro Detroit with Hubert Massey, Ijania Cortez and Deborah Lubera Kawsky
About this event
Join Detroit artists/muralists Hubert Massey and Ijania Cortez and art historian Deborah Lubera Kawsky for a visual presentation and panel discussion, featuring recent work by Massey and Cortez and a newly-rediscovered/restored mural by midcentury designer Alexander Girard.
Mural imagery by Massey, Cortez and Girard - featured both in the presentation and on site - will document the diversity of mural media, processes and styles, providing fascinating visual and conceptual juxtapositions. The panel discussion will address issues such as: the motivations behind mural-making, the role of murals to enact positive change in the community and the importance of preserving/restoring murals as evidence of Detroit's rich design legacy.
Rochelle Riley, Director of Detroit ACE, will introduce the event, which will begin with an inspiring performance by the Detroit Youth Choir, which featured Massey's Power to the People mural in their 2020 music video "Glory."
The event is presented in partnership with the City Office of Arts, Culture and Entrepreneurship, the Marygrove Conservancy and Art Impact Connect.