"The Mind Hackers Guide To Selling" Speaker James Springer - Draw In Your Prospects

Thursday, March 14, 2019 from 11:15 AM to 12:45 PM (CDT)
Event Details
The Power Hour
NASP is moving to THURSDAYS and we have shortened our meeting time.
Save $5 by RSVP'ing by the Wednesday before the luncheon
Join us for our Power Hour from 11:45- 12:45!
11:30 Networking 11:45 Meeting Starts
Speaker/Trainer:
James Springer - Of All In Communications

The scientific way to easily, ethically influence the mind of your prospects.
30+ Years Experience:
Business Owner

Sales Management

Sales Training
Expert in:
Master Deception Expert
Body Language Analyst
Micro Expression Analyst
Personality Profiling 
Conversational Hypnosis
NLP Master Practitioner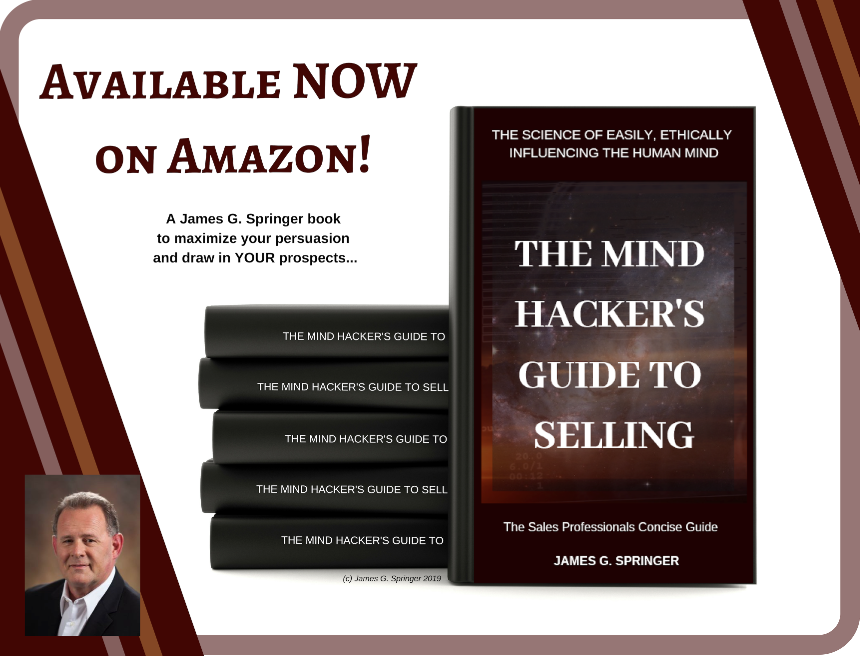 About our Association:
NASP is a non-profit, professional organization that provides a positive forum for skill enhancement training and networking for career sales people.
We enjoy a delicious monthly luncheon at Amerigos from (11:30 networking) 11:45 to 12:45 p.m. every second THURSDAY of the month. Enjoy learning from the experts–presentations by seasoned motivational sales trainers.  Our speakers are professionals from the industry who speak to the very heart of our profession through experience and knowledge on what it takes to be the VERY BEST at what we do for a living. You are invited to expand your horizons by networking with peers and making new friends in the sales arena.
 Our goal is to provide the tools and environment to raise and maintain the highest level of professionalism within the sales profession.
Learn how to become a more polished and successful sales professional by improving your sales presentation and enhancing your people skills. New sales professionals as well as seasoned road warriors are encouraged to become members. Learn from the Pros.

Meet interesting people from a variety of sales backgrounds. Stay around after the meetings and get to know some of your fellow NASP members.

Share your sales experiences with other sales professionals. Celebrate the successes and commiserate the non-successes. They can probably offer some great advice for the next sales call.

Networking with business cards and brochure swapping is absolutely encouraged. People love to buy from those that they know.

Every attendee at meetings gets an opportunity to do a brief stand-up introduction of themselves and their company and what products they sell.

Free career enhancement hand-outs and sales tips as well as opportunities to purchased sales training-related information at various meetings.

NASP offers events throughout the year to foster friendships and fun within our group such as a summer outing, Christmas party, after-hour mixers, on-site- visits to members businesses (great PR for your company), sales training workshops and more.
 "The most important thing is that we can learn together, grow together and have a good time while becoming the best we can be in our chosen field as sales professionals"
Share this event on Facebook and Twitter. We hope you can make it!
When & Where

Amerigo
1920 West End Ave.
Nashville, TN 37203


Thursday, March 14, 2019 from 11:15 AM to 12:45 PM (CDT)
Add to my calendar
Organizer
Nashville Association of Sales Professionals (NASP) is a non-profit, professional organization that provides a positive forum for skill enhancement, training and networking for career sales people.