The Mind Body Spirit Relationship Fest - Saturday 11th February 2012

Saturday, February 11, 2012 from 9:00 AM to 6:30 PM (GMT)
Event Details
The 2012 Mind Body Spirit
Relationship Fest - Saturday 11th Feb 2012
Following on from the great time that we had at the Mind Body Spirit Energy Fest 1-Day Workshop in December, Gina, Karina and Marilyn will be getting together again on Saturday 11th February and turning our attention to the subject of Relationships.
Of course romantic relationships, or lack thereof, will be one of the key themes for the day as we head into Valentines Day.  We will also look at enhancing all types of work, family, and social relationships. 
If you're in a relationship have you ever wondered if:
You're with right person?

You've stayed in the relationship too long?

You've not given the relationship long enough? 

It's possible to spice things up or take them to another level?
During this thought provoking, highly practical and information rich day we'll be sharing exercises, meditation processes, and ideas to enhance what you already have.
If you're single, are you:
Done with being alone?

Ready to radiate and attract love?

Weighed down by old emotional baggage from the past.

Wondering why you seem to keep creating the same old patterns or making the same old mistakes?
If so, we'll be working with you to clear out the past, and showing you how to set your sights on attracting what you really want in the future.
The live Workshop will include:
Resolving old beliefs and emotional baggage around relationships

Getting clarity on what you really want in a relationship

What you can do to improve existing relationships

Helping those of that are single get more 'relationship ready' so that you are in better position to attract what you want

'Charging up' your relationship energy

Looking at any energetic blocks in that area and clearing them

Psychic readings and a channelling on what you can do to enhance your relationships and how to clear specific spiritual blocks or barriers

Energising and healing the heart energy centres

Reviewing and changing old Soul Contracts that no longer serve you

Group Ho'oponopono Forgiveness Process to release old emotional connections and ties 

Marilyn Devonish's Clarity Questions to help you get real about where you are at with regards to your relationship or assess a partnership that you are about to embark upon
How to choose the quality of the energy you want to harness and project
The art of relationship communication
And so much more!
It will be run along similar lines to the December event, with each of the 3 speakers using their skills and expertise to work a bit of magic in the area of the mind, body and spirit.
WHAT DID PREVIOUS DELEGATES SAY?
Feedback from the December 2011 event included:
"Loved today's workshop, really glad I came." 
The facilitators were all very special magical people and I had a fantastic day :-) - Make it 2 days!" 
"Great speakers and healing sessions - Thank You."
"Thank you for your time and energy.  I'll leave with a bounce in my step."
"The course was well planned and delivered.  Wouldn't have minded if the course was longer!" 
HOW TO BOOK ON THE MIND BODY SPIRIT RELATIONSHIP FEST DAY 
Just use the link above to secure your place.  You have the option of just coming along to the workshop, or you can join us for the Speaker Lunch.  All of those attending the Speaker Lunch will also get a Free copy of Marilyn's book Stories of Transformation co-authored by Marilyn Devonish, Anthony Robbins, Dr Wayne Dyer, Paul Scheele, Marie Diamond and Brian Tracy. You will also receive a copy of the Is He/She The One eWorkbook.  
The Early Booking Price will be going up on a couple of weeks so book now to secure yourself a bargain price for what promises to be another fantastic day.
ABOUT YOUR SPEAKERS
For further information about your 3 speakers for the day, Marilyn Devonish, Karina Grant, and Gina Batt, just scroll down to the bottom of this page.
WOULD YOU BE UP FOR A DINNER, MIXER OR PARTY AFTERWARDS?
A couple of years ago I ran a Valentines Relationship Workshop and Party with Steve Oxlade and we had the most fantastic evening. Since then I've toyed with the idea but not gotten around to it.  I know some really amazing people and have some wonderful clients (all of whom are obviously interested in personal development and self improvement) so I got to thinking about how cool it would be to organise an event for like minded souls who want to connect with other great people.  Many of those connections will be about broadening your social circle or finding potential work partners to collaborate with, however if you also happened to meet someone special along the way, that's fine too! 
If you would be interested in some kind of social mixer, party or dinner, then do let me know.  It would take place after the Relationship Fest Workshop on Saturday 11th February, and whether it's a dinner, mixer or full on party will depend upon the level of interest and preferences of those responding. 
Send me an e-mail with 'Relationships' in the subject line if:
1.    You would be interested in attending.
2.    Your preference, i.e. dinner, social mixer, party.
3.    If there was someone in particular you would like to meet (values, personality, characteristic, skills) and I could start to put my antenna out and make sure that I discreetly introduce you to anyone who fits the bill given that I'll probably know many of those attending personally.
Please send an e-mail to: marilyn@tranceformationsTM.com  and let me have your thoughts and ideas around the evening social aspect.  (Will also possibly need to find a versatile DJ so let me know if you can recommend one of those also!)
OTHER MIND BODY SPIRIT ENERGY FEST EVENTS
For updates about the Mind Body Spirit Energy Fest, associated Conference Calls and  information about The Power of 3 Programme go to: http://2012mbsenergyfest.eventbrite.com/ 
I very much look forward to connecting with all!
Marilyn x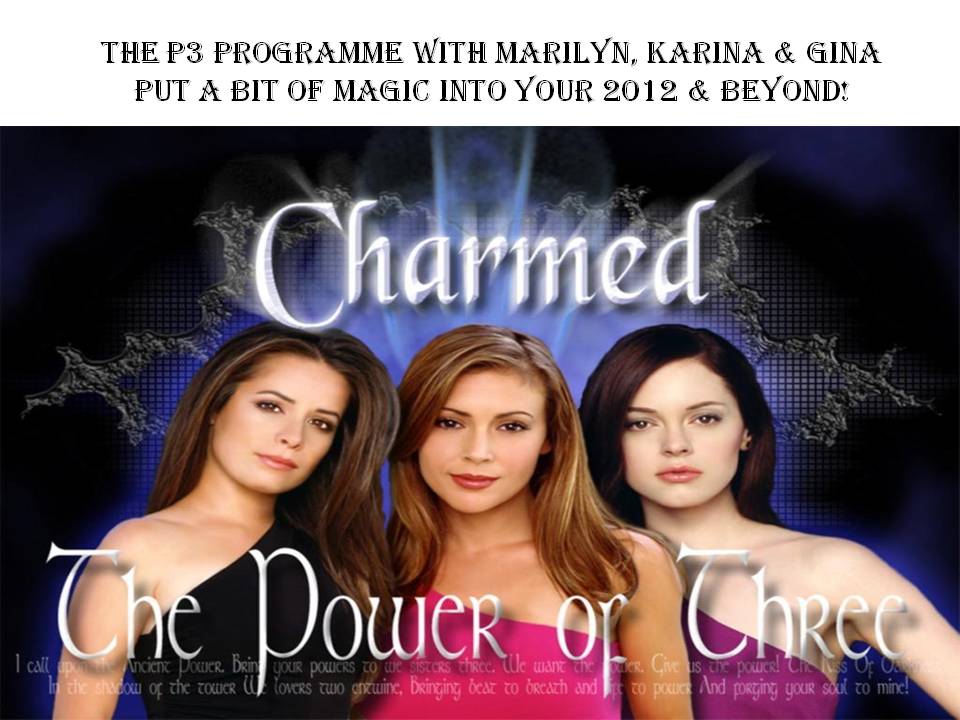 POWER OF 3 COACHING & SPIRITUAL DEVELOPMENT PROGRAMME
Following on from the fantastic Mind Body Spirit Energy Fest Workshop, the intention of the follow up Coaching & Development Programme is to support you in implementing what you know, staying on track, raising your vibration and energy, and helping you achieve one of your big goals or projects for 2012.  The private sessions with each of the 3 speakers, and the group calls will provide focus, support, inspiration, ideas, and insight.  The P3 Programme will enable you to build and gain momentum and be more aligned with your goals and intentions.  The 3-Month Programme includes:
ü  Weekly telephone readings and psychic consultations with Gina Batt
ü  Attendance at the 2-day Quantum Touch Workshop
ü  4 x 1-hour Individual Quantum Touch Sessions with Karina Grant
ü  A ½ day Breakthrough Session with Marilyn Devonish
ü  4 x 1-hour Coaching Sessions with Marilyn Devonish
ü  Follow up MasterMind Group Call
ü  Bonus Teleseminar Workshops with Marilyn, Karina and Gina
ü  Free personal 12-Month channelled astrological forecast for the year ahead
ü  Raising the vibration, energy, and focus on a project or goal for 2012
The 3-month programme will allow you to simultaneously work on all areas of your life and get yourself physically, emotionally and mentally in alignment with what you want to achieve in 2012 and beyond.
CLIENT FEEDBACK ABOUT THE POWER OF 3 PROGRAMME
Below is a testimonial from a client written 2 weeks after starting the Power of 3 Programme:
 From the depth of my heart Thank you again and the very best wishes for you in this exciting year. Keith H

My very thought patterns and feelings & experinece has shifted! It seems like I am livimg in a new world! phenomenal!
THE MIND-BODY-SPIRIT ENERGY FEST 2012
SATURDAY 8TH DECEMBER 2012
After the success of our first event in December 2011 the speakers were keen to schedule another date so here it is, a year in advance!!!  The next live event will take place on Saturday 8th December 2012!  If you would like to reserve your place at a ridiculously low price then select then select from the Early Booking Price options above.
Feedback from the first workshop in December 2011 included:
"Loved today's workshop, really glad I came."
The facilitators were all very special magical people and I had a fantastic day :-) - Make it 2 days!"
"Great speakers and healing sessions - Thank You."
"Thank you for your time and energy.  I'll leave with a bounce in my step."
"The course was well planned and delivered.  Wouldn't have minded if the course was longer!"
If you want to:
Literally get a glimpse into your future?
Charge up your money and financial abundance energy?
Heal physical injuries rapidly or get your body instantly back into alignment?
Enhance your bodies natural healing ability so that you are energised and ready to take on 2012?
Learn strategies to eliminate self sabotage and remove emotional baggage from the past?
I have spoken to so many people of late for whom 2011 and 2010 have not been their greatest years and it got me thinking about what I am personally going to do to ensure that 2012 is a Breakthrough Year for both myself and my clients.
One of the things that can really help pull you through the tough times is having access to supportive people, and access to great information, strategies and information. 
Some people have been feeling as though they are on a downward spiral, fearful of what the future might hold, need to turn things around, they want to make sense of some of the chaos in their lives, and are looking for some kind of real clarity and direction.
Others want to build on a good year, take things to the next level, accelerate their results, be physically and emotionally sharp and clear, and free of any barriers or limitations to their success.
Building on that I got to thinking about how great it would be to put together one final event for this year which:
Connects amazing like-minded people
Provides Breakthrough Strategies for clearing out old emotional baggage and clutter
Gives unprecedented psychic insight into what's really in store for you in 2012
Gets you physically balanced and in alignment using a cutting edge approach to physical wellbeing
Banishes niggling mental, physical or emotional blocks and barriers to your success
Allows you to celebrate and build on your successes
Shares incredible insights and approaches to help you create a fresh start for 2012
Gets you clear and phsically, emtionally and spiritually ready for 2012
Why Attend this Event?
If you attended the PhotoReading Immersion weekend in June 2009 which was filmed by the BBC you would have had the pleasure of meeting this lineup of powerhouse speakers.  Each an expert in their field, you will have the opportunity to attend a 90 minute workshop with them followed by a private one-on-one sessions with the speaker of your choice.
Designed to work on all levels, spiritual, mental, physical and emotional, the day will leave you clear, focused, refreshed, energised, more free of emotional clutter, and with amazing insights about what you can do to help ensure that 2012 is one of your best years yet.
How Is the Event Structured?
You will hear from 3 speakers on the day, Breakthrough Belief Change Coach Marilyn Devonish, Intuitive Reader and natural Psychic Gina Batt, and Karina Grant an energy therapist who gets amazing almost instantaneous results.
For those of you that book early enough you will have the opportunity to attend private taster sessions on the day with each of our guest speakers so please indicate your preference using the booking form above.
How can I book a FREE session on the day?
Throughout the day you will have the opportunity to experience a private one-to-one session with out guest speakers.  Please select the relevant option from the list above when making your booking and we'll let you know if we've been able to allocate you one of the spaces.  Unfortunately these places are very limited so they will be allocated on a first come first served basis.
TESTIMONIAL ABOUT THE 10 MINUTE INTUITIVE READING & ENERGY SESSION WITH MARILYN DEVONISH
I wanted to test out what value people get from the 10-15 minute sessions so I asked for a couple of volunteers via facebook who were willing to do a telephone or Skype session.  Zoe's testimonial is below: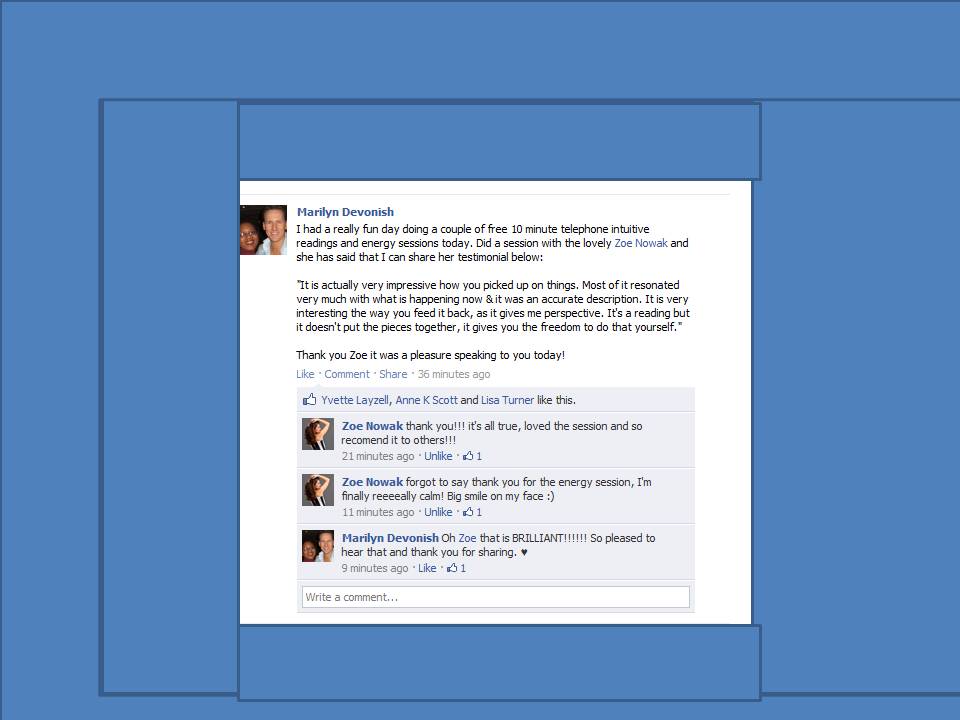 I would definitely like to attend - what do I do now?
Book now using the form above and I'll get back to you to confirm.  If you have any further questions or queries E-mail: marilyn@tranceformationsTM.com   or call 01923 337282.
About Your Speakers
Marilyn Devonish - TranceFormational Belief Change Coach, Speaker, Writer
 Marilyn Devonish is a Certified Trainer of NLP, Certified Trainer of Hypnosis, Certified Trainer of Time Line Therapy, Certified PhotoReading Instructor, Practitioner of DNA Theta Healing, EmoTrance, EFT, Reiki and Hawaiian Huna.  She is also a freelance writer, international speaker, radio and TV presenter and keynote speaker.
Gina Batt - Psychic, Intuitive Reader, Tarot Reader, Radio Presenter & Performance Coach
Gina is an NLP Master Practitioner, Master Practioner of Time Line Therapy, Hypnotherapist, Stress Release Consultant, Performing Arts Coach, Tarot Reader, and Psychic.  A natural born psychic since childhood, Gina has wowed audiences at some of my previous events.  Her silent readings always leave people speechless given their speed and accuracy. She has been reading tarot for over 30 years.  Those booking early have the chance to do a free private reading with Gina at the event.
Karina Grant - Quantum Touch Practitioner and Instructor
The third amazing expert is Karina Grant.  When she spoke and did demonstration sessions at the 2009 PhotoReading Immersion Weekend we had someone who had literally limped to the event who was walking straight and upright by the end of the day after a short demonstration by Karina.
Karina discovered Quantum Touch in 2005 whilst exploring some of the most powerful energy healing methods available today.  She has since attended Advanced Supercharing, Advanced Core Transformation and the new cutting edge Quantum Touch Level 2 workshop taught by Richard Gordon.  She is a qualified Quantum Touch Practioner and Instructor of Level 1 and Level 2.  She is also a Bio-Energy Practitioner and several other energy techniques including Reiki.
Where is the event taking place?
The Jury's Inn Hotel is located in central Watford (20 minutes by train from London Euston, 35 minutes from Clapham Junction/West Brompton, then 3 minutes walk from Watford Junction mainline station). The cost of the journey is £4.10 with an Oyster Card and trains go 04, 24, 34, and 54 minutes past the hour from London Euston).
Have questions about The Mind Body Spirit Relationship Fest - Saturday 11th February 2012?
Contact the organizer
When & Where
31 Clarendon Road
(20 mins fr London Euston. 3 mins walk fr Watford Junction station)
WD17 1JA Watford
United Kingdom


Saturday, February 11, 2012 from 9:00 AM to 6:30 PM (GMT)
Add to my calendar