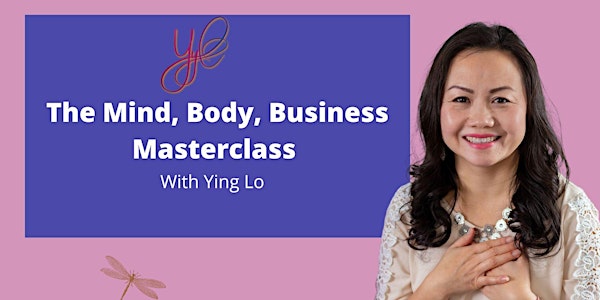 The Mind, Body, Business FREE Masterclass
How to Keep Your Mind, Body, and Business Sane FREE Masterclass.
About this event
Do you yearn for a lifestyle that matches your value, passion, and vision?
Are you feeling burnt out or close to it because of all you do for so many keeping you on the back burner?
It doesn't have to be that way.
Join me in The Mind, Body, Business Masterclass and find out how you can regain, retain and restore your sanity, your life, and your business.
In this Masterclass you will discover how to:
Release the power blocks within your mind, body, and business so that you can confidently step forward into the life, career, and purpose you deserve.
Invest time, energy, and heart to strengthen the relationship with yourself to retain the energy in your body to achieve more by doing less.
Embrace the barriers keeping you stuck in burnout, unfulfilling life, and just don't feel good.
Step fully into building, leading, and protecting your life and business as the powerful matriarch that you already are.
It's time to stop suffering in burnout, instead break free from the blocks that keep you in the constant motion of struggles and get clear about what would serve you best and make it happen.
In this 90 minutes Live Zoom Masterclass, you will get the template and support to redesign your mind, body, and business that are right for you.
It's time to make YOU a priority in your own life so that what's important is at the top of your list.
Be part of the Mind, Body, and Business masterclass to create deeper connection with who you are, learn ways to get what you want on your terms so that you, your business, and your life thrive.
TESTIMONIALS
I felt so alone...like I was an outsider in my own home, with Ying's support I got clear about what I want and it was much easier for me to open up to my partner about the changes I desired. Together with my partner, we were able to make numerous changes. Today, I have peace and I enjoy my life.
~Naomi
I held a lot of frustrations, overwhelms, internal imbalances within me before working Ying. Through my transformation work, I was able to released so many stories that were outdated and as result of my healing I have better relationships and more present in my life.
~Ashley
I woke up to my own senses that my struggles were a result of my own blocks. I am giving myself the gift of being truthful; I now get to create my life the way I have been dreaming about.
~Linda