About this Event
6:30 Heavy hors d'oeuvres by Palate, Silent Auction, Cash Bar, Harpist Joy Slavens
7:30 Building Campaign Updates and Special Guest Scott Mason as Dame Edna
8:15 Decadent Desserts by Palate, Final Auction Bids, Cash Bar
8:30 Address by Fred Munzert and Special Guest Hot Sauce
About the Milton Theatre
The historic Milton Theatre is a uniquely diverse venue where you will find the best local, regional, national, and international talent. Free municipal and on-street parking are available. Full bar and light food options available. This facility is fully accessible.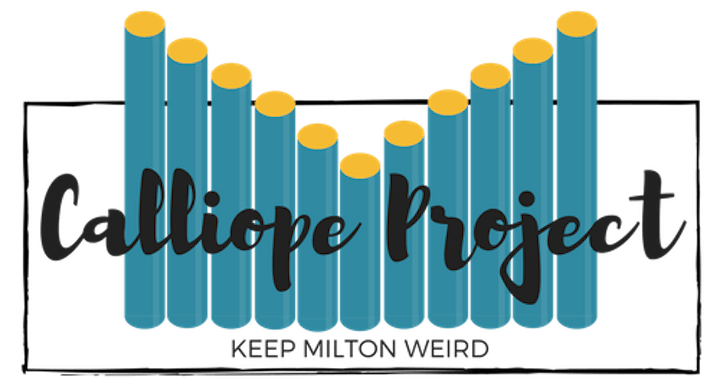 About the Calliope Project
Raising 2.5 million to preserve the Milton Theatre's legacy and assure its status as a premier arts and entertainment venue for generations to come.
Calliope Project provides quality live programming and educational opportunities to the DelMarVa Peninsula in order to enrich and develop artistic culture for all ages.
THE CALLIOPE PROJECT IS A 501 C3 NON-PROFIT ORGANIZATION. ALL DONATIONS ARE TAX-DEDUCTIBLE IN ACCORDANCE TO REGULATIONS. NO GOODS OR SERVICES WERE PROVIDED IN EXCHANGE FOR THIS GIFT, THEREFORE YOU MAY BE ENTITLED TO TAX DEDUCTION. PLEASE CONSULT YOUR TAX ADVISOR.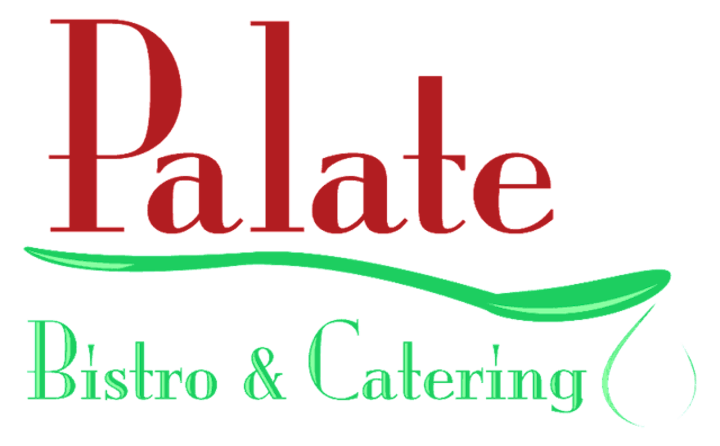 Menu proudly created by Palate Bistro & Catering (by Chefs Lorraine & Gary Papp)
Watermelon Gazpacho Shooters
Corn and Crab "Salsa" with Chips
Seared Pork Tenderloin with Backyard Peach Hot Pepper Jelly(on a biscuit or crostini)
Mom's Old bay Stuffed Deviled Eggs
Summer Vegetable Display with Green Goddess Dip
Hummus Display with Feta, Stuffed Grape Leaves, Kalamata Olives, Artichoke hearts
Fresh Mozzarella and Tomato Bruschetta
Fork Friendly Salad Table-
Cold and Spicy Thai Noodle Salad
Ginger Chicken Almond Mandarin Salad
Desserts:
Small cut Lemon Bars
Key Lime Tartlets
Flourless chocolate torte squares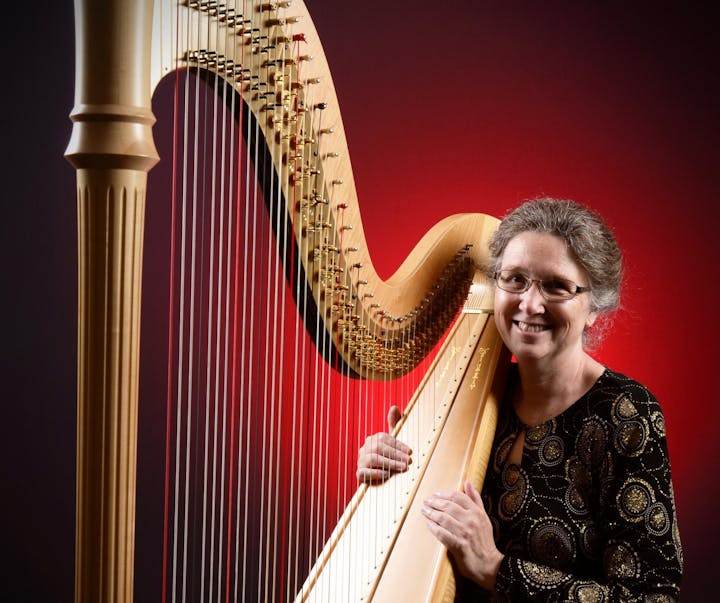 JOY SLAVENS
Joy Slavens grew up in Trappe, Maryland, graduated from Penn View Bible Institute, and has lived in Sussex County, DE with her husband since 1988. They have two boys, Chris and Scott.
Joy began studying piano at age seven, and has been giving lessons for more than twenty-five years. After seeing a harpist at her own church, she became fascinated with this unique instrument, and began studying under Rebecca Smith of Crofton, MD for eight years. Joy teaches over 35 students which include piano and harp.
Presently Joy is on staff at St. John's U.M. Church in Seaford, DE as church accompanist and assistant music director.
Joy loves to create new arrangements of many styles of music, and writes original compositions and publishes her music which is sold throughout the U.S. and has been favorably reviewed by harp publications.
Joy also has a harp ensemble, Expressions of Joy, which performs several times a year. They perform for churches, libraries, retirement communities, with a variety of styles of music.
"Music is my passion", Joy says, "and I am forever grateful to have been blessed with the gift of music. I find it to be rewarding that many others get to share in this gift through my music, or by learning for themselves." Serving God is also my passion, doing whatever He asks, whenever He wants, while being His vessel to be used by Him bringing others closer to Him.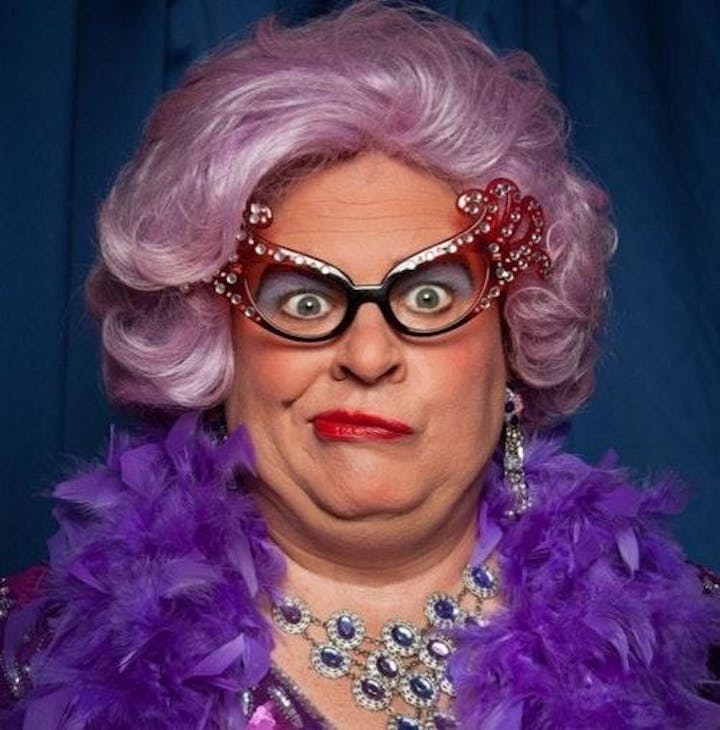 About Scott Mason
Scott F. Mason celebrates over ten years of impersonating Dame Edna and has performed throughout the Mid-Atlantic, Broadway, Florida, Las Vegas, DC, and Sedona, AZ.
In February 2010 he auditioned for the real Dame Edna, Barry Humphries, for the title of "Honorary Understudy to Dame Edna" on Broadway, NY, while Humphries and singer Michael Feinstein were prepping their new show "All About Me." Mason won the title over a dozen other contenders and appeared in the show's Playbill. Greenwich Village Voice theater critic, Michael Musto praised his performance and invited him as a special guest at his birthday party that year.
In 2010 and 2012 he won "Best Comedian" at the Las Vegas Reel Awards which is akin to the Oscars for the Tribute Artist Industry.
He has participated in the Sunburst Conference of Professional Celebrity Impersonators since 2008 where he won "Funniest Male", "Best Transformation", and "Best Male Costume" three times each and has been inducted into their Hall of Fame for each in 2011, 2013, and 2014 respectively. He was one of three finalists for the "Agent's Best" (meaning the best act out of dozens that agents reviewed) award in 2010 and 2012. In 2011 he was awarded the Silver Best Showcase Award 3rd place and in 2012 he won Gold (2nd).
His Dame has been seen on the Rachel Ray show as well as Fox News 35 in Orlando and the national CBS Sunday Morning news. He is also featured prominently in the award winning 2010 documentary short subject "Just About Famous" and its full-length follow-up in 2013. Information on the film and Mason can be seen on IMDB.com.
As Dame Edna, Mason has emceed galas and variety shows, made guest appearances at weddings, bridal showers, and birthdays, as well as doing corporate shows. He is most popular for his full length two hour shows (complete with intermission) performed at regional, community, and dinner theaters.
Mason has been active in theater since 1985, and was a member of the National Dramatists Guild, having written over 25 plays produced in Delaware and Off-Off Broadway. As an actor, he has acted over 100 roles, and appeared for 30 years with the Delaware Dance Company's "The Nutcracker" . He has also directed over 100 plays for community and regional theater.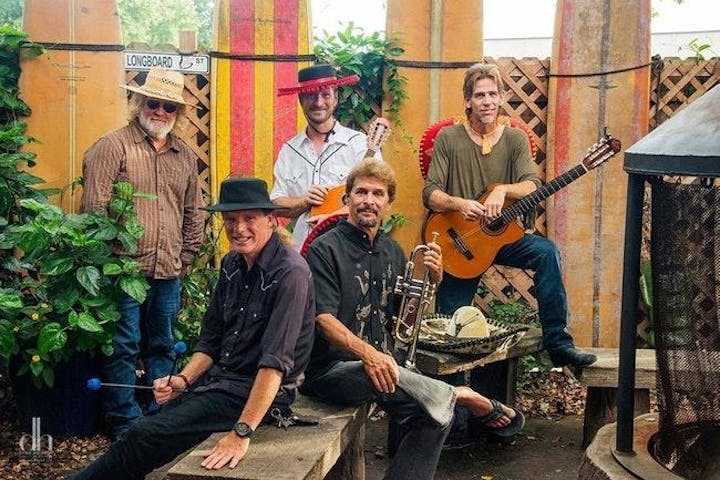 About Hot Sauce Band
The Hot Sauce band is available as a duo, trio, quartet, or quintet, all under the guidance of front man and maestro David Aman.
David grew up in Italy and Spain and studied Spanish guitar in Madrid. A lover of classical Baroque music, he moved to London in 1992 and performed throughout England for two years.
Moving to Texas had him fall in love with Latin music of all types from Mexico to Venezuela to Brazil and of course the music of Spain.
Having been lucky enough to live all around the world, David is proud to call Delaware home.