Description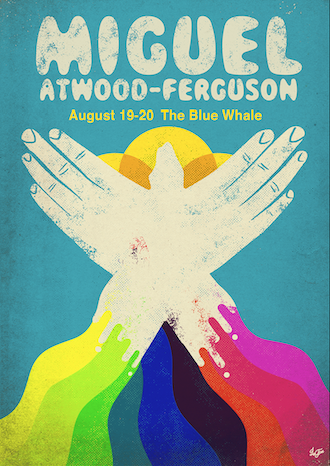 Hello!!!
We are very proud to present The Miguel Atwood-Ferguson Large Ensemble live in concert Fri, August 19th and Saturday, August 20th at the revered and esteemed Blue Whale Concert Venue in Little Tokyo, Los Angeles California.
These concerts will be the last filmed and recorded presentations to be included as part of Miguel's debut album 'Les Jardins Mystiques', soon to be released on the Brainfeeder record label in Los Angeles.

We look forward to seeing you there!
Take Care!
21+
$25 presale
$30 limited tickets at door both nights
Fri, August 19th
Saturday, August 20th
8pm Doors Open
9pm Set One
10:30 Set Two
Miguel Atwood-Ferguson: compositions, arrangements, 5 string violin
Katisse Buckingham: flutes
Josh Johnson: alto sax
Philip Dizack: trumpet
Daniel Rotem: tenor sax
Garrett Smith: trombones
Nick Mancini: vibraphone
Dennis Hamm: keys
Gabe Noel: bass
Jamire Williams: drums
Allakoi Peete: percussion
Carlos Niño: percussion, dj sets
Jesse Gilbert: visuals