Location
Blue Whale
123 Astronaut E S Onizuka St
#301
Los Angeles, CA 90012
Description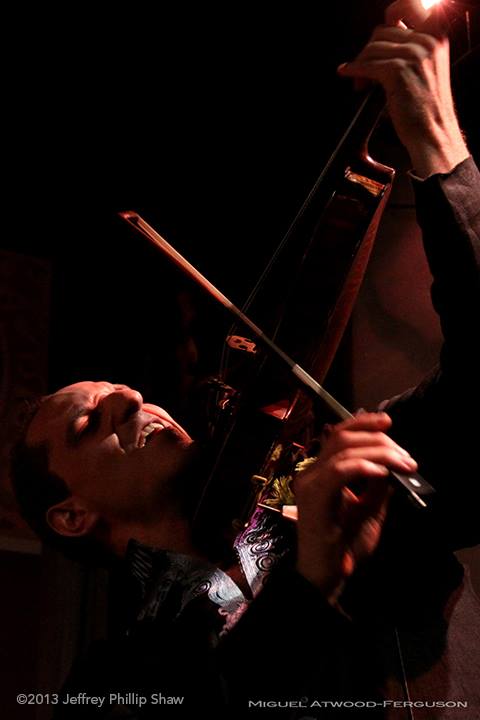 Hear this legendary ensemble give a rare and intimate performance
at one of Los Angeles's premiere creative performance venues.
Playing new originals by MAF as well as the music of Flying Lotus, Thundercat, Madlib, J Dilla, Daedelus, Georgia Anne Muldrow, Milton Nascimento, Earth, Wind, And Fire, Bill Withers, and others.
$20 presale for both sets / $25 at the door / 21+
in addition to the presale tickets, there will be approximately thirty $25 TICKETS AVAILABLE the night of at the venue
8pm: DOORS OPEN
9pm: Set One
10:30pm: Set Two
DJ Sets: Carlos Niño


Miguel Atwood-Ferguson (band leader/arranger/composer/5 string violin)
Chris Lea (flute)
Zane Musa (alto sax)
Mike Rocha (trumpet)
Randal Fisher (tenor sax)
Lemar Guillary (trombone)
Woody Aplanalp (guitar)
Brandon Coleman (keys)
Gabe Noel (bass)
Jamire Williams (drums)
Carlos Niño (dj sets, percussion)
Jesse Gilbert (visuals)
Special Guests Spanning the 3 Nights Will Include:
Coco (Quadron) (vocals)
Moses Sumney (vocals)
Daedelus (computer)
Inara George (vocals)
N'Dambi (vocals)
Sara Gazarek (vocals)
Dwight Trible (vocals)
Mia Doi Todd (vocals)
Jimetta Rose Smith (vocals)
Joey Dosik (vocals)
Codany Holiday (vocals)
Destani Wolf (vocals)
Marcel Camargo (guitar)
Benjamin Shepherd (bass)
Vardan Ovsepian (piano)
filmed and recorded by Alex Chaloff
---------------------------------------------------
Miguel Atwood-Ferguson is a very unique and special force in
today's world of music. Having recorded on close to 400 albums
already by the age of 34, he effortlessly bridges diverse genres
and generations of musical and cultural elements into cohesive and
magical presentations. One of Miguel's greatest achievements to
date was in 2009 when he composed and conducted the historic
'Suite for Ma Dukes' concert in LA leading over 60 musicians in
tribute to the transcendant modern Hip-Hop producer J Dilla.
Having dilligently studied classically since the age of four and being
exposed to cultures and art from all around the world, Miguel is now
able to enjoy a very diverse career collaborating with many amazing
artists. Miguel has had the great fortune to perform or record with
giants such as Ray Charles, Stevie Wonder, Quincy Jones, Henry
Mancini, Esa-Pekka Salonen, Wayne Shorter, Billy Higgins, Ray
Brown, Brad Mehldau, Flying Lotus, Hubert Laws, Seu Jorge, Dr. Dre,
Will.i.am, Madlib, and many others.
While performing on violin and viola and arranging highly
personal arrangements are Miguel's main pursuits, he also is an
educator, dj, producer, music director and composer. Miguel leads
many of his own ensembles and has had incredible artists like Seu
Jorge, Sly Stone, George Clinton, Shuggie Otis, Flying Lotus,
Stephen 'Thundercat' Bruner, Chris 'Daddy' Dave, Zap Mama, Jose
James, Bilal, Meshell Ndegeocello, Aloe Blacc, Pharoahe Monch,
Quadron, Karriem Riggins, Talib Kweli and Posdnuos as his
special guests.
In 2011, Miguel had the honor of providing Oprah Winfrey with
a one man orchestra of himself as the music behind the main promo
of her new TV Network 'OWN' courtesy of Miguel's intro to his duet
with Will.i.am off of the Black Eyed Peas 2010 album 'The Beginning'.
Miguel has plans to release his very first album in 2015 on the
Los Angeles indie label 'Brainfeeder.'
http://miguelatwoodferguson.com
https://twitter.com/MiguelAtwdFrgsn