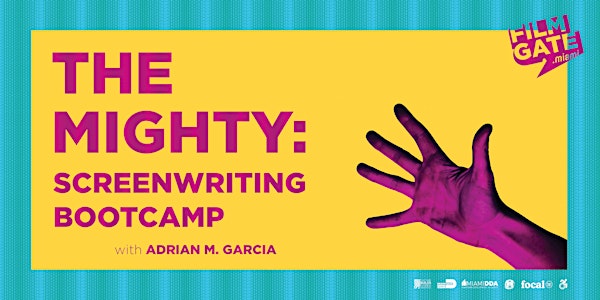 The Mighty Screenwriting Bootcamp
The Mighty - FilmGate Screenwriter Bootcamp "Don't let your imagination stay on your mind. Put pen to paper and make your vision a reality"
When and where
Location
FILMGATE MIAMI / DOWNTOWN MEDIA CENTER 168 Southeast 1st Street 4th Floor Miami, FL 33131
About this event
September to October - Thursday's ONLY from 7:00 PM - 9:30 PM
FilmGatos, are you feeling stuck? That inspiration isn't coming your way? Feel like time is passing and your screenplay is not going anywhere?
Screenwriting is a lot of solitary work, but also learning structure and receiving thoughtful and gentle, yet firm feedback. We worked closely with Adrian to expand on our usual bootcamps to six classes, realizing that in and get ready for 6 classes that will help you manifest your dreams into a reality!
You will learn practical techniques, read essential screenwriting tips, and network with a community of passionate writers.
Students will be asked to bring their own laptop with a downloaded screenwriting software (Final draft, Celtx, Studiobinder) We will be using The Hollywood Standard: The Complete and Authoritative Guide to Script Format and Style (edition 3) during class. Students will be asked to bring a copy of the book. There may be some hybrid online classes during the six week course.
Adrian will go over the importance the 3 act structure, dialogue, television writing, and more all while workshopping scripts. By the end of the bootcamp, students will turn in an 8 page or less script and a small TV series bible.
Here's the weekly schedule:
Week 1
Syllabus Review, Discuss Two Assignments, Formatting 101
Week 2
Storytelling Basics & Screenplay Structure
Week 3
Television Bible
Week 4
Writers' Room: Present Pages & Feedback
Week 5
Writers' Room: Present Pages & Feedback
Week 6
Present Two Assignments
Meet the Instructor:
Adrian M. Garcia is a production and screenwriting professor at Miami Dade College, and he has taught generations of students a new way of seeing. An award-winning Cuban-American filmmaker with a graduate degree from the University of Miami, Professor Garcia's ongoing "Women Above the Line" lecture series has brought his students face to face with Academy Award nominees and with trailblazing women filmmakers—some of the leading storytellers of our time. He has taught pioneering classes to incarcerated populations, and his student's films have gone on to win acclaim throughout the country and world.
Click here to learn more about him: Adrian M. Garcia
PARKING INFO
Parking will be at the Courtyard by Marriott, located at 200 SE 2nd Street, Miami, FL, 33131. This is a SELF-PARK garage. Please bring your ticket to the studio for discount validation.
-$5 up to 4 hours
-$10 up to 8 hours
-$25 beyond 8 hours