The MiFID II Tsunami to hit Investment Research

Tuesday, June 30, 2015 from 6:00 PM to 8:00 PM (EDT)
Event Details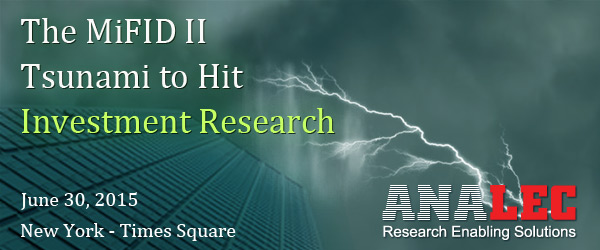 Unbundling of brokerage commissions and its impact on sell-side research has gained urgent attention over the last few months.  As a sell-side service provider, is your business prepared to confront this challenge?

The European Commission recently issued a draft of pending regulation regarding asset manager payments for third-party investment research.  While this draft revealed some flexibility on getting client approval, there was no change in the language banning the use of client commissions to pay for sell-side and independent research. Though there is some chance for further revisions in the final rules, most analysts believe the new MiFID II regulations will completely sever the links between research and trading commissions.

How does this dramatic change impact sell-side and independent investment research service providers?  Join your peers and attend this panel discussion of research industry experts to better understand how these regulations will impact you, your firm, and the industry.

Panel Moderator:

Michael W. Mayhew / Principal / Integrity Research
Mike is one of the leading experts on the investment research industry.   In addition to founding Integrity Research, Mike is on the board of directors of Investorside Research Association, the non-profit trade association for the independent research industry, and a frequent speaker on research industry trends and developments.  Mike has over thirty years of research industry experience.

Panel Experts:

Tom Conigliaro / Managing Director-Investment Services / Markit
Mr. Conigliaro is a managing director at Markit, responsible for the Investment Services group which includes Markit's Commission Manager, Vote, Calendar, TCA, Research Signals and Hub. Prior to joining Markit in 2013, Tom was with investment banking boutique Marlin & Associates where he advised clients on their M&A activities in financial technology, information services, healthcare and media. Tom spent 25 years on Wall Street holding senior roles in sales and trading, sales management and securities services at Goldman Sachs and Merrill Lynch. Tom is a Chartered Financial Analyst (CFA) and holds an M.B.A. from the University of South Florida and a B.S. from Widener University.

Neil Scarth / Principal / Frost Consulting
Mr. Scarth has held a wide range of roles in asset management and investment banking in both Europe and North America over the last 25 years, ranging from running equities businesses at global banks to launching and overseeing all aspects of varying asset management products. His portfolio management experience has emphasized financial services including equity long/short (Deephaven Capital International/London and Symmetry Management/New York) and pension/mutual fund advisory (Trilogy Global Advisors/New York). Neil's investment banking experience includes running integrated institutional equity business units for ABN-Amro and Merrill Lynch. Neil was appointed to the UK Investment Management Association's Research Review Advisory Panel which helped craft the UK asset management industry's response to the FCA on research funding. Frost was sponsored by CFA UK and the CFA Institute to write a White Paper on the Valuation of Equity Research to help the industry meet new UK regulatory requirements. He holds an M.A. from the University of Southern California, and a B.A. from Carleton University.

Gerald T. Lins / Managing Director, General Counsel / Voya Investment Management Co. LLC
Mr. Lins, J.D. is the General Counsel at Voya Investment Management Co. LLC. He joined the firm in November 1999. He is also a General Counsel and Managing Director at Voya Investment Management LLC. Previously, Gerald was in charge of legal matters for a number of asset managers and fund complexes, and also spent several years in private practice, concentrating on general corporate law matters and the regulation of investment companies, investment advisers, and other financial service providers. Prior to this, he was a Staff Attorney in the Office of Chief Counsel in the SEC's Division of Investment Management, where he had a broad range of experience with the regulation of investment companies and investment advisers under the federal securities laws. Gerald has vast investment experience and is the co-author of numerous articles and several books. Gerald received a J.D. in 1984 from Harvard Law School.

Robert Fagin / Director of Research / Cowen and Company
Mr. Fagin is Director of Research at Cowen and Company. He joined Cowen from Jefferies, where he was Co-Head of U.S. Equity Research and the global coordinator of Technology, Media and Telecom (TMT) Research. Prior to joining Jefferies, Robert was the president of Darga Consulting, which provides strategic consulting services to high-profile private companies including business planning, capital introduction, M&A analysis, and board constitution, and served on a variety of private company boards. Before founding Darga, Robert was a managing director in Bank of America's equity research department for five years, where he had senior managerial responsibilities including management of the firm's TMT, financials, and energy research practices. He also established Bank of America's Taiwan-based TMT equity research effort. Prior to coming to Bank of America, Robert was a senior equity research analyst at Bear Stearns, where he was responsible for stock coverage of the Internet Infrastructure Services sector (1999 –2002) and U.S. telecommunications sector (2002 –2004). He was recognized as a member of Institutional Investor's All-America Research Team for coverage of both sectors and was named by Forbes/Starmine as one of the top 5 earnings estimators in the US across all industries. Robert's equity research experience also includes three years as an analyst at Oppenheimer, where he covered software stocks. Before his Wall Street career, Robert was a research analyst at IDC, the world's leading technology market research firm, and before that worked at Coopers & Lybrand (now PricewaterhouseCoopers), where he was responsible for analyses of high- technology clients and potential clients, and supported consulting engagements and due diligence for several large M&A transactions in technology sector.
When & Where

New York Society of Security Analysts
1540 Broadway
#1010
New York, NY 10036


Tuesday, June 30, 2015 from 6:00 PM to 8:00 PM (EDT)
Add to my calendar
Organizer
ANALEC:
For over 13 years, Investment Banks and Research Firms around the globe have partnered with Analec to build sustainable Research and CRM technology platforms with one goal in mind - increasing their value proposition to buy-side clients. 
Our award-winning flagship products -  ResearchWise and ClientManager - are innovative, easy to use, and most importantly, customizable to fit the needs of any Capital Markets firm, large and small.
Integrity Research:
Integrity is an information and solutions provider specializing in the investment research industry. Our clients are institutional investors that use us to find new sources of value-added content for their investment research process or conduct compliance audits of their external research providers. Integrity's analysts cover over 4,100 providers in the U.S., Europe and Asia.