Event Information
Location
The Pink Studio
6733 S. Sepulveda Blvd #160
Los Angeles, CA 90045
Description
T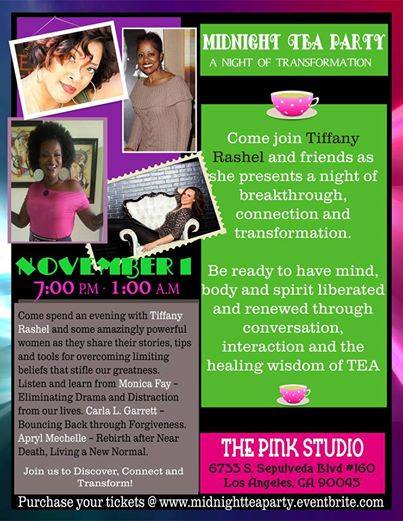 ired of your same ole conference? The Midnight Tea Party is Empowerment with a twist! Come and experience an intimate evening of empowerment, connection, transformation and fun with your favorite females. Spend an evening learning tools to improve your ability to overcome stress, break through limiting beliefs, prepare yourself for better relationships and romance. Connect to that inner fire that has been stirring in you waiting to be released. Why wait till the New Year to begin your transformation?
Tea is definitely more fun when there are two - so grab your mother, daughter, sister and girlfriend and enjoy the Midnight Tea Party - a Night of Transformation with Tiffany Rashel. Get ready to DISCOVER, CONNECT, TRANSFORM!
*Mothers feel free to bring your daughters age 14 and up - it will be a wonderful time for you both!
For more information, email me at: talktotiffany@tiffanyrashel.com
Date and time
Location
The Pink Studio
6733 S. Sepulveda Blvd #160
Los Angeles, CA 90045