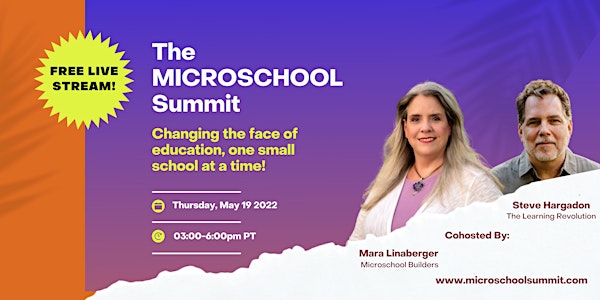 The Microschool Summit - Changing education, one small school at a time!
Our first 2022 Learning Revolution mini-conference: "The Microschool Scummit" online and free on Thursday, May 19th, 2022.
About this event
Our first 2022 LearningRevolution.com mini-conference: "The Microschools Summit - Changing education, one small school at a time!" will be held online (and for free) on Tuesday, March 29th, 2022.
Small schools have been around as long as humans have been teaching their children. One (or more) caring adult who seeks to empower youth to learn the skills and wisdom needed to lead a productive life in the community. Education today has become large and focused on many things beyond the needs of learners, such as tests, curriculum and assessment. The pandemic has shown a spotlight on the serious limitations of systemic education, and has caused many to take the learning of their children into their own hands.
Homeschooling, pandemic pods, and microschools are all ways that families have chosen to provide their children with a smaller, more child-centered learning environment. Join us at the first in a series of Microschool Summits to explore microschools, their origins, and their potential to reshape education, one student and one small school at a time.